Joined

Feb 6, 2010
Messages

4,836
Location
Steak-House Grilled Hamburgers
Given the recent discussions on food prices and meat, I thought I'd post this recipe adapted from the May/June 2011 issue of
Cook's Illustrated
. Randall's usually always has a sale on meat. Recently picked up a 4# chuck roast for $3/#, when their 80% gnd meat is $7/#. That makes no sense to me when you can easily grind your own in a Cuisinart. I also find nice sirloins marked down as well. So I first sharpen my knife, then pull apart the roast and trim off all HARD fat. This doesn't add any flavor. Next I cube it into 2" x 2" pieces, spread it out single layer on a metal pan, then slide it in the freezer for about 25min. until the edges are beginning to harden. This prevents it from turning into MUSH/pulp when ground.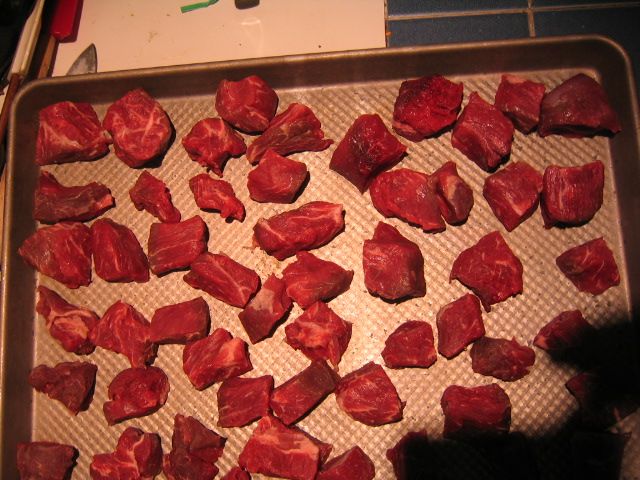 Gather all the HARD fat & scraps into a plastic bag. Grind the meat in batches about 25% at a time. Don't overfill or crowd. Pulse about 15-20 times until the meat pieces are about the size of a small pebble, maybe 1/8" or so. Spread the ground meat onto the ice cold metal pan and repeat until you're done. Spread the meat out evenly and look for blobs of white hard fat, sinew, silver skin, etc. Pick it out and dump into the plastic bag. When done, squeeze all the air out and stick it in the freezer until the trash goes out. This will keep it from stinking up your kitchen or trash can! (Just don't forget to remove it....)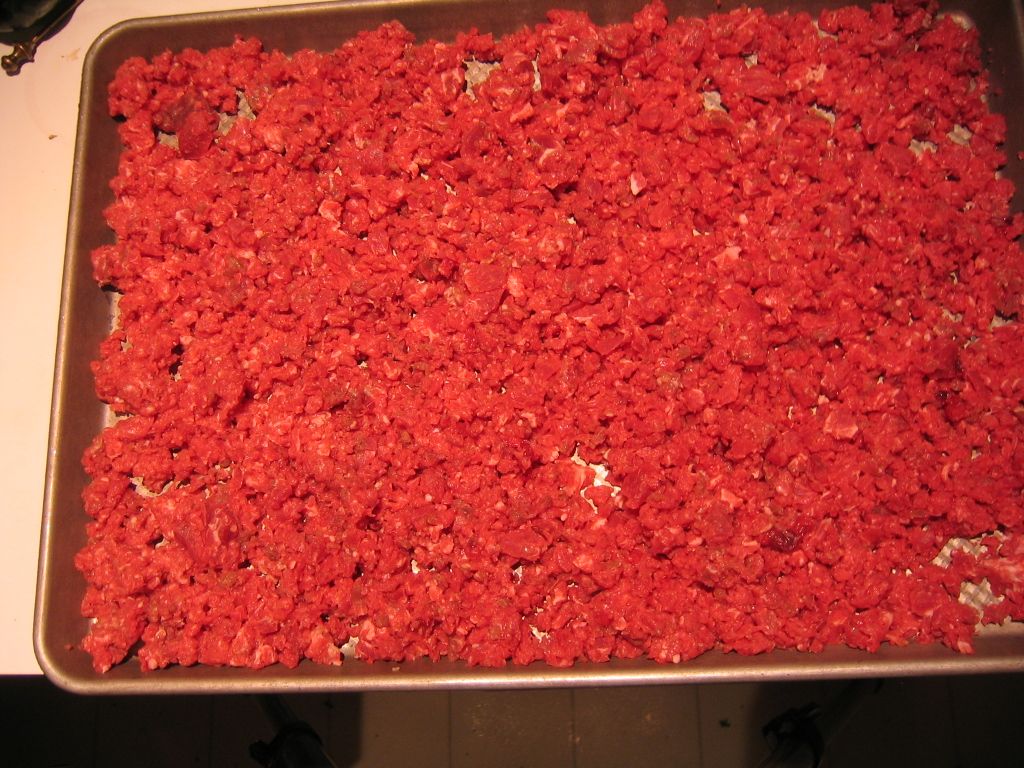 So we've got pretty lean meat now and it's time to add some flavorful fat back in. You can use either bacon grease or butter, carefully warmed in the uWave. I pour a steady stream from one end to the other, then go down another row until evenly spread. Top off with fresh ground pepper & kosher salt. You can also add a little worchestire and skip the salt. With the meat evenly spread out like this on an ice-cold metal pan, anything you add to it will already be evenly mixed in. You see pre-ground beef is already sticky, having been forced through a SS metal plate under HIGH PRESSURE. You get home, dump the mound into a bowl, add whatever-you-like to it, then begin squishing it to "mix" in the seasonings. This just makes it even tougher and results in domed hockey pucks with uneven seasoning: Hard, tough, thick burgers. I use a burger form with an ID ~ 4" and about 1" thick. I gently scoop up the seasoned meat with a metal spatula, slide it into the form, then gently press it in with my fingers until even across the top. The finishing touch is to put a knuckle right in the center. (This is VERY important with pre-ground beef to prevent football-shaped patties from forming as everything shrinks). Repeat and carefully slide the patties onto the same cold metal pan. These then go into the frig while I light the charcoal. (If you haven't used true charcoal chunks in awhile, give it a try. "Briquettes (sp?) aren't the same as us old guys remember: Less BTU's now and more junk!) My Hasty-Bake keeps the meat grill fixed, while the charcoal grate moves up and down. For these, I set it about 5" below the meat, let the grill tines get really hot before putting on the patties. These patties will be very, very delicate even when seared on both sides, so be careful. Remember: The goal is a tender, juicy burger...NOT hockey pucks. I go about 4min/side, then carefully flip. Add a wire rack to your used metal pan and lay the finished burgers on top. Tent with foil.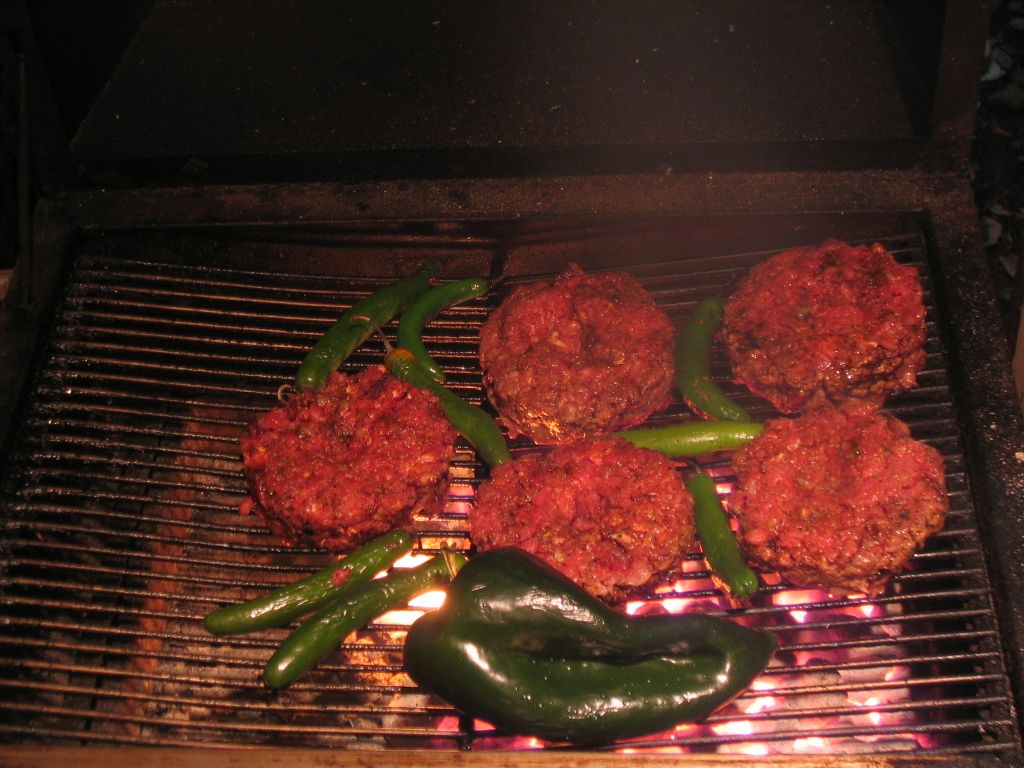 I use the softest buns I can find (fresh, soft ciabatta rolls, kaiser rolls, etc.) and brown on the grill....about 45s for light brown grille marks. Flip them over to warm the other side for about 20s, then slide under the foil. That's my version. CI's has you sear these in a hot skillet for two minutes then slide them into a pre-heated 300°F oven on a wire rack set over a metal pan, until done to your liking. This time around I was making green chili cheeseburgers, so I grilled several serano and one pablano pepper along with the meat until charred. I then sliced these up, made a pile in the center of the meat, then topped with blue cheese. Geniune Swiss also works well. You can then either fire up the broiler to melt the cheese or return to the grille, away from the fire, close the lid and wait for 5 minutes. One very important thing: I like to buy a pound or two of thick-sliced meaty bacon along with the chuck. No sense letting a good fire go to waste! Since the Hasty-Bake has the moveable fire grate, I drop it to the bottom, spread out the coals evenly, then lay down a pound of bacon to slowly cook/smoke with some pecan wood/nuts spread over the coals. I like to add a bit of freshly gnd black pepper to each piece. Set a timer to about 8min. then check. You'll have to adapt this to your style of grille, charcoal/gas, etc. Don't burn it though and move it around to ensure even cooking. So by now you've chowed down on the first burger and eagerly awaiting #2. Add bacon to that one...and the next. Be sure to fully support the back end of the bun & sides before biting down. These patties are so tender, they're likely to "squish out" sideways. But oh the taste!......tender, beefy, deep, rich...it's a shame to put too much on it, so try at least one "neat". Finally, CI has an interesting "burger sauce" for these: 3/4 cup Mayo 2 Tbl soy sauce 1 Tbl dark brwn sugar 1 Tbl Wooosh (Worcestershire) 1 Tbl minced chives (or scallions or shallots) 1 medium garlic clove, minced 3/4 tsp fresh gnd blk pepper. I was surprised how good this was. Nice, beefy, steak-y, deep flavor. Both grilled mushrooms & grilled onions would go great along with either blue cheese or Emmentaller swiss. I enjoy a deep rich beer with these burgers like Shiner Bock.
Prosit!