Joined

Dec 30, 2006
Messages

29,558
Originally Posted By: sleddriver
Update II: I've now completely flattened all the dyed surfaces, scrubbed the remaining stain 'laterals' on sides & top with sandpaper, SSW (syn. steel wool) and alcohol. A fellow WW'r suggested that when I sprayed the dye/shellac on, the round pattern of the sprayer left long horizontal lines, and after thinking about it, reading some more, and watching numerous finish spraying videos, realized he was right. The pro's only use spray guns with a "fan" pattern, as it ensures the most even coverage. Makes sense. Now that I've suffered that mistake, I won't repeat it again. You gotta love stereated sandpaper: Very tough to clog. I've been dry sanding more as it's easier to see what I'm doing as opposed to wet sanding. But dry sanding with regular wet/dry or garnet paper, is frustrating (especially with shellac) as it'll quickly clog & corn, which can wreck your work. Last night, I laid down a coat of the Behlen Solar-Lux stain, which is a beautiful deep, red/brown color. Then I padded over it with very thin shellac to even out the color. Today I applied more and dyed the other cabinet. They both look very dull, which is normal with dye. I was able to match the color & tone left on the edges quite well. Once a few coats of shellac are laid down on this, the color will really pop and it'll look 6" deep.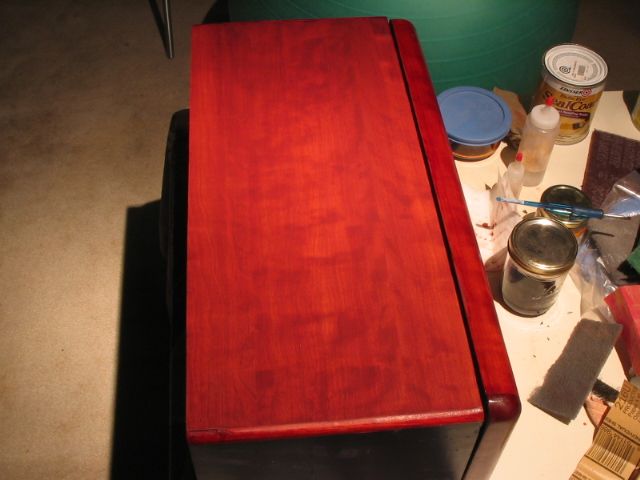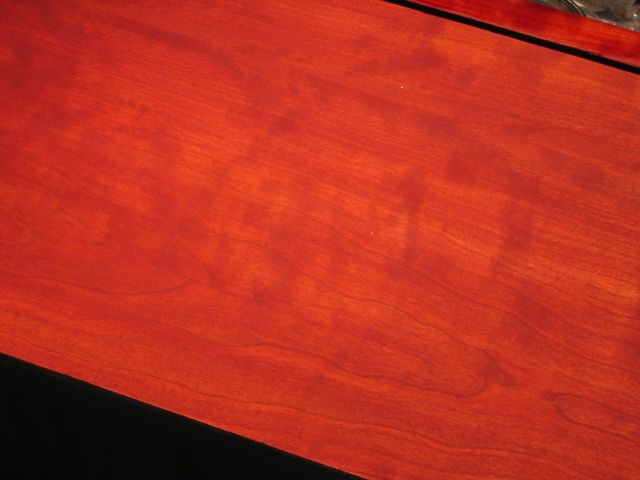 Notice I removed the ugly, black grille sockets. They were just too large for such a small panel. I'll trim a dowel to fit, glue it in, then stain to match. I never use the grilles anyway: They cause +- 2dB ripples in the tweeter response above 8kHz or so due to the frame dimensions becoming very close to the wavelength.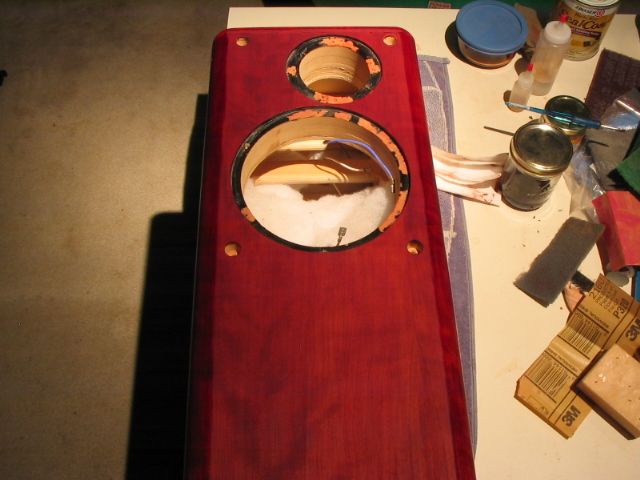 One more tweak: Smoothly contour the rear port "drain" to ease the abrupt transition.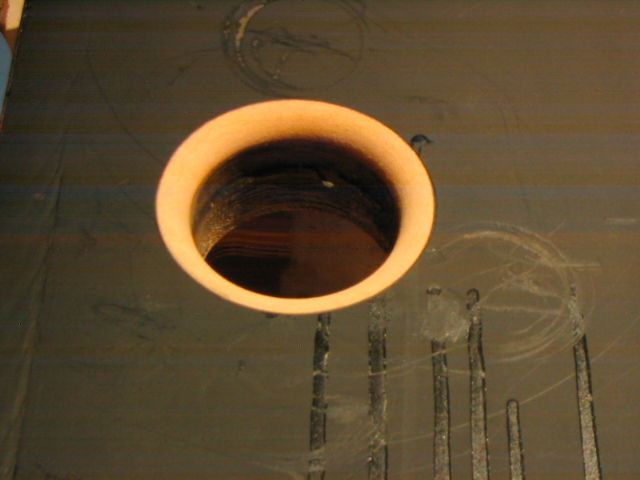 I'll also have to add some caulk to seal the joint around the straw-filled port tube to prevent air leaks. I also plan on substituting larger inner diameter "frozen margarita" straws for the much narrower standard types. The rationale here is to minimize port turbulence and increase laminar air flow. Further, it makes port tuning much easier. It does increase the resistance on the mid-woofer's motor, so you can't get always get away with this trick. I'll verify system resonance and port length after reassembly.
That looks AWESOME!! When I made my speaker cabinets,I used 1 inch thick walnut plywood to make the cabinets,stained them with Minwax Dark Walnut stain,then lacquered them with this stuff called Liquid Plastic. This must've been back in 1984-85.