Joined

Apr 27, 2013
Messages

1,437
Location
Hello,
My neighbor bought, and had installed, two new Chamberlain garage door openers, I am not sure of the model number, but it is the new one that has LED lighting.
From what he told me, I think it may be this model.....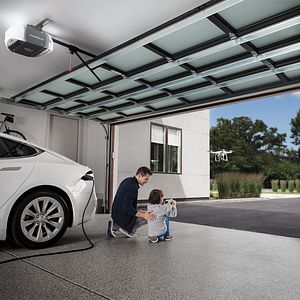 Discover possibilities for your home with Chamberlain garage door openers and accessories. You can find the perfect garage door opener for your needs as well as individual remote controls, wall controls, smart home tools and more.

www.chamberlain.com
After the openers were first installed last week, the two openers worked flawlessly. He then said after a few days, the range on the remotes seem to start degrading.
He would have to pull right up to the door when using the remote from his car. He called the company whom did the install and they cited possible RF interference. They told him that his only choice would be to downgrade to an older opener that uses a different RF frequency system, and that they had seen this problem before that was the only "fix" that was successful. He is not opposed to this, but the opener model they are recommending does not have the LED lighting which is a feature that he really wants.
Has anyone else here on BITOG heard of this phenomenon? I was under the impression that these digital RF radio chip sets were somewhat immune to interference and that the door opener claim to fame for security was the capability of these newer models to have an infinite number of combinations of transceiver channels.
I am hoping someone else might be able to elaborate on this situation, and also possibly offer another solution other than to change out the openers.