Joined

Apr 4, 2012
Messages

16,111
Location
The People's Republic of China (PRC) has the largest navy in the world, surpassing even the US Navy.
www.naval-technology.com
A snippet from the article...
In the report submitted to Congress annually, the Pentagon said: "The PRC has the largest navy in the world, with an overall battle force of approximately 350 ships and submarines including over 130 major surface combatants.
"In comparison, the US Navy's battle force is approximately 293 ships as of early 2020."
Speaking at a press conference, Deputy Assistant Secretary of Defense for China Chad Sbragia said that China was on course to expand its fleet to 360 vessels by the end of 2020.
The majority of the People's Liberation Army Navy (PLAN) fleet is made up of 'modern multi-role platforms' that host anti-ship, anti-air and anti-submarine weapons and sensors, the report says.
China's fleet breakdown​
Aircraft carriers – 2
Cruisers – 1
Destroyers – 32
Frigates – 49
Corvettes – 37
Amphibious transport dock – 37
Medium landing ships – 21
Diesel attack submarines – 46
Nuclear attack submarines – 6
Ballistic missile submarines – 4
Coastal patrol (missile) – 86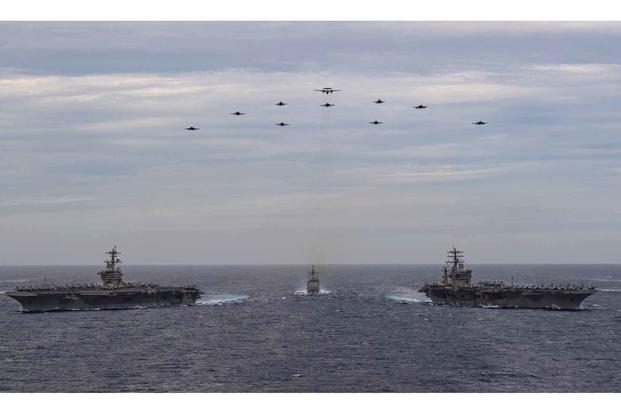 The U.S. Navy may not have the most ships of any country's fleet, but it is well established as the greatest power on the world's seas.
www.military.com
How Many Ships Are in the U.S. Navy​
According to data compiled and updated by the Navy, here is the current total of battle-force ships as of June 23, 2021.
Aircraft Carriers:
11
Surface Combatants:
115
Submarines:
68
Amphibious Warfare Ships:
31
Mine Warfare Ships:
8
Combat Logistics Ships: 29
Fleet Support:
33
Auxiliary Support:
1
Combatant Craft:
0
Other:
0
Total Battle-Force Ships in Inventory:
296
Total Active Ships in Commission:
251