Joined

May 6, 2005
Messages

9,153
Location
Not to the level in CA, it's out of control there. I don't see this in the mid west or better parts of the east coast.

Prop 47 for anyone who doesn't know allows people to steal up to $950 worth of merchandise and not be charged with a felony, so the police won't even show up if a hoard of thugs storms into a Walgreens, jumps over the pharmacy counter and take all of the Sudafed and empty out the nail polish section.

You must be living in a bubble, its not like this in the more civilized parts of the US, you know where laws are enforced. If it were happening everywhere then that would be on the news as well. California gets the press because it is out of control exponentially, most of the MSM is favorable to CA. Unless its on fire.

Who would have thought being soft on crime would result in stores being ransacked by mobs and occasionally burned down? Now its forbidden to say shop lifting is bad too or describing the perpetrator lol. Well deserved California, but this is what you get. I am watching this carnage from afar and laughing morbidly, sorry, not sorry.

A task force catching a few theft rings or changing traffic patterns around the store won't put a dent into this. Enjoy your new normal.

No wonder there is an exodus from CA. Walgreens closed 5 stores in San Francisco, is that normal? How is ol' mammy gonna get her insulin? I don't see this happening in red states, not to the degree in SF.
Nah. I remember seeing an analysis of the Walgreen's stores closing in San Francisco, and the conclusion was that it wasn't related to shoplifting because those stores weren't the worst in the city for that. It seemed more like a business decision since they're so ridiculous overextended (still have 50 stores) and that they likely picked the stores where the leases were expiring. Walgreen's is closing hundreds of stores around the county, but San Francisco someone gets singled out and where Walgreen's can blame shoplifting rather than their piss-poor over expansion. The joke in San Francisco is that there's a Walgreen's nearly on every block like Starbucks. If you think they're going to have any problem finding a pharmacy when there are still over 50 Walgreens, 20 CVS, Rite-Aid, Safeway, Independents, and hospitals (UCSF, SF General, etc.) then I don't know if you're going to ever be convinced that there's no problem.
Find a local San Francisco California pharmacy location, including 24 hr pharmacies, to help with your medications and drugs and fill your prescriptions.
www.rxlist.com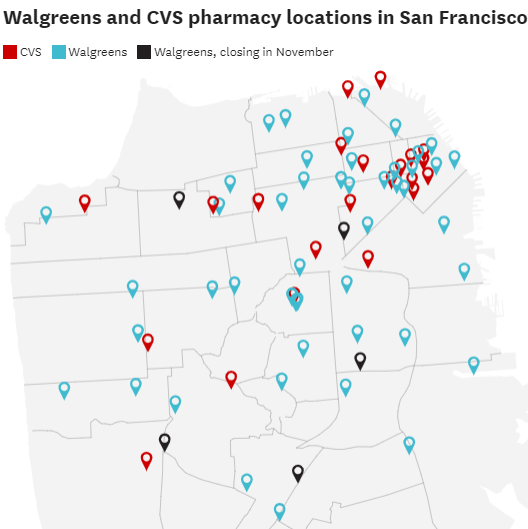 Caught up in the brick-and-mortar meltdown, it faces its own botched decisions and a market that has horribly turned against its pharmacies.
But in San Francisco, there is a pile of huge reasons, including: The brick-and-mortar melt-down that is particularly harsh because people are ecommerce fanatics here; working from home that messed up Walgreens' most concentrated area, the Financial District; and the unique market for pharmacies in San Francisco that Walgreens tried to monopolize and got caught with its pants down.​
​
What got Walgreens' statement about a few store closures in San Francisco – rather than the 595 store closures nationwide – regurgitated in the global clickbait media was the reason it gave for those closures. It's the San Francisco clickbait that goes viral because the role San Francisco plays in the US is as entertainment: "Look what these crazies are doing again in San Francisco."​
********​
In its annual report (
10-K filing with the SEC
) for fiscal year through August 31, Walgreens disclosed that "store damage and inventory losses due to looting" in the US, net of insurance recoveries, for the past three years combined amounted to $68 million, with an M.​
********​
In San Francisco, a commercial lease can be negotiated for any term, but the typical retail store lease is for 10 years. Walgreens isn't going to break the lease. It's going to close the store when the lease comes up for renewal. And it knows years in advance when that is, and it makes lease-renewal decisions well in advance of closing the store. This is routine corporate planning to cut costs.​
*******​
Despite the store closures in San Francisco, Walgreens still has 53 stores left, according to the San Francisco Chronicle. San Francisco is about 7 miles by 7 miles. You can walk across it in less than two hours. In and around the Financial District, there is a Walgreens every few blocks.​
​
In my neighborhood, Walgreens closed the store in the NorthPoint Centre that was two blocks from its store in the old Tower Records Annex on Columbus Avenue. And the Columbus store is partially geared to serving tourists that wander by (sandwiches, bottled drinks, chips, emergency tourist supplies, etc., along with neighborhood functions, such as emergency toys or chocolates for the nearly forgotten wedding anniversary, to serving as a FedEx drop-off and pick-up point.​
********​
I suspect that Walgreens will close many of those stores around the Financial District when their leases come up for renewal, and each time, it will say that it's because of shoplifting, instead of the real reasons: Its own catastrophic decision making in prior years, the brick-and-mortar meltdown, working from home, and the peculiarities of the prescription drug market in San Francisco.​