Joined

May 6, 2005
Messages

8,912
Location
I guess over the years I've improvised. I've changed oil, transmission fluid, etc in cars built by Honda, Subaru, GM, Toyota, Nissan, etc. I helped my dad out with his 1996 Buick Regal. That one didn't need a gasket since the factory drain bolt came with a rubber gasket built in. I bought a replacement once figuring it was about $4 at a dealer and after a while it could probably use a new gasket. Looked like this except there might have been a magnet sort of wedged in there.
Honda uses the same 14 mm I.D. aluminum crush gasket for oil and transmission. I've been using those with a couple of Integras and my wife's 2002 Civic. I've also used them on Honda automatic and manual transmission, where it's convenient having the same for both plugs. I remember buying them for as little as 20 cents, although more recently it's about 30 cents.
The fill hole on my 1995 Integra GS-R was an 18 mm ID. Dealers had aluminum sealing gaskets, but a few times I used fiber gaskets from a parts store that I figured I could reuse since they weren't deformed. Once I had an assortment that included an 18 mm copper gasket and used that. The Subaru plug was interesting. I bought a case of a dozen Tokyo Roki filters from a Subaru dealer selling online, and one Subaru OEM gasket was thrown in with each filter. Otherwise they cost maybe $1.50. They're these 20 mm steel gaskets similar to the sealing ring on a spark plug. One time I bought a box of Dorman equivalents, but they had this weird textured surface and they seemed to leak a little bit. That's also the largest drain hole I've ever seen in a car. More recently I got a bag of 25 copper gaskets at Grainger fairly cheap - I think maybe $5-6. They were sold as automotive drain bolt sealing gaskets, and they've worked pretty well. But this is what a Subaru OEM gasket looks like: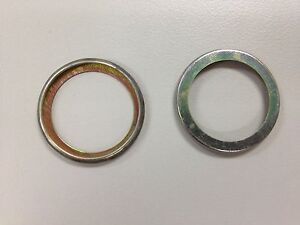 I've helped my folks out with their Camry. That's a 10 mm I.D. gasket. I did the first oil change on that car, and it had the oddest drain gasket I've ever seen. It was aluminum, but covered with pressure sensitive labels on both sides. When I went to a Toyota dealer they said their OEM gasket was fiber for about $1. I've actually asked around, and Honda dealers have a 10 mm I.D. aluminum sealing gasket that's meant for brake lines. But it works. One time I cheated since I had the Honda gaskets and I carefully centered it and made sure it stayed centered when crushed. Not ideal, but it didn't leak. I've also bought some copper ones pretty cheap at a specialty auto parts store. But the Nissan had the oddest looking OEM drain gasket (12 mm) I've ever seen. I bought one (cost almost $2) the first time I offered to help. These things are weird. Also bought another bag of 25 copper gaskets at Grainger (might have been $4) to help with oil changes that Nissan.