Joined

Apr 19, 2010
Messages

13,663
Location
Now that the weather has warmed up, the tracks are open for business and that means it's time to stretch my M3's legs! In the off-season, I replaced my worn Michelin Pilot Super Sport tires with stickier Yokohama Advan Neova AD08Rs. The front brakes have been completely replaced with a StopTech ST40 kit, StopTech Street Performance pads, stainless steel lines, and Castrol React SRF fluid. The rears also got new OEM rotors and the same StopTech pads. Both of the below videos were shot on my GoPro 3+ Silver with my new
Tackform headrest mount
. It's vibration-free, very adjustable, and actually gives a better perspective than I could ever get on the suction cup mount. The second video used a cheap lapel mic located on the rear bumper, the first one was just the camera's built-in mic. I recommend watching in 1080p60 if you can! Last week I visited the Milwaukee Mile for a half-day with Milwaukee Region SCCA's "Thursday Night Thunder" PDX event. We drove on the road course, which is a combination of the oval track and infield: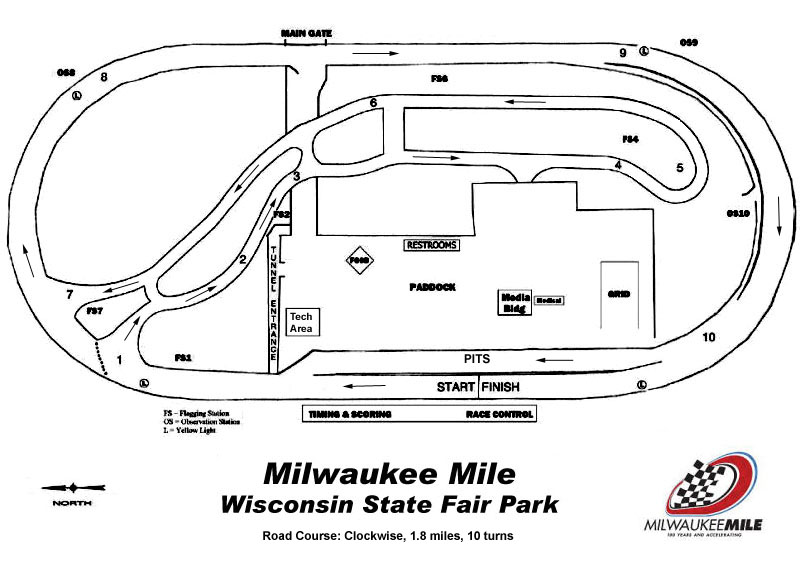 I took it easy for this event since I was still feeling out the new brakes and tires, and because I had never driven the track. The above video wasn't really a 10/10ths kind of thing, but it was pretty easy to hit 120mph on both straight portions without pushing too hard. It was still a bit nerve-wracking the first few times as you drove alongside the wall. The event was well-run, as I would expect from SCCA, but we did have a few cars with mechanical issues requiring a tow off the track. A few days later I returned to a local favorite, Autobahn Country Club. Laps Inc., a great group of guys, had secured the full 3.56-mile course for the day. It's a layout I'm very comfortable with: a great blend of fast & slow with plenty of technical portions. It's also a well-maintained facility with ample runoff room.
This was one of the later sessions but still not really 10/10ths -- more like 9/10ths. By the end of the day I was pushing the car as hard as it could go. Laps Inc. always gets a wide variety of cars. There was an Ariel Atom, KTM X-Bow (you'll see him in the video), tons of Z06s, several race-prepped Caymans and 911s, McLaren MP4-12C, Lamborghini Gallardo LP560-4, Ferrari 458, Miatas, etc. I may upload another video over the weekend where I get the point-by from the Lamborghini.
At both tracks, the new brakes were amazing. There was absolutely zero fade, linear pedal feel, and easy modulation. It did take some experimenting to find the threshold right before ABS would come in, but once I located it, I could easily bring the car down from 120-40 without any problems. Considering that these are "street" pads, I was impressed with how well they did. I haven't had a chance to measure their thickness yet, but I may just leave these on for the next event. The AD08R tires proved to be very capable but did take a lot of fiddling to dial in the right pressure. I'm not sure if the ultimate grip is significantly higher than the old Michelin PSS tires, but I will say that they did not get greasy as the sessions went on. In the past, the PSS would really go downhill after the 20-minute mark. The PSS was still very controllable and predictable on the limit so it's not like the car would suddenly spin, but it did require a bit more concentration to manage the grip. Overall I would say I am very pleased with both of these upgrades. The brakes have really allowed me to focus my energies on turning out fast and consistent laps without having to worry about adjusting braking zones too much. The tires have also allowed me to remain very consistent throughout the day. My technique is always improving but I've reached a point where I feel like the novice groups aren't the right place for me anymore. I'm even considering going back to Bondurant for an advanced course in the near future.