Joined

Nov 23, 2011
Messages

5,487
Location
After reading those they are mostly the same thing, I've been phone shopping and tons of 4glte phones claim they don't work on Verizon CDMA when "some" do have the 4 G channels listed in the specs. Off topic 32 bit Android needs to "retire" already.
there's a bit of double speak there...
of course a 4GLTE phone won't work on CDMA. they're different types of broadcasts. (it'd be like trying to pick up an fm HD radio broadcast on an AM Radio... a bit of a stretch, but you get my point, hopefully)
some 4G hardware may not support the frequency bands assigned to Verizon. some say they don't but do...
when they were first going to shutdown the 3G (CDMA) network, we upgraded my parents to new phones(spring 2018). we got Mom an Iphone SE (the first one, still using it), and Dad, he refused to get a smart phone, so after a bit of trial and error with inexpensive used/refurbished 4G flip phones off ebay( we wanted to try a couple models before committing), we settled on this guy: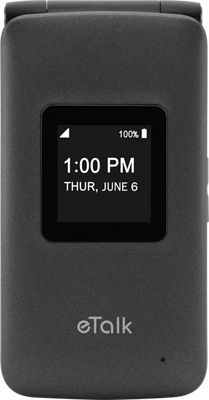 eTalk: All the essentials on a durable flip phone with high-resolution sound, a long-lasting battery and up to 32 GB of expandable memory. Get it at Verizon.

www.verizon.com
the Kazuna e-talk.
we're prepaid customers so you buy everything up front, but at the time that sucker was $29.99 every day at your local Walmart. (he breaks it, no biggie, it's a $30 phone.)
works great, we have a spare unit and a couple spare batteries.
Now it's up to $80.
it gets more complicated with 5G phones
according to Verizon, I shouldn't be able to get 5g on my Pixel 6, b/c I got the Unlocked version direct from Google, not the VZW specific model.
no big deal around here, they (verizon) don't have any 5G network built around here. but when I go to say, Columbus, or Cleveland, sure enough, I get 5G indicator on my phone.
that's because Verizon is using 2 Different implementations of 5g on their network... there's the 5G signal, using the same standard as everyone else, and then they have 5G-UW(Ultra-Wideband) that they put mainly in cities and stadiums, etc.
that's the one they advertise as being their SUPERFAST 5g.
5gUW operates on a different frequency than the standard 5g service. and once again, because Verizon has to be different, the manufacturers had to make Verizon specific versions of their phones to use that different frequency.
now, becasue I didn'y buy the version with that special radio, I don't get the ULTRA WIDEBAND experience, but, the normal 4&5G signals are plenty fast enough, and especially for me, because of where I live, there is no 5G, so it's a non Issue...