Went down in the basement tonight to find a water spot on the floor. It hasn't rained, and we havent gotten water in our basement in years. I tracked it and got to this (pardon the dirt and bad parging):
I know that this evening before we went out for dinner, my wife and I both used the bathroom, and the dishwasher was draining all at once. If there was ever water before, it was local and small, never dumped water that flowed to another point and made a puddle like it did this pm. I had seen these for a while now:
There is already a patch of about 3 feet of 4" PVC connected by two donuts. It is a long way away from the crack where the leak is, and those little rust spots are along the length between the patch and this crack. So my intent is to just replace the whole entire length. There are no vertical pipes coming off it so the weight loading should be low. As a DoD employee, I am furloughed tomorrow, so rather than supporting our military, I'll be working on this, DIY. I have a sawzall, but no grinder or chain cutter for CI pipe. The pipe I want to cut out is probably 15-20'. My main issue is this: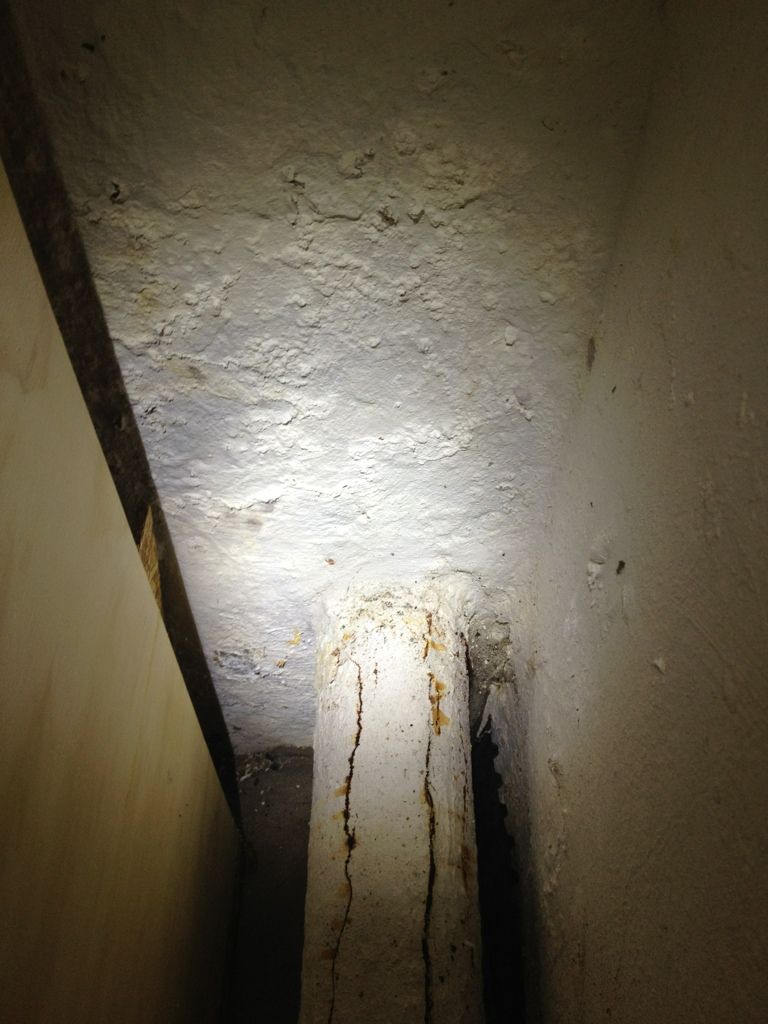 It goes through a poured concrete wall (accessible on both sides, just two 'rooms' in my basement), which will be tough to get out of there I guess. So my plan is this: 1) disconnect the existing patch 2) start cutting back manageable lengths of the pipe for removal 3) cut to about 1 foot on either side of where it goes 4) use sledge hammer to force pipe through wall 5) clean CI pipe on either end to be smooth and clean metal 6) cut and attach 4" PVC drain pipe to CI pipe with donuts, torque to spec. About right? Questions: - Will there be a lot of water in the drain pipe? I assume it is higher than the sewer pipe in the street, but how much of a mess should I expect? Any chance of the town sewer pushing water back up the pipe? Our drains are clear and work perfect. - Am I crazy to think that I'll be able to cut the pipe with my sawzall vs another tool? The pipe is a few inches off the ground and maybe an much from the wall. - For the final cuts at the ends where I'll use donuts, should I clean/sand/paint/prep the CI pipe prior to attaching? - My sewer pipe I think has an open exposed grate out in my driveway apron, where my pipe connects to the town sewer system. I'd think that this would help mitigate some sewer gas, though I never smell anything (sulfide gas is heavier than air I suppose). Since the pipe will be exposed, I'm sure sewer gas will diffuse in. What is the best way to clog it? Wet rag or plastic bag? Thank you so much for your advisement!!