Joined

Dec 14, 2002
Messages

49,831
Location
Somebody bumped the front bumper on my 96 ram the other weekend. It wasn't enough to do anything but leave a slight white mark. But it did shift the bumper backward a bit on one side.
I wanted to get it straight, because the bumper cover was close to an ac line. So I went after it this am.
Came to realize they are SAE (duh). Had to look hard for a 6 point 11/16 deep socket, turned out I had a Craftsman one, but I sure don't have the collection that I need.
Those bumper bolts are on there right despite hitting with penetrating oil twice over a week. One of the three is completely loose for whatever reason. Probably why it was able to move a bit. But it took a long breaker bar, a lot of force, and then an impact on a Cr-V socket to get it loose to adjust.
Sooooooo….
What to get…??
I rarely use SAE stuff, other than when doing household stuff with nuts and bolts. And that's almost entirely 7/16, 1/2, and 9/16.
I know I'll need to work on my Ram trucks in the future.
I don't want a ton more sockets though, frankly. I don't use them enough.
Not sure if I'd be better off with an impact rated deep set? Mid depth set? 1/2" drive?
The issue I think I'll encounter primarily is just old fasteners that have set firmly on each other after decades. My truck is rust free, but fasteners aren't bright and shiny. Suspension and Whatnot will need bigger sockets, though using 1/2 too much is kind of a pain.
I was almost thinking this:
Capri Tools 3/8 in. Drive Shallow, Semi-Deep and Deep Impact Socket Set, SAE, 5/16 to 1 in, 36-Piece
https://a.co/d/eBOvKQi
Do I want/need a set? Especially when I do have some Cr-V SAE quality sockets. Am I better
Off onesie-twosie?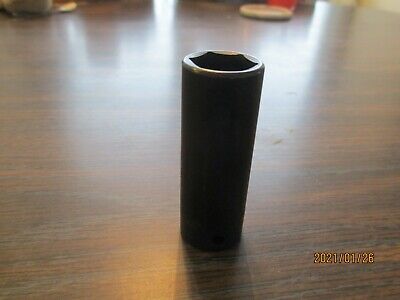 USED LIKE NEW NO OWNER MARKS.
I have a set of Williams SAE 3/8 somewhere though (they would have been too shallow for the job today). But I think for the long run especially in a deep socket I should get something impact rated. I can always turn it with a ratchet.
I don't know what I'll encounter but I don't want to face that again. Going to a quality manufacturer and just buying a 3/8 and 1/2 drive 11/16 impact socket has crossed my mind. Surveying my truck and buying a few other sizes has crossed my mind too, instead of a set. I'm just hesitant to buy a lot of SAE tools I'll never use.
So what would you do?