Joined

Oct 7, 2012
Messages

4,230
Location
Well *clears throat* Time to stop lurking and start bringing OC back
Just shoved into the backyard is a friends '94 Escort (1.9 CVH Automatic) They call it an LX, which stands for Luxury Xperience? Manual locks/windows, strangle yourself passive restraints, yet power mirrors, frigid A/C, and a mostly functional heated rear window Got a whole 42,000 miles under it's belt It's shall we say, aesthetically challenged? In that Solo cup 90's teal #90sclearcoatproblems So the story goes like this Last December, me and him put a heater core in it, so it'd be a useable winter transport January rolls in, and he takes it on a road trip to Central PA, and slips on a patch of black ice Caddy corners a tree stump Luckily, wasn't hurt, and no airbags were harmed Local shops told him $1,500 minimum, I say junk it there and Amtrak back Turns out he had the top line AAA membership, which covers 300 miles of towing 165 of those miles later, it comes back to NYC and sits for 6 months on the corner of my block After it'd damaged enough property values, money and time were allocated to making it viable again He cracked the control arm at the weld, which bent the axle and sent it punching a hole in the back of the oil pan Swapped the control arm (which is a pain because the oil pan blocks the bolt)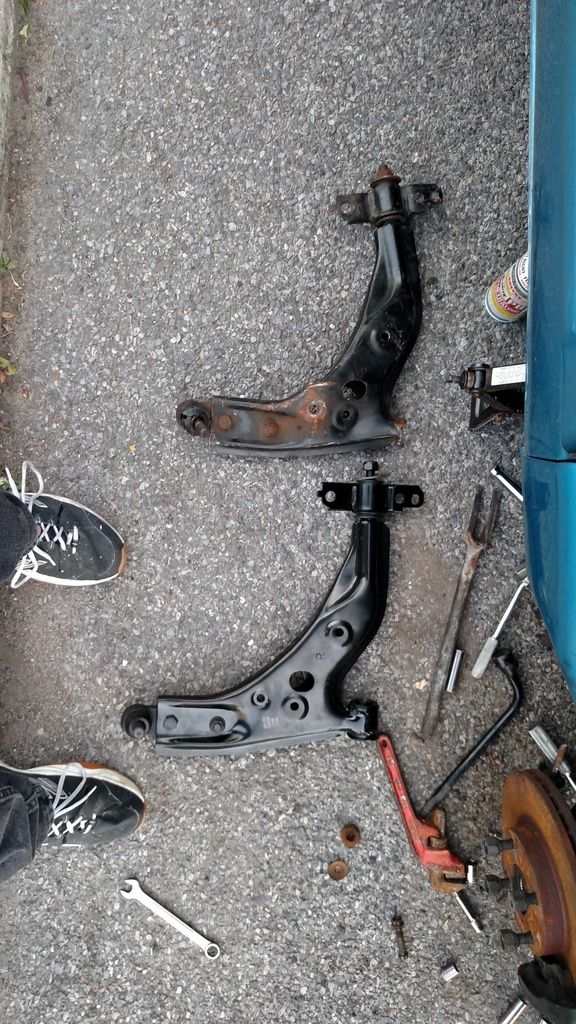 Dad decided to lend a hand in removing the twisted sway bar link that'd only spin In doing so he busted up his finger pretty bad, so work halts for a trip to the ER Sway bar links...
Rolled it down the street and into the backyard to assess if it was possible to make it a whole car again Dropped the exhaust (the accident conveniently snapped the converter to flex pipe bolts) Manifold to converter nuts were a chore, but Kroil and a MAPP gas torch made it doable Got the oil pan off, saw how there was no oil left, and all the metal chunks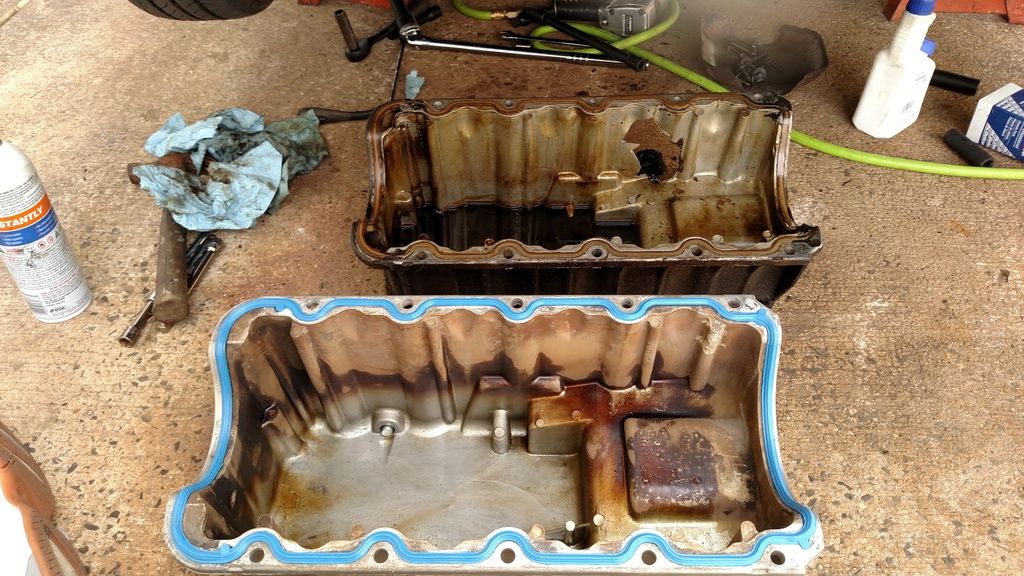 Inner CV axle came apart when the axle bent, and stoved right into the back of the oil pan Tried to remove the drain plug, it was cross threaded and stripped to a mirror finish ...I never liked that oil pan anyways
Cleaned the oil pickup with some brake clean, because why not? Until the hose came off and a spritz of brake clean got me in the eye (note to self, it burns)
WEAR YOUR SAFETY SQUINTS AT ALL TIMES
Not just when you think you need them,
ALL THE TIME
A few days of rest later, Got the new pan all clean and dressed New gasket, and some well placed Ultra Black, because there will be no leaks!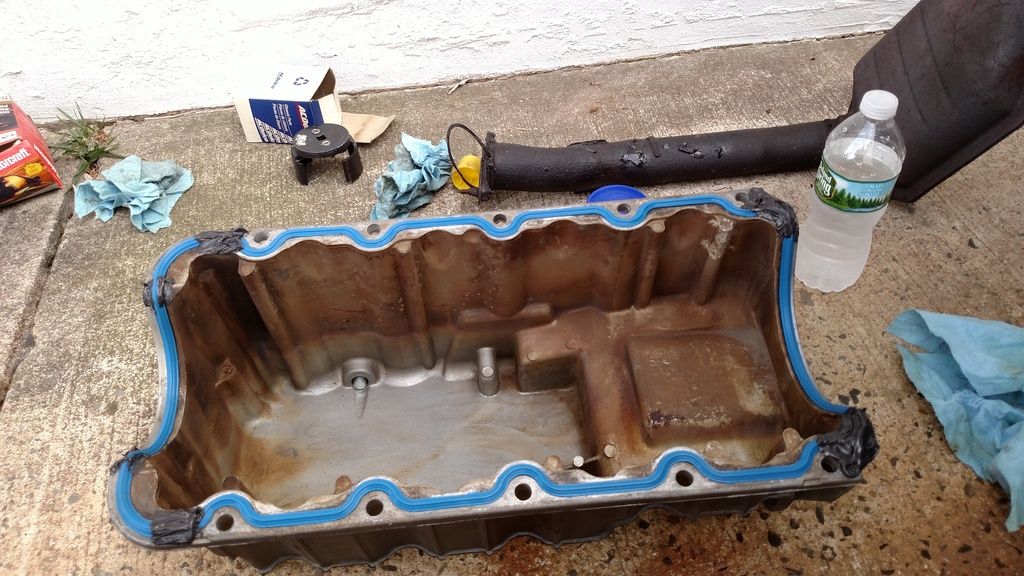 Bolt it all together, and torque in sequence to spec (Thanks AllData) Spin a fresh 400S on (Because if it's not genuine, I don't want it
) Real BITOG'ers don't tolerate overtightened, non gasket oiled, ADBV malfunctioning, no name jobber filters 4 quarts of the good stuff go in (WM Supertech 5w30) I pull the coil plug and fuel pump fuse Crank it over until the oil pressure light went out Checked for leaks Repeated this 5 times or so Plugged everything in Crossed my fingers, turned the key And she fired first try, like nothing ever happened I could hear all 88 angry horsepower resonating off the walls through the Genuine Ford Racing Manifold only exhaust system No flickering oil lights, no rattley top end, no deep bottom end knock It sounded just like I remember it did (A/C still works too!) Guess the owner wasn't lying when he said he shut it off the second he finished crashing I let it warm up, so the belt could wear the rust off the pulleys, and saw that the transmission still engaged The verdict was in, this car's got a bright future I promoted it to slightly above station car status I received an axle and sway bar links today So it's gonna go back together hopefully this weekend Gotta find some hardware and a gasket to bolt the two studless exhaust flanges back together, and get it rolling under it's own power again Now I assume you all came for those sweet internal engine pictures? And you shall receive
It actually looks dirtier in the pictures then in real light Those puddles in the rockers and drips off the rod caps look black, but the oil was clean? Then again, that oil pan with hole was sitting for 6 months exposed to air and moisture and salt One more OCI, and I suspect oil will be the least of the cars problems That oil pan was a PITA to find, they don't make them new anymore Luckily, found the good used one pictured on eBay for $50~ They even painted it for me, fine people of an online Salvage Yard in Ohio Hopefully, soon the saga of the '94 Escort will conclude... And it will return to it's life of running to the local store, running up and down I-95, sitting in traffic on the B.Q.E, all while making you feel like you're living within your means, and getting very respectable fuel economy Seriously, this thing gets like 25 on a bad day, 30 MPG without really trying, odd for an automatic...