Joined

Dec 14, 2002
Messages

51,319
Location
After a few thousand miles, I feel that I can review the Michelin Pilot Exalto A/S tires that I put onto m 91 BMW 318i. This car is more or less a DD. I have a few DD cars in the rotation, but this one gets used a lot. In all conditions, all temperatures, etc. It has an LSD, but is not good in the snow on most tires. I have a dedicated set of snows that makes it very fine in snow conditions, but all the same, I need to have tires that can give me at least some A/S traction if worse comes to worst, and I need to be able to run the tires in cold and below freezing, non-snow conditions that I may encounter. Thus my selection for A/S tires. The car previously had Falken Ziex Ze512 tires, in 195/65r-14, H rated. These are a very long-wearing tire. I had over 50k on them and the tread was above 50%. They never seemed to get louder with wear, but I realize now that they were loud compared to the Michelins. The main issue with the tires was that I bought the set in 2004, and so they have aged and showed a lot of cracking of the rubber on the sidewall, which I didnt like, since some of my use of the car is in high-speed interstate drives of 150 or so miles. Here is the car with the 195/65 tires: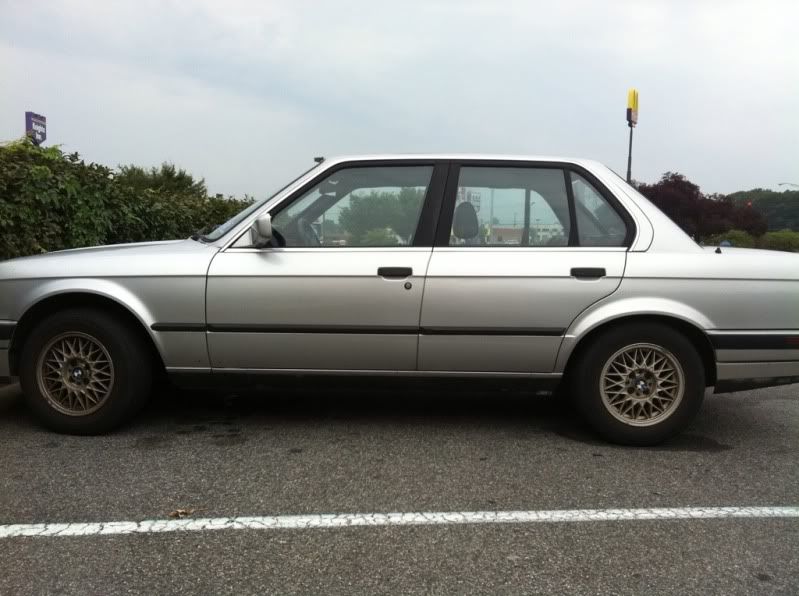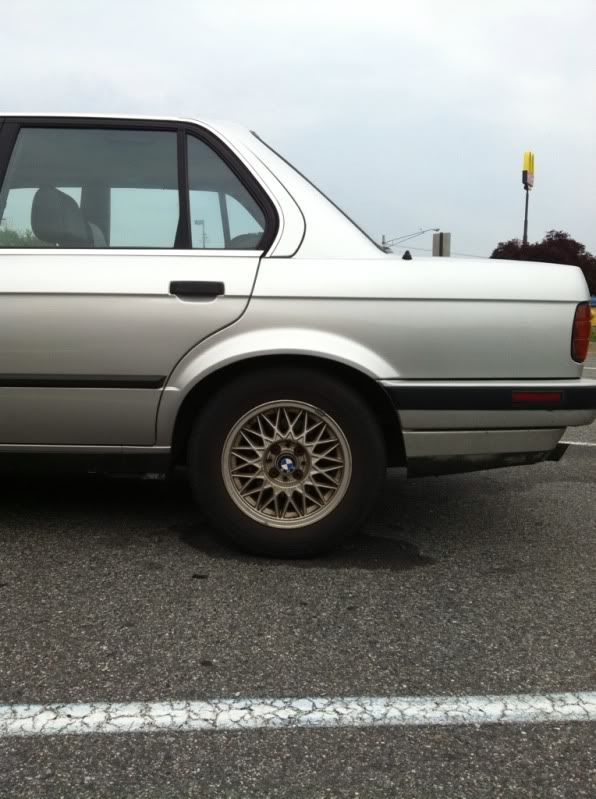 Now, 195/65r-14 tires are tough to find in high quality tires. I really wanted US-made tires, and the Pilot Exalto fit the bill (plus gave me a $75 rebate card). Thing is, I got them in 195/60r-14 size instead. While the load rating is slightly lower, I justified it on the following reasons, (a) the car in earlier years was fit with the 195/60 tires, (b), my car is the lightest variant being 4-cyl aluminum engine and MT, (c) typically my operating load is just myself, a laptop and a clothes bag, so it isnt that heavy, and (d), for fuel economy and life, I generally run about 4psi over the BMW suggested pressure (which is 28 front, 32 rear). So, I got them installed...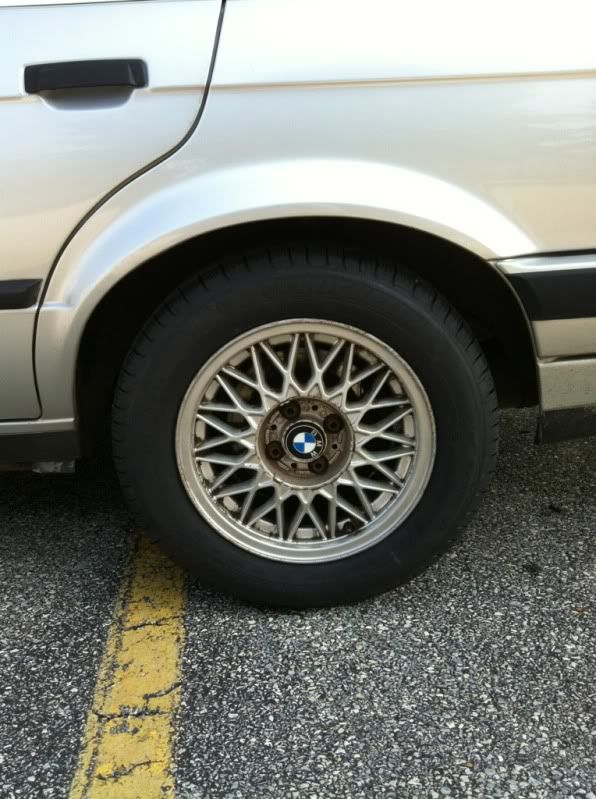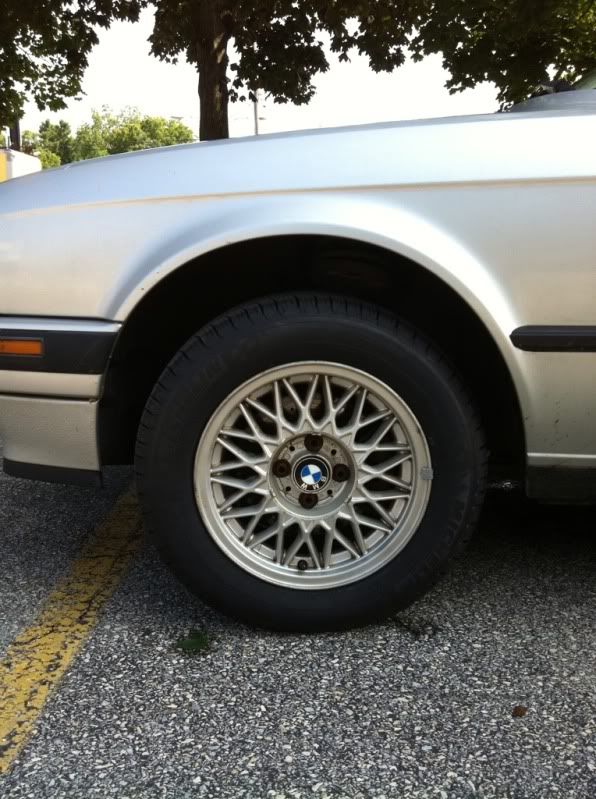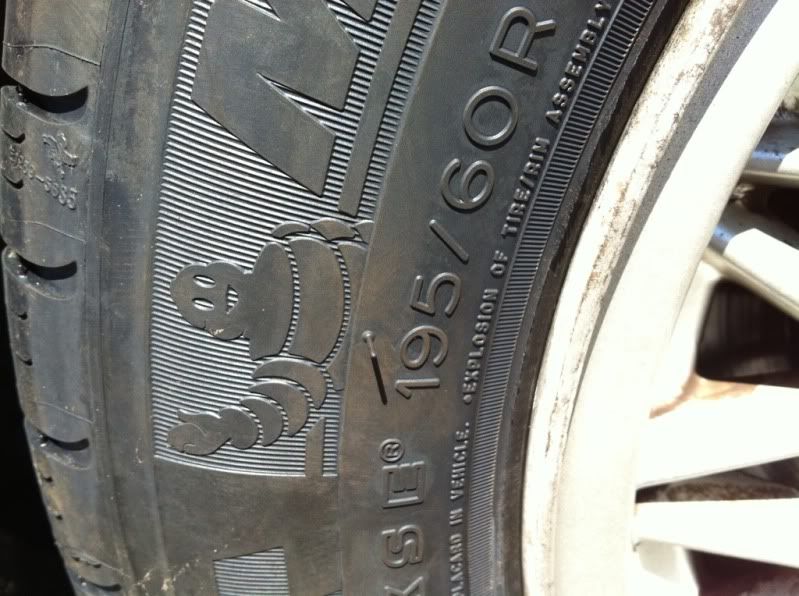 I took before and after pictures so that folks could get a feel for the visual difference between 195/65 and 195/60 tires. Now, the review. The E30, especially given my 4-cyl version with 4.10 rear isnt the quietest highway cruiser. It is above 3000 and more like 3500 when on the highway. Cat and muffler are OE and the sound is good, not loud. But road noise gets through. What I immediately noticed was that road noise was lower, by a little bit (tires can only do so much when there is little sound insulation). I was happy about that. I didnt notice any outright notable differences in cruising RPMs or speed issues, and the tach needle and speedometer are still parallel. The E30 is a car that is very light, with relatively wide tires for its small size and low weight. Because of this, the car is prone to hydroplaning. It does so on my snow tires and on other tires Ive had on this car. Running the Pilot Exalto tires, I can say confidently that hydroplaning is not an issue any more with this car. The tires do very well for clearing water on the roadway, something that when going at highway speeds was sometimes a scary feeling before. Though the tires have the same speed rating, and have a shorter sidewall, they feel like they cushion the ride a bit more, and are a bit "squirmier" than the falkens they replaced (which had a higher sidewall). Its not that they feel bad, and its not like I drive very aggressively. But it feels to me that they give a bit more under certain circumstances. All in all, Im very happy with the purchase, and while I prefer a stiff tire, I dont think that the slight give that I feel is a show stopper, especially for this car, so I'd buy them again.