Joined

Sep 1, 2011
Messages

26
Location
Hello,
I have been using a K&N cone air filter on my old Corolla 1999 Japanese version, 4AFE engine for several years now. I am not interested for now, in going back to the OEM setup, since I already have things setup for these types of filters, including the current battery size, so I don't want or need to go back to OEM filter. I have never had any problems with this setup in over 10 years.
I want to replace my current oil K&N it with a dry cone air. I like what I've read so far about the Injen Technology SuperNano-Web dry air filter. But my only confusion is, that some people talk about it as if it is made by Amsoil. It does not say anywhere on the Injen website that it is made by Amsoil. Later I found another dry cone air filter, which is on the Amsoil website, the product number is EaAU3051 . They seem to have the same blue filter media, but the design is different. The tops of the Amsoil Ea Universal filters are cutaway. Amsoil calls these filters EaUA, I don't know what they stand for. I looks like both are great filters in terms of filtration, because of their filter media technology. I see people on these forums talking great things about this filter technologies, but when they say those great things about them, I don't know if they are referring to the Injen one or the Amsoil one?
Right now it is easier for me to buy the Injen Technology, since is more readily available for me, than the Amsoil one.
Injen Technology product number X-1014-BB:
Amsoil EaAU product number EaAU3051: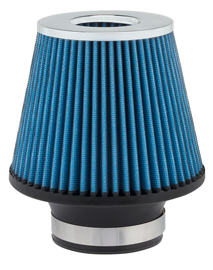 Those two are the direct replacement for my current K&N cone filter in terms of size/dimensions...
So what would be the main differences of these two air filters?
Thanks
Last edited: