Joined

Oct 28, 2008
Messages

1,611
Location
I've been meaning to post about this, but I have just been a little too busy to get around to it. Our Focus ST just hit it's 2nd year of ownership. Overall, I have nothing different to say from year one. The car is a blast to drive, even if it hopping around from my kid's school or the grocery store. I feel like it could be a lot faster nowadays, but this is how I always get with any vehicle fast or slow... after driving it every day you itch for more "Oomph". I know this is in my head though since anytime someone drives the thing they comment on how it's a lot quicker than they expected. It's also a pretty noticeable reminded when I haven't driven it in a few days. MPG's are consistent and good in my opinion. Lots of around town driving. Average 22-24 in the winter, 25-27 in the warmer months. If I was doing mainly highway I would be in the 27-32 range depending on how I drive. Best I ever gotten was 34.5MPG on a 160 mile trip, all hwy... and I was going for best fuel economy. Only real complaint I can say is weird creaks and squeaks in the interior, especially when cold. Interior is pretty good IMO, but the spots where costs were cut is the spots where I notice the noises. I blame the unforgiving hard suspension matched up with an interior made for a soft, easy driving, economy car. The car got in an accident. I believe it was this fall, not 100% sure on the date. I am going to be 31 next month. This was my very first accident and even though stuff went pretty smooth it was a lousy, time consuming experience. I was at a light in a turning lane. Guy in front of me had a big, older model (Late 90's?) Jeep Cherokee. There was a straight lane to my right and a guy in a huge truck was trying to get over in the turning lane while the light was red. The man driving the jeep gave him the "no problem" wave and proceeded to back up to let him in, with me at a light, and cars behind me. He must have completely not seen me because he backed up pretty fast. I honked as soon as I saw the scenario play out and his reverse lights go on but no, BAM! Messed up the ST. The guy couldn't have been going more than a few miles an hour but his truck and it's height did some damage.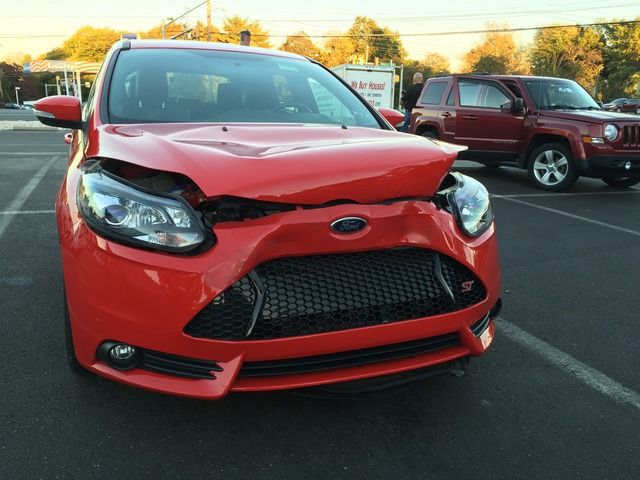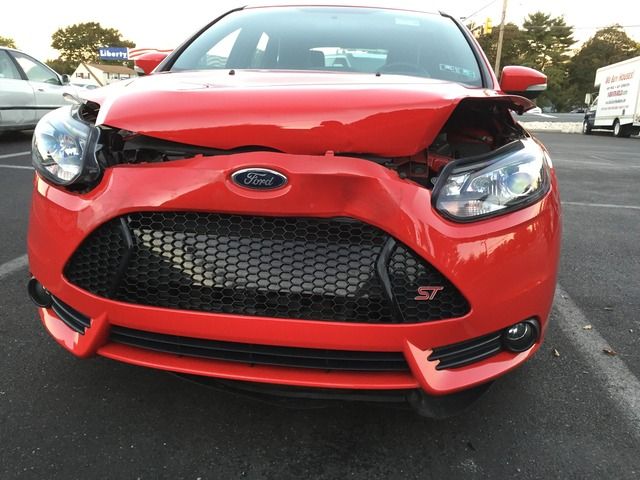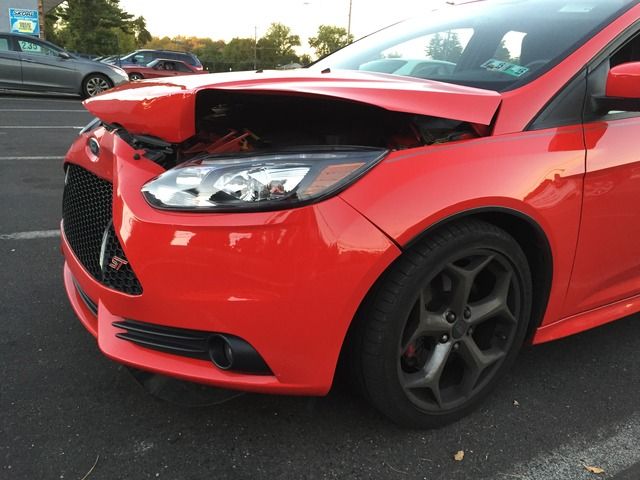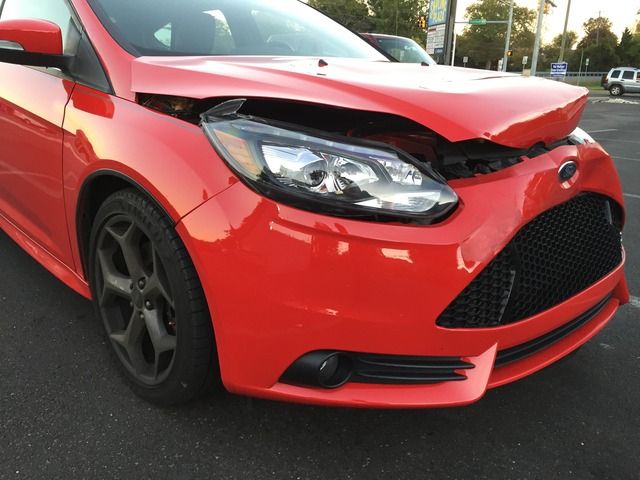 Initial estimate from his insurance company was a joke, using very cheap regular Focus aftermarket replacement parts. I was able to pick my body shop and they were great. They declined almost all the estimate parts, and since there is very little aftermarket ST stuff, 90%+ of everything was OEM. New hood, new bumper, some support pieces here and there, and the headlights. The housing cracked in both of them, so I had to get two brand new headlights. Boy are these OEM HID's expensive! About $1400 a pop. The total estimate was just shy of $10k. Took 3 weeks or more for the car to come back, they did a great job. Things happen. I am just glad it wasn't worse.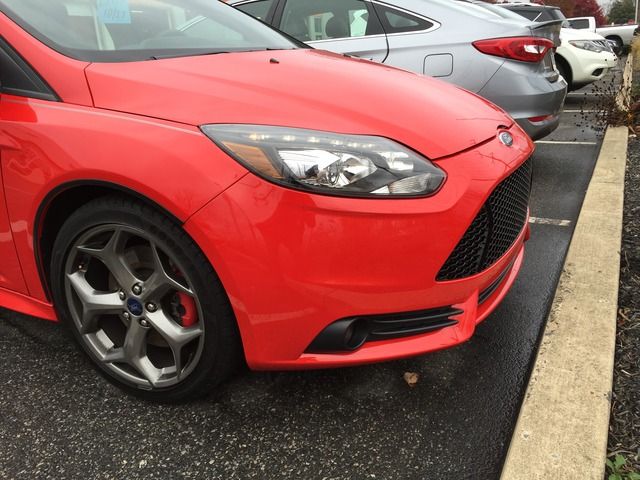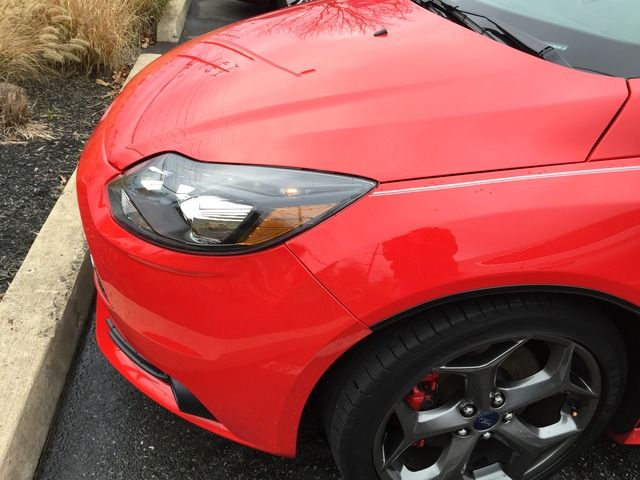 Here's one I just took after the first wash this winter lol. Has the snow tires on.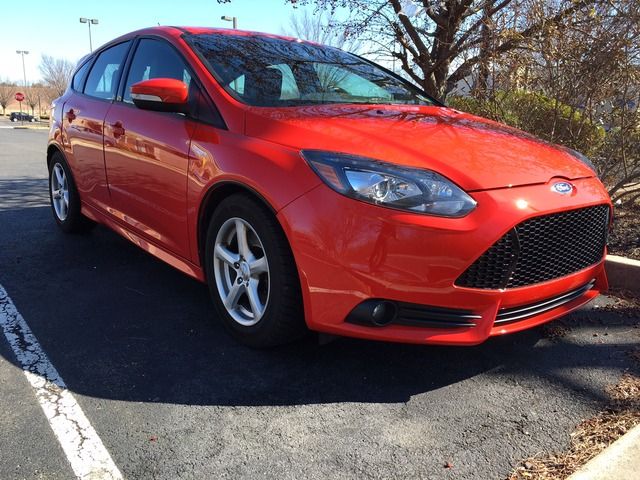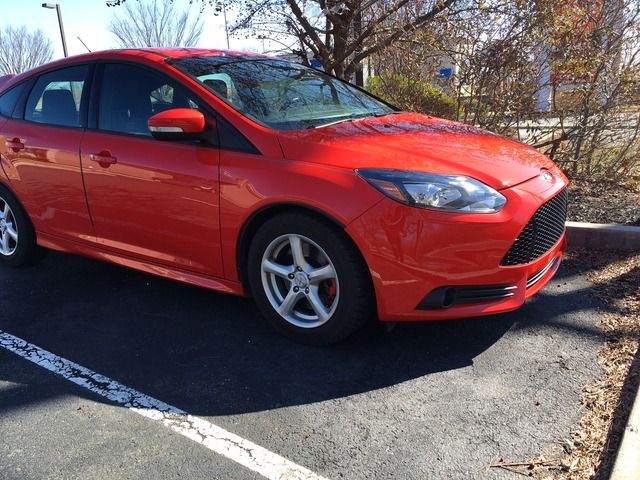 Okay,back to work. Just thought I would share with you guys.