Joined

Dec 14, 2002
Messages

49,466
Location
Finally, after many years of considering that I wanted a lift, but not taking action on it, I finally pulled the trigger. Every now and again, I read forum threads about lifts. Recently I saw some threads about a new(er) hydraulic lift that was pretty reasonably priced. I was intrigued... But then I came to realize that it was all made in China, and there were lots of stories of hydraulic leaks and whatnot. In doing more reading, I found that there was an EZ Car Lift SU (Single Unit) designed for mobile mechanics and able to be used by itself. I had a discussion with the company's owner (who answers the phone when called), and it was indicated that if one were to buy one of these, and then bought another later, they could be linked up like the regular lift. This was the determining factor. I hadn't really budgeted to buy an entire EZ car lift, and this allowed me to get my foot in the door so to speak. with a path forward if I chose. The owner of the company is super-nice. He answers the phone when you call, and when I was putting this lift together, on a Sunday afternoon, and shot an email, he actually called me within less than five minutes! The units ship from California. So to get cross country, if shipped on Monday, can get east by Friday via FedEx. The unit comes in a reasonable sized box. One person can lift it, though its a bit long so could be unwieldy... But nothing crazy, that's for sure...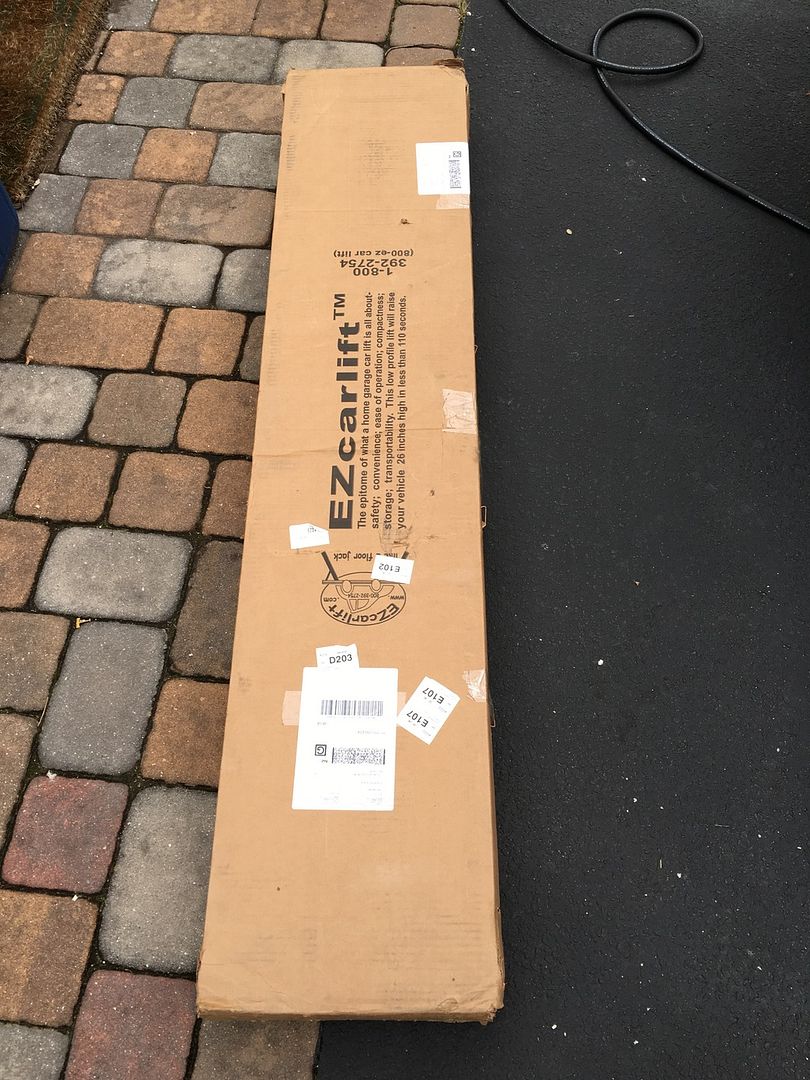 It is wrapped in plastic in the box, pretty simple packaging, and easy to unwrap: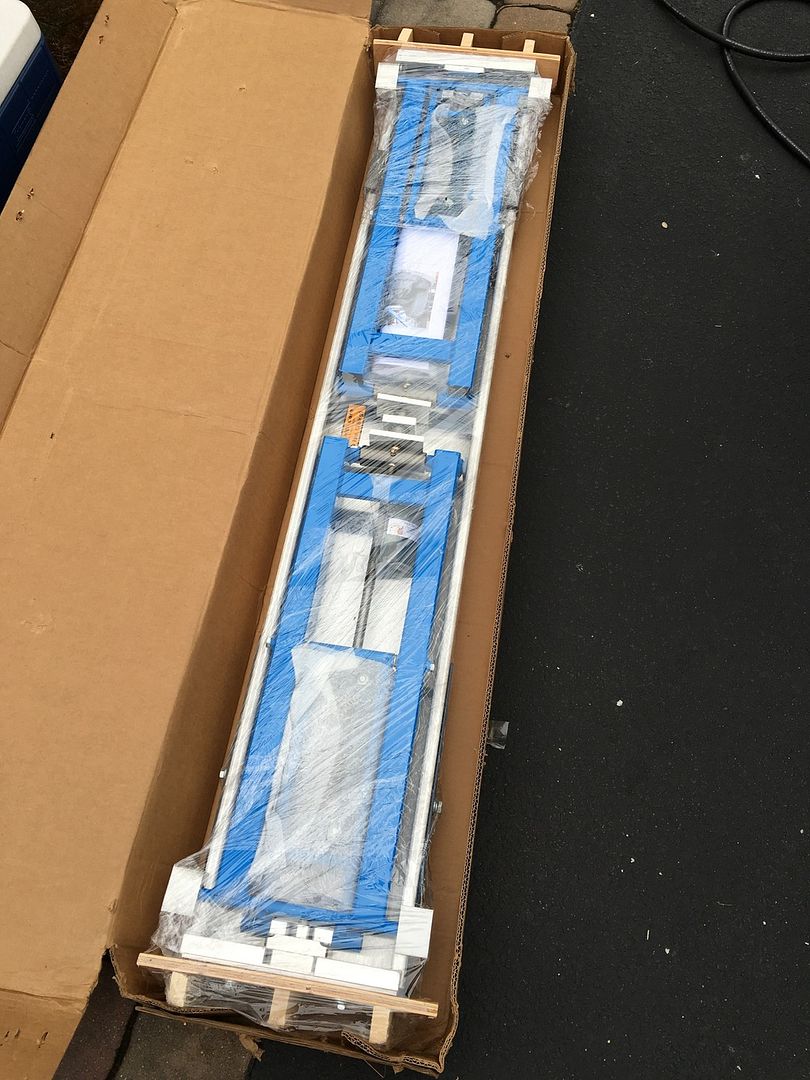 Very nice manual, which lacked a few items, but those items were so simple they were self-explanatory.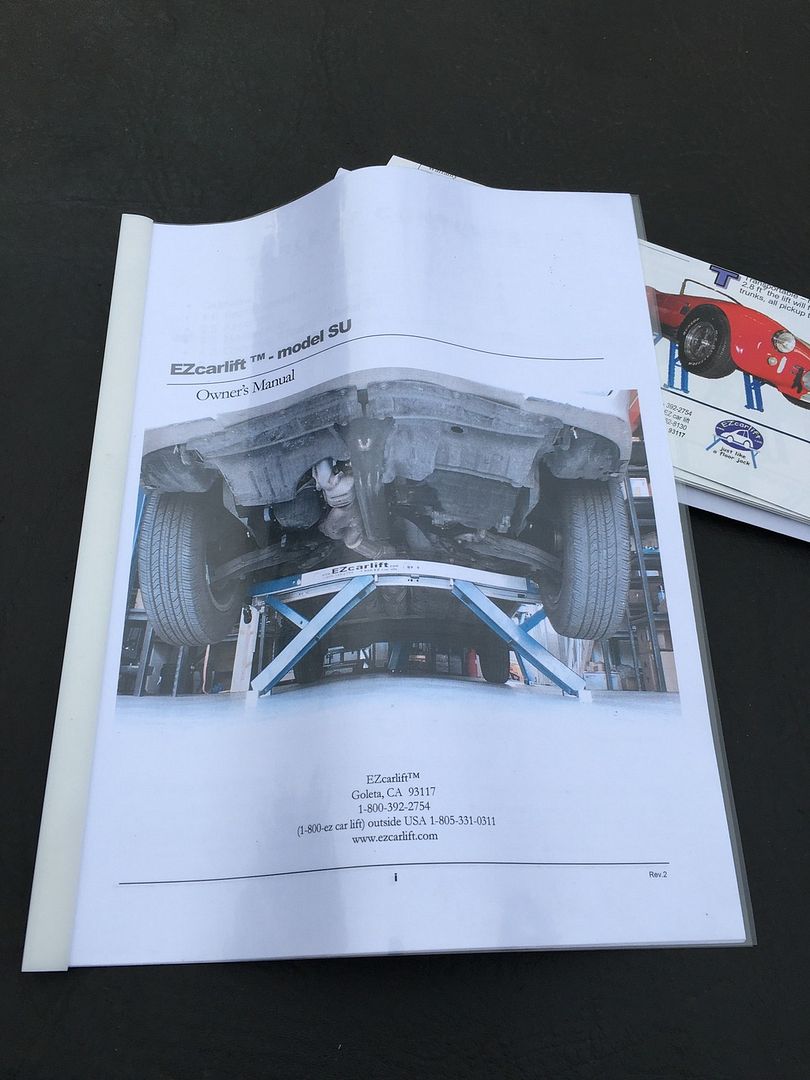 The only special packaging to remove are these plywood ends: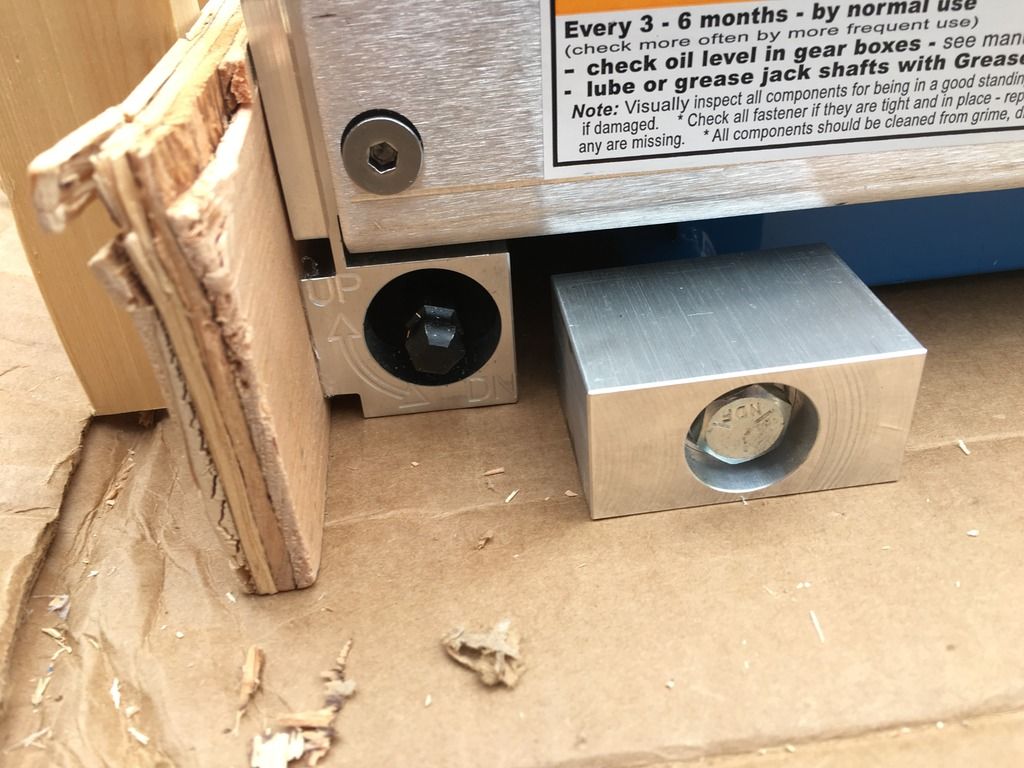 There is a sealed gearbox that must be filled with supplied lube:
The mechanism is quite simple: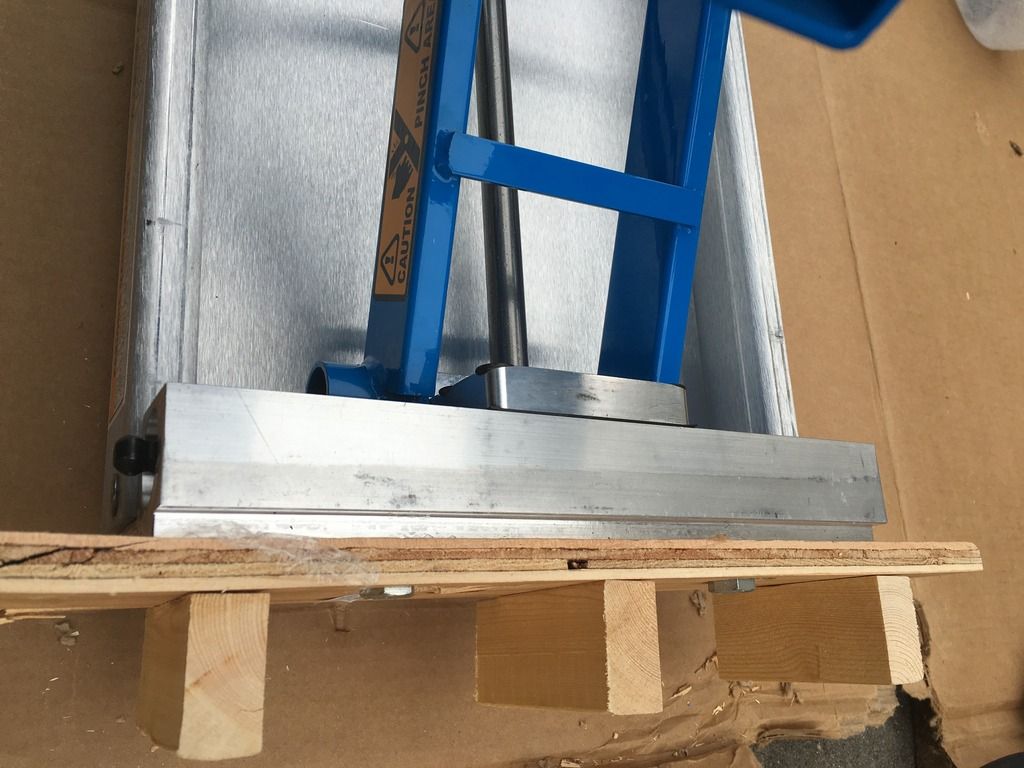 The unit uses hockey pucks to support the vehicle to ensure no damage. I might have done it wrong, not sure, but it is interesting that they are installed on spring loaded carriers so they can be moved and then revert to their parked position.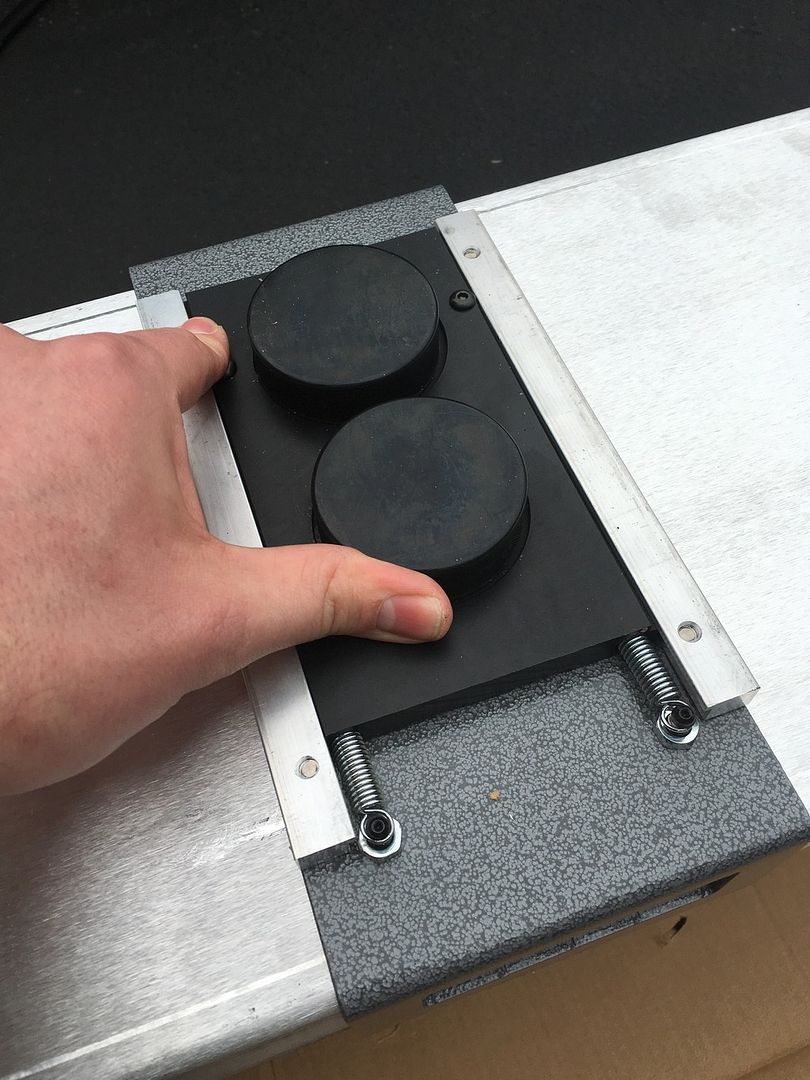 The manufacturer recommends a drill of around 8A. My Milwaukee was only 6.5A, and I don't really care to use a cordless. I needed a bigger drill for large hole saws, so I decided to buy a Swiss-made HD21-2 Bosch two-speed drill.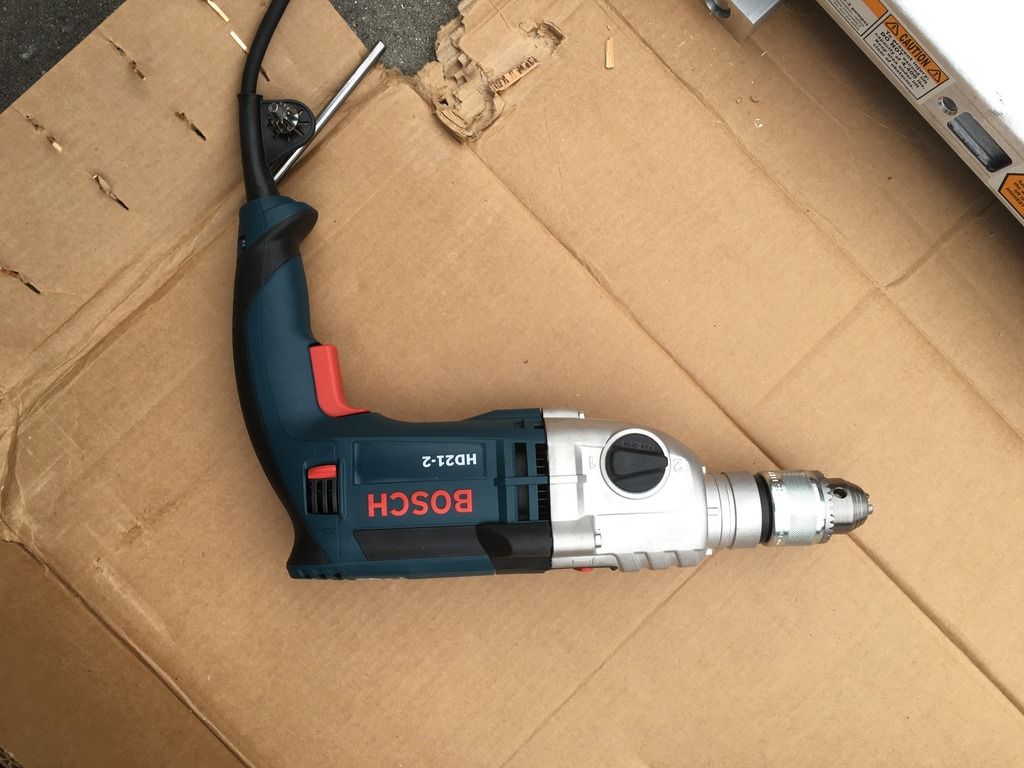 Here is a video of the lift going up. Ive heard figures of over a minute to lift a vehicle all the way up. I didn't lift all the way, but it was not that slow, nor was it as fast as a three-pump hydraulic jack... Kept the drill in the 0-1000 RPM mode per the instructions. The unit is delivered with a hex to male 3/8" square, and then a very deep six point socket. The male end on the lift is a wobble head type so that the drill need not be straight, and can be kept off the ground at the start. I used this to lift my Honda Accord to install snow tires (finally doing it, sort of late in the year, but oh well), and it worked super well and easy. The unit has casters on it, so its simple to slide underneath, and get positioned.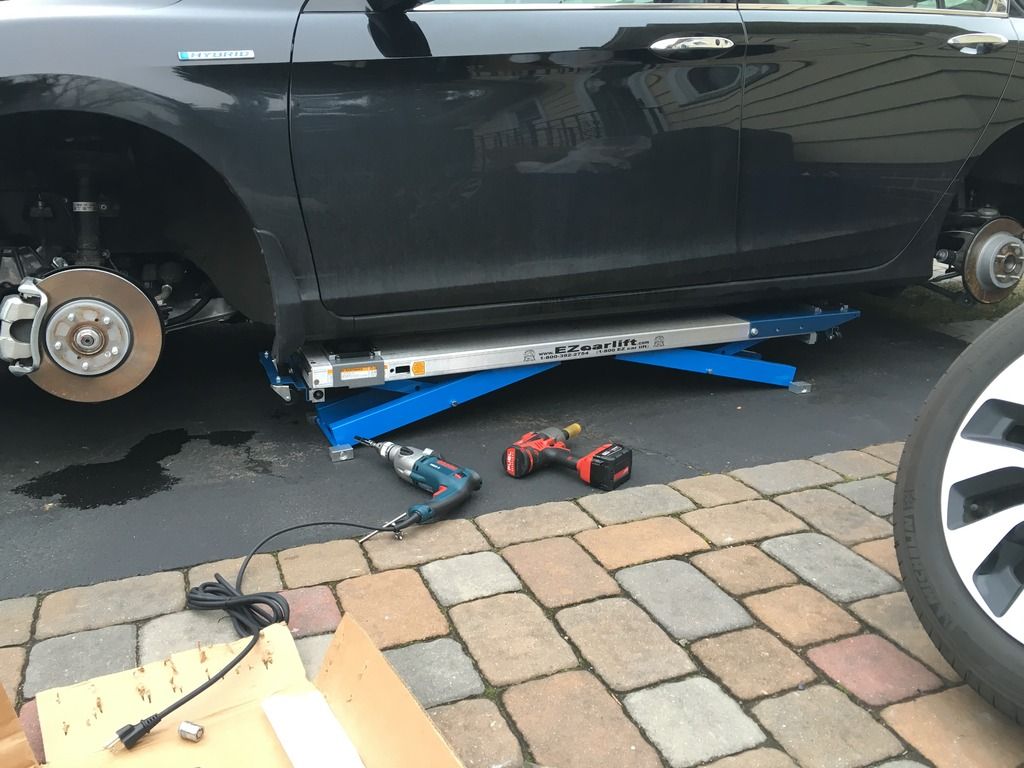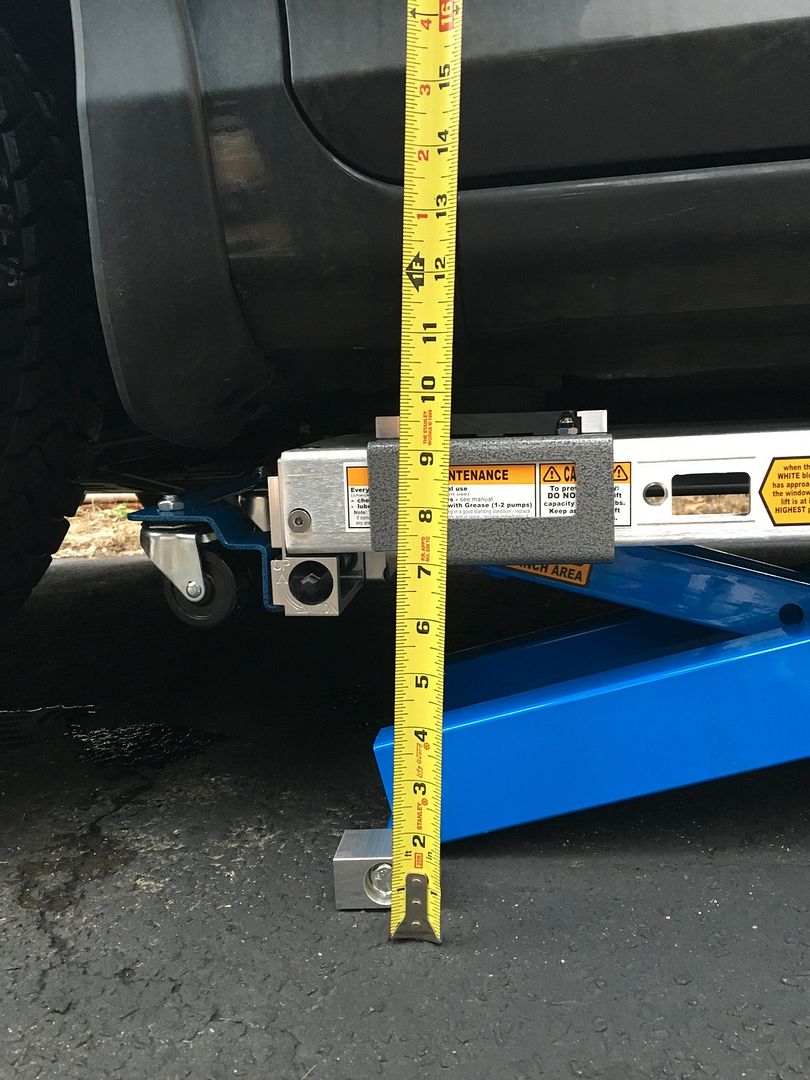 In the end it can stow under most cars, on a garage floor...
Officially the single lift can only go to 18", IIRC, with the regular one able to go a good deal higher. To me that's sufficient for any sort of woe Id want to do, and Id have to check with the vendor to see if higher is allowed in tandem application. In closing, Ive been super happy with the EZ Car Lift. I will at some point buy another and either use them connected or perhaps just lift each side a little at a time. The possibilities are endless with this, its is small, manageable, little to no maintenance, and a great item. Yes, some might argue you can buy a (likely Chinese) two post or other lift for the same money as the full EZ lift. But this is intrinsically portable, movable, and allows one to lift a car in any garage and greatly increase their capability to do various repairs safely without the challenges and safety concerns of jack stands (including damage to jack points, damage to undercoating or metal underneath, etc. The owner is nice and helpful, the product is fully USA made and high quality, and well-finished, and Im really happy with it. Coupled with my jackpoint jack stands, and with another in the future, the possibilities are endless!