Joined

May 6, 2005
Messages

9,200
Location
Anyone try one? I'd like to get my registration paperwork in person rather than waiting for it by mail. On top of that, California DMV now charges a fee for use of debit or credit, even with online payments or in the office. I'm trying to register my wife's car, and AAA won't do it without her present and it's tough getting her to come with me for something like this; she always wants me to do it and thinks it's a pain to drag her with me. Once I managed to get her registration done at a AAA office and ended up paying for it. But then when the clerk realized she wasn't there I was told that they couldn't give the registration to me without her present. I got a receipt and (after discussing what to do with a manager) they ended up printing up the registration and mailing it. I think they could have also held onto it and I have my wife come in.
The last time I registered my wife's car in person, the DMV office didn't care if she was present. But I waited maybe 2 hours total. They do take cash or check without a surcharge though. These automated kiosks only take debit or credit cards and charge maybe 1.96%(?) but it might be worth it rather than waiting for the registration/sticker to arrive in the mail (with the same surcharge) or waiting a couple of hours at the DMV office.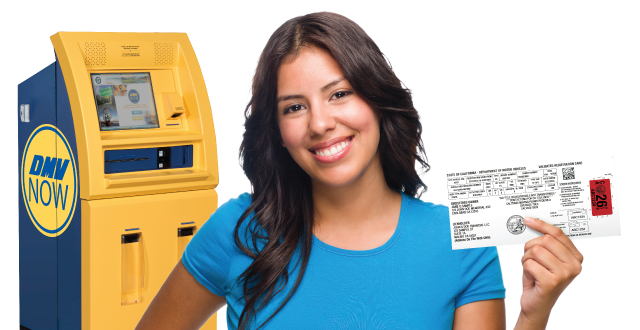 Use the DMV kiosk to renew your registration and walk away with your tabs! Inside the FAQ.

cadmvnowkiosk.com
From what I can see, it does print a registration card that's way different than any others. At the DMV office and authorized third-parties (like AAA or other businesses) they print on a perforated 8.5x11" sheet of paper. They used to use dot-matrix printers way back in the day where they removed the carriage holes, but these days it's usually a laser printer. Those always come with the registration sticker in a small bag - just stapled to the form. But for mailed registration cards they have a smaller form (I think using a high-res inkjet) that had the registration sticker on a perforated stub. This seems to be like the latter, although the form itself looks to be way different than the mail-in form.
Here's the printout version (apparently someone's Rivian):
And a sample of what the kiosk spits out: