I read the below link, but what this guy says regarding against using synthetic oils isn't specifically directed at 2 stroke use, but rather 4 stroke--so is there any reason his views might apply to 2 strokes as well? (the 2 stroke piston pics show what he claims are differences from the
method
of break-in, not the type of oil used) From what I have seen, there are a lot of folks on both sides of the fence with this issue. Bottom line is I'm getting a new piece of 2 stroke equipment today and I'm wondering if I should break it in with say 16 or 20:1 Pennzoil air cooled (now AeroShell Oil Sport Plus 2) dino/mineral for the 1st gallon before I switch to Mobil 1 racing 2t, or just start off with the latter? Comments from others that I thought were noteworthy are in bold.
http://mototuneusa.com/break_in_secrets.htm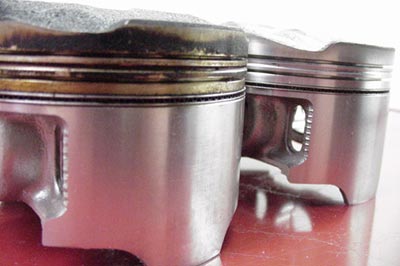 Quote:
These Honda F3 pistons show the difference. Although these pistons came out of engines which were raced for a full season, they weren't set-up with any special clearances or other preparation. These engines were never worked on prior to being raced. They were totally stock as built by Honda. The only difference was the break in method they used... The one on the right was broken in as per MotoMan's instructions. The one on the left was broken in exactly according to the owner's manual. The resulting leaky rings have allowed pressure to "blow by" down into the crankcase on acceleration, and oil to "suck-up" into the combustion chamber on deceleration. Needless to say, this bike was slow !!
_________________________________________________________________________ _________________________________________________________________________
Quote:
It is a myth that is not good to break in an engine on fully synth oil. The process just takes a bit longer (quite a while in fact). Using inferior oil for the break-in process never seemed such a good idea to me, unless you want to run the engine directly out of the box.
Quote:
The slower the running in process, the better it will be for your engine,
because running in really is a damaging process
, where small material particles are forced to part with the underlying metal. and hopefully, the resulting roughness is less than it was before. When the parts finally mate up correctly, there could well be more damage than needed.
The more gradual the mating process, the better, and the longer you will enjoy your engine.
http://www.rcuniverse.com/forum/gas-engi...tion-print.html
Quote:
For running in the content should be high, and forget all the [censored] of different oil for the first gallons. Use the best oil you can get from the get-go.
You do not want to wear an engine, you want smooth surfaces.
http://www.rcuniverse.com/forum/gas-engines/6971065-new-engine-break-print.html
Quote:
There's zero need to use a non synthetic oil during the break in. Why rush the break in? I don't know about you other folks, but like Pe and Dick
I prefer to have the best possible lubrication running through my engines from the first spin.
Quote:
It is important break in your engine with an oil such as lawnboy or so on. If you use a full synthetic during break in it does not allow the engine to fully break in.
Quote:
Totally not true, nothing wrong with breaking an engine in on synthetic oil and it WILL break-in completely, might take another hour or two but no problem. Do you think companies like Stihl, Echo, Husky, Poulan,and Homelite, don't know what they are doing? They include fully synthetic oil with their equipment when purchased new in the box with instructions to use fully synthetic oil from day one and forever. I've been doing it for many years, you telling ME my engine have never broken in?
Quote:
After a few thousand engines broken in with synthetic I think I can say with conviction they most certainly do break in. Those stating they do not clearly don't have all that much engine time under their belts, and are limited in the number engines they have run and the length of time they have run them.
Last edited: