Joined

Jul 14, 2009
Messages

11,196
Location
I've had a few acer laptops over the years. We have my mom's old(ish) Acer Extensa, and the Gateway laptop I had a year or two back. We've for the most part had really good experiences with acer laptops, never really had any problems with them. So when my latest lenovo laptop had the motherboard die a second time, this time just out of warranty, I just decided to pick up a new one.
http://www.newegg.com/Product/Product.aspx?Item=N82E16834215419
At the same time I ordered a Seagate Momentus XT 500GB, 8GB of Corsair DDR3-1600 and I pulled out of the lenovo the Intel Centrino N-6230 wireless card I'd put in there. The day I got it, I performed a basic clean up of the bloat-ware that most laptops comes with, performed a restore cd creation, and mess around with it to get an idea of it's performance before the upgrade. The verdict? Quite good. The biggest bottleneck of course is the slow Hitachi 5400RPM HDD that it comes with. Acer doesn't do as good of a job as lenovo at covering up the slower drive, especially when it comes to boot time. So the next day when I received the new parts, I did the upgrade. And it was painless. On this laptop, you remove two screws and a panel, and you now have access to the HDD, the wireless card, and the RAM. Couldn't be easier or simpler to upgrade. More on performance later though. For now, let's see some pictures, and get a rundown on the specs, and my opinion on the aesthetic design, and a few other things. Overall View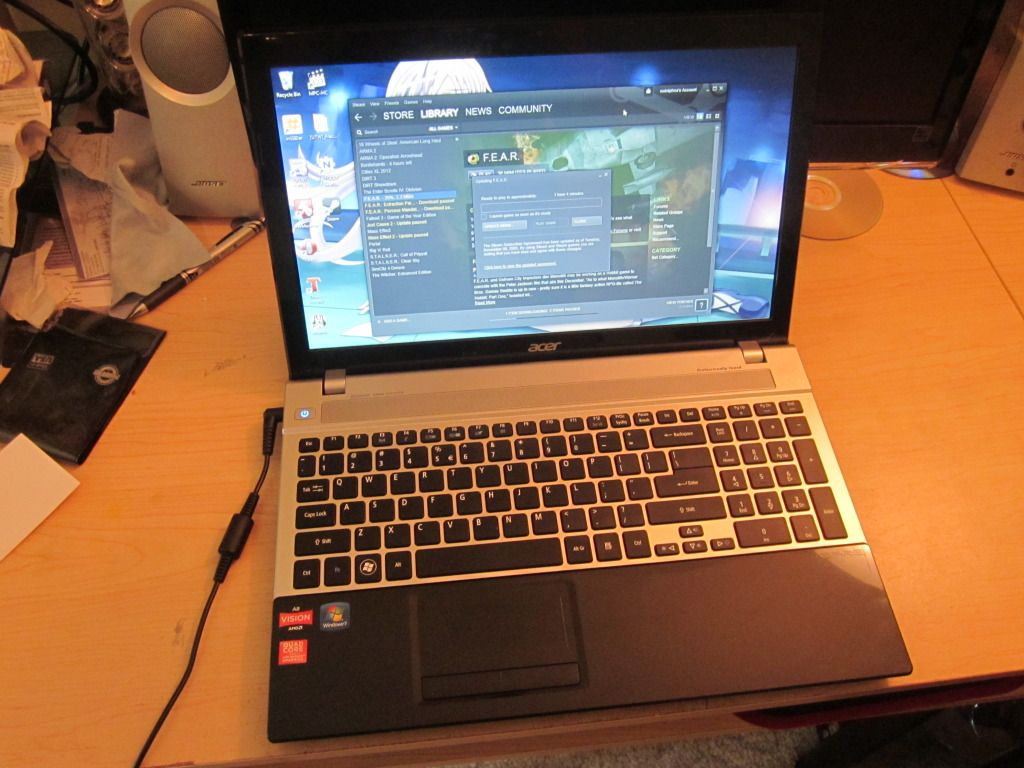 Another view of the main laptop body, showing the plastic and the keyboard layout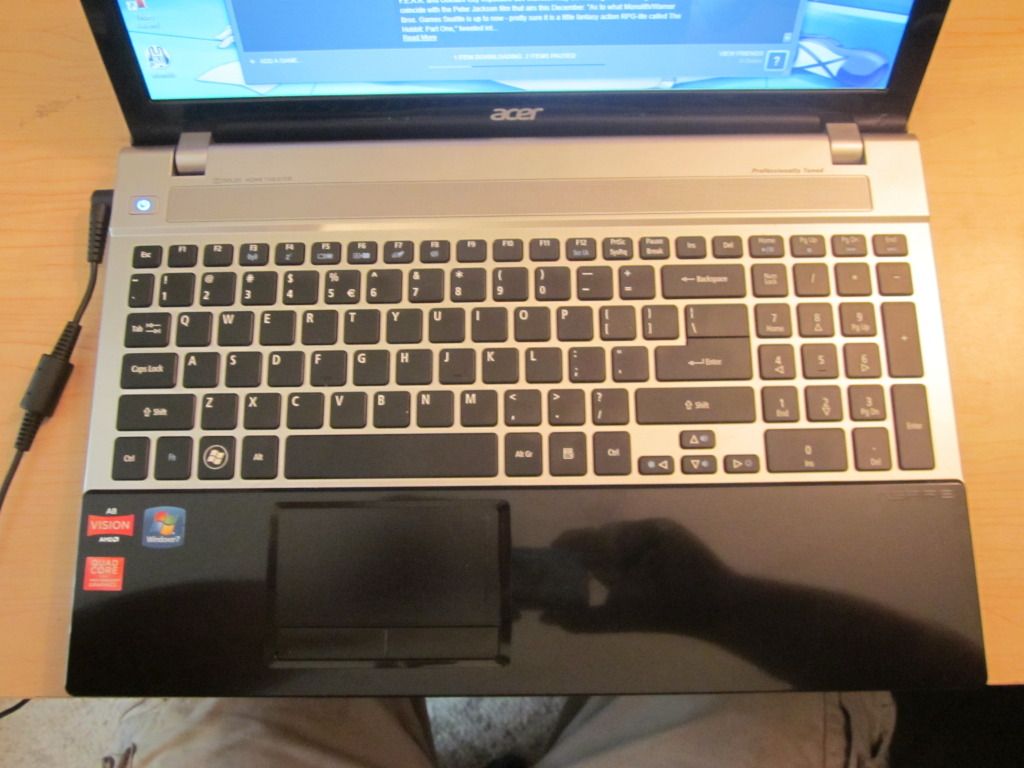 Screen, and screen bezel showing me downloading F.E.A.R on STEAM.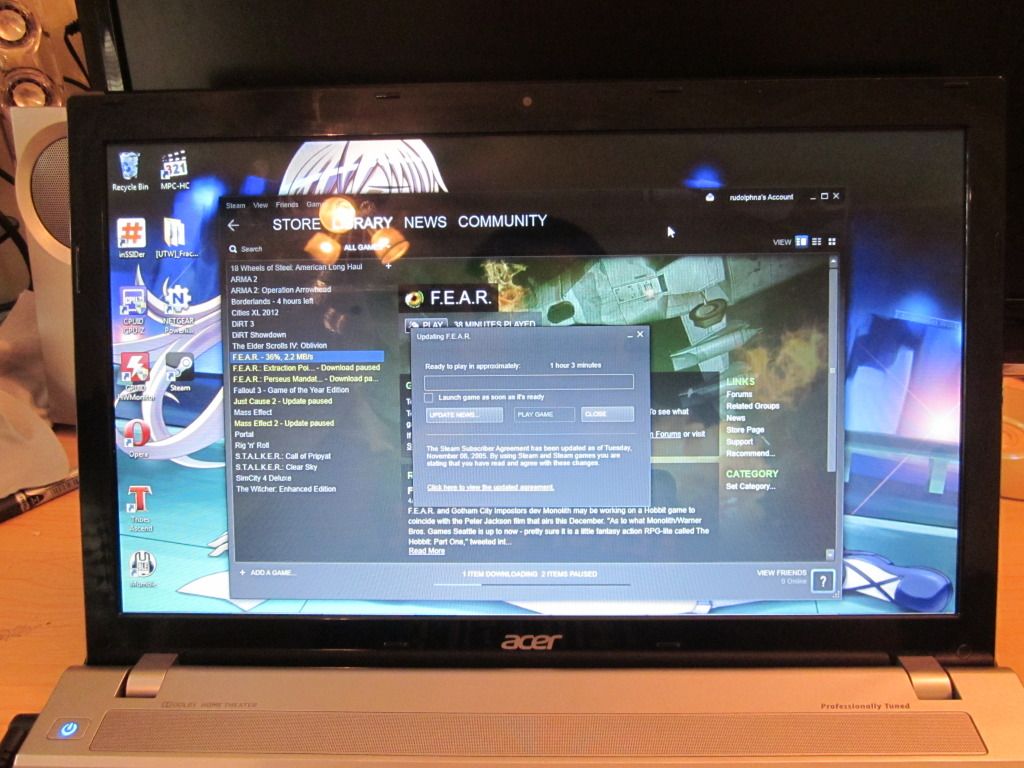 The back of the screen.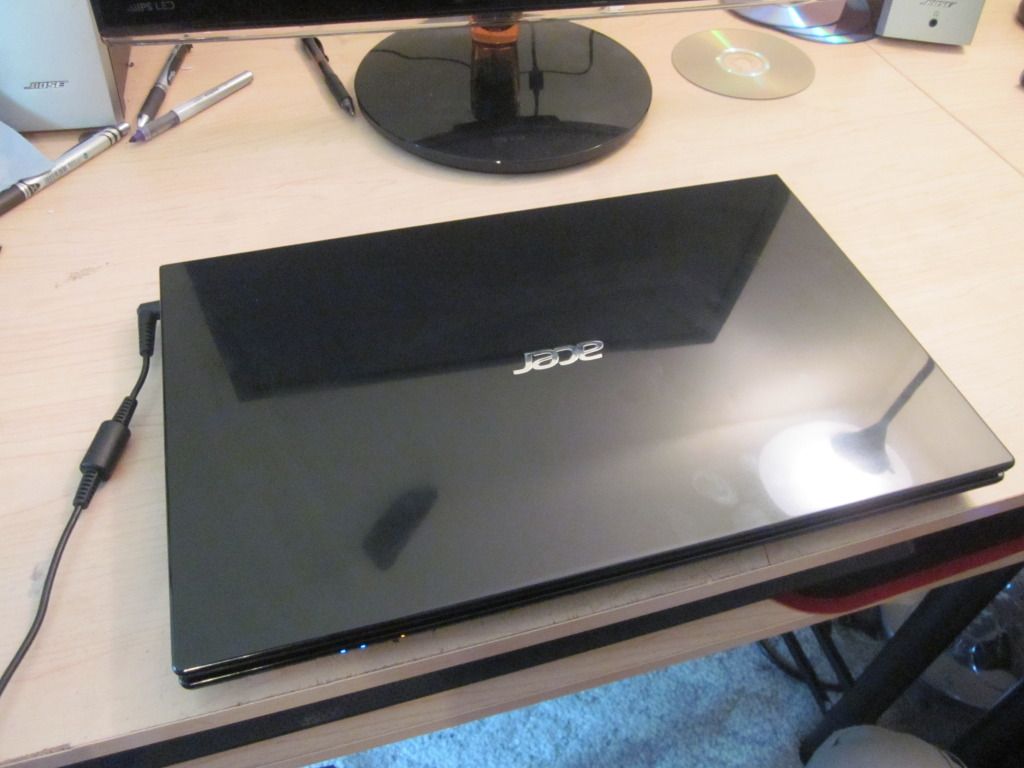 Thickness compared to a Samsung Galaxy S2 on the right, a Corsair Vengeance K90 keyboard.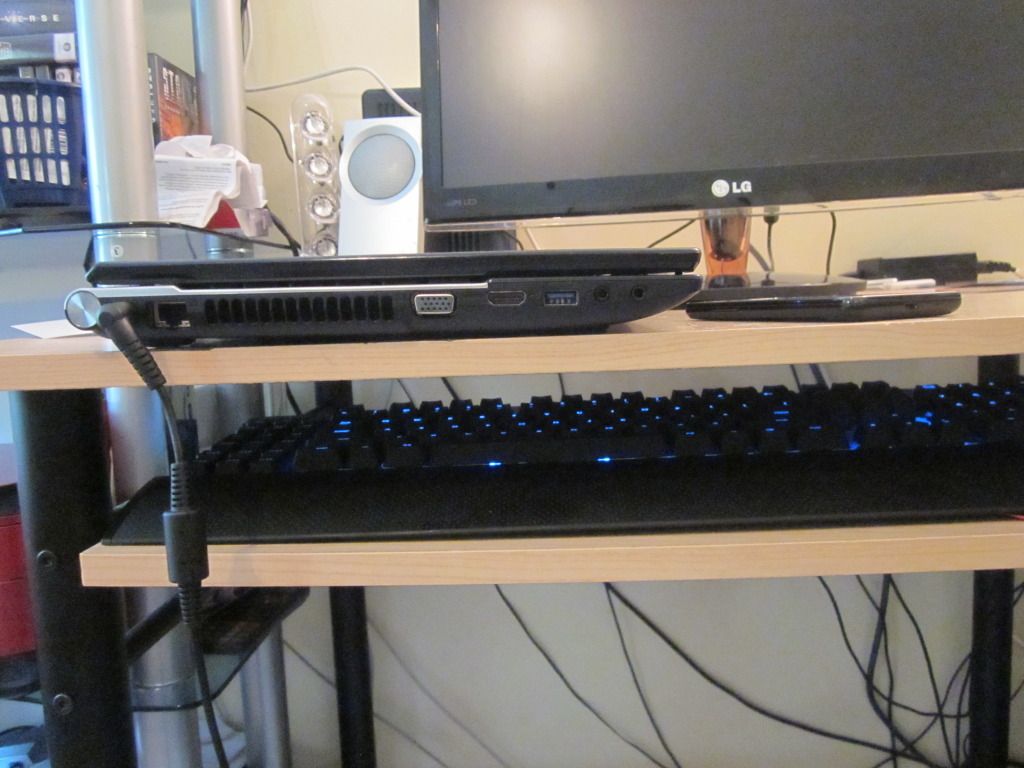 Again comparing the thickness to a Samsung Galaxy S2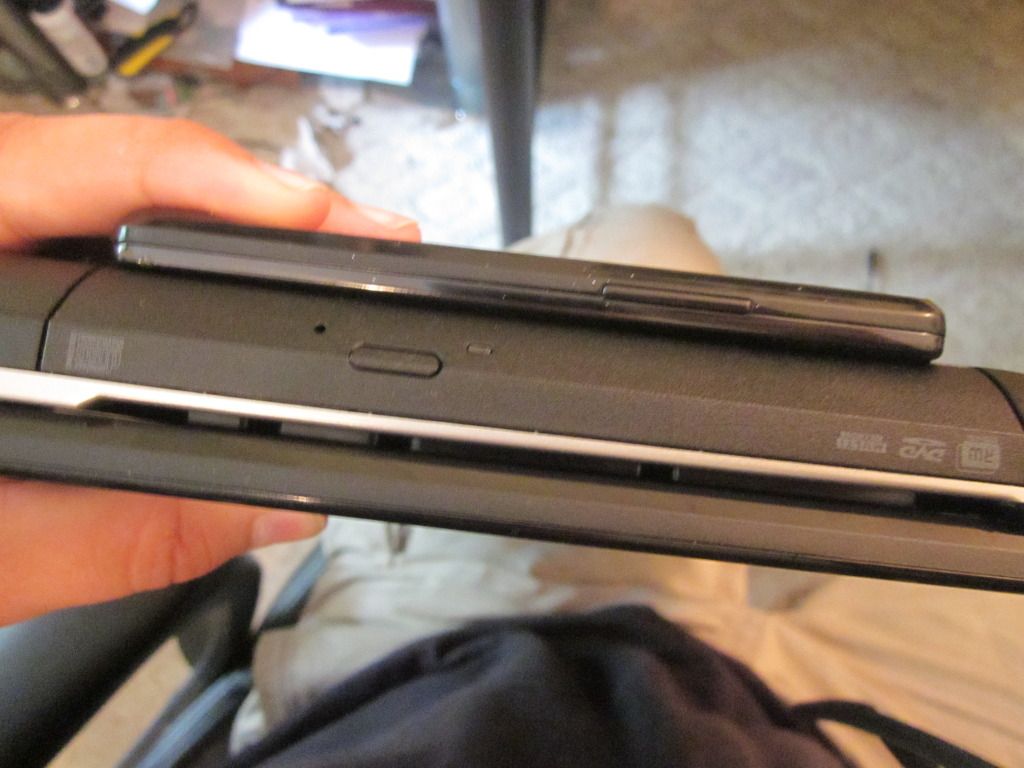 Bottom of the unit. At the bottom of the picture, the long panel that goes across the entire unit, that is the cover that covers that RAM, HDD and Wireless card. Two small philips head screws remove that, allowing easy access.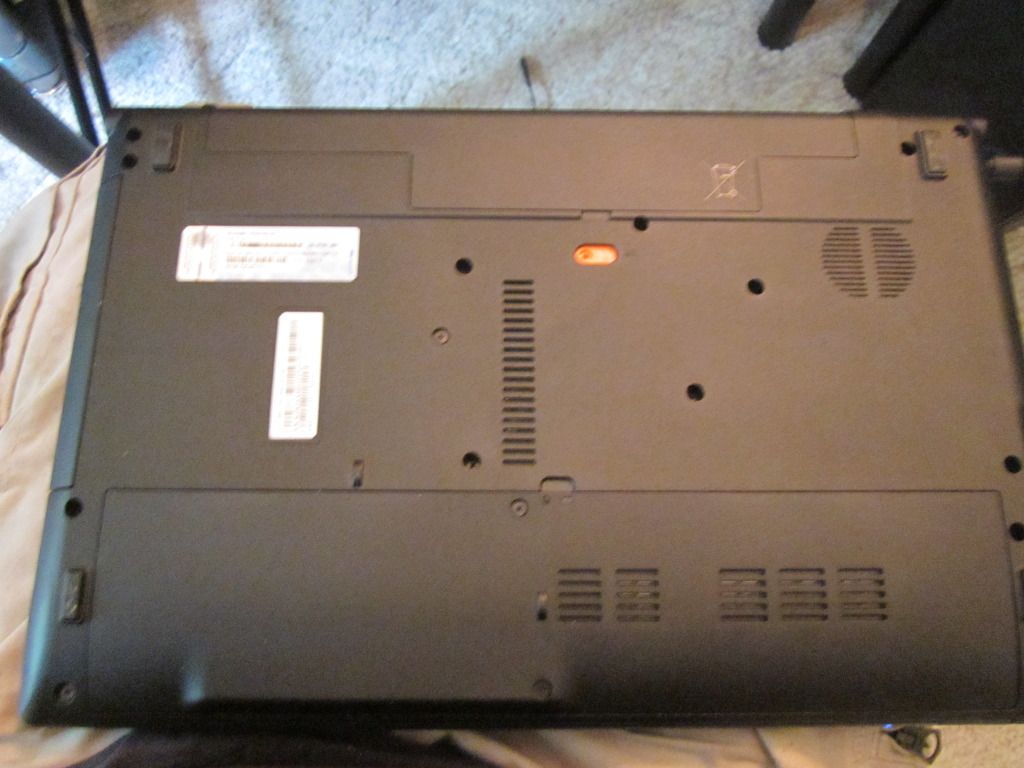 Macro shot of the keys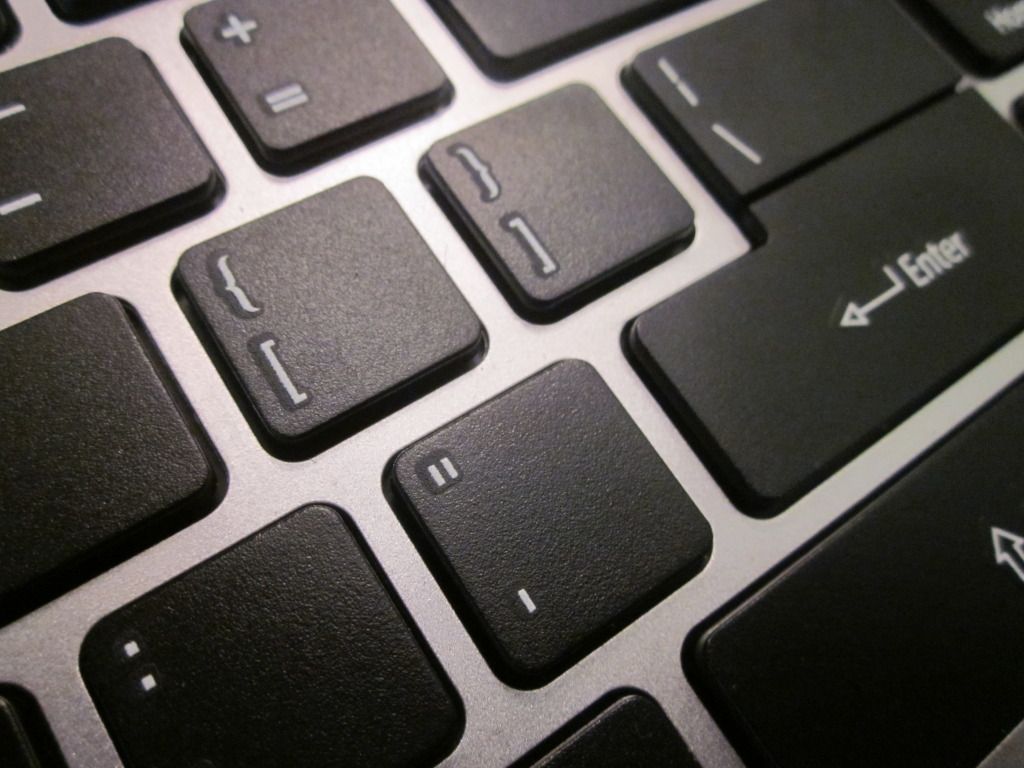 Macro shot of the silver plastic of the speaker grille and power button,
Macro shot of the touchpad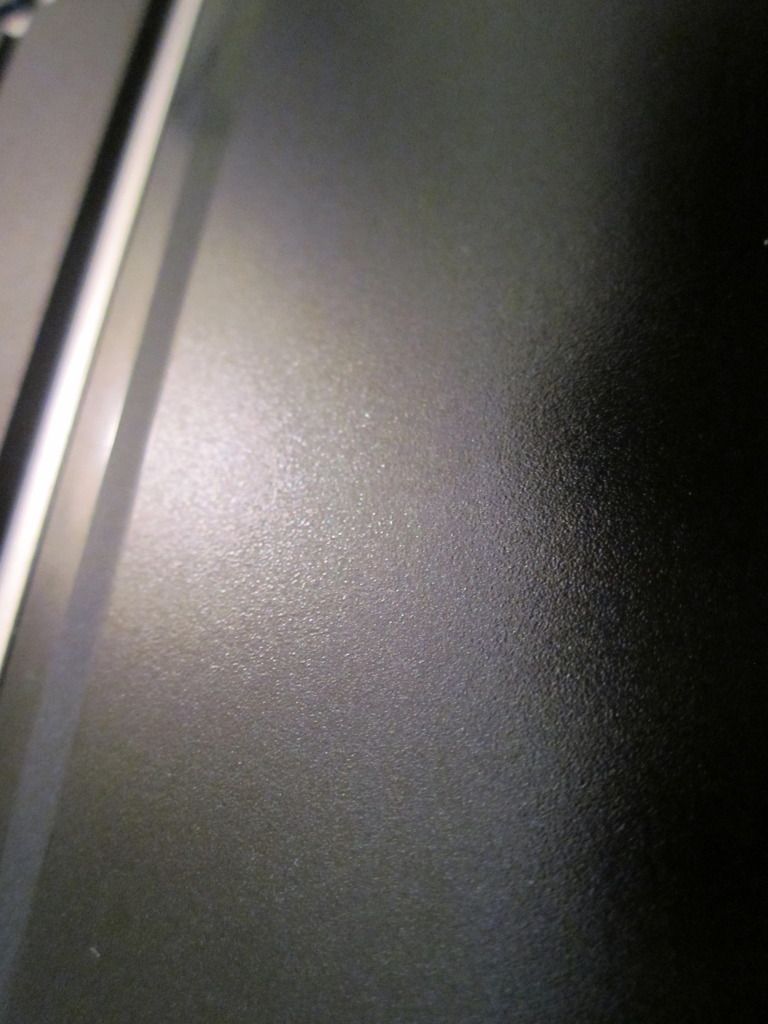 View of left hand side ports, including USB 3.0, Gigabit Ethernet, HDMI, VGA, and the power cord, as well as the fan exhaust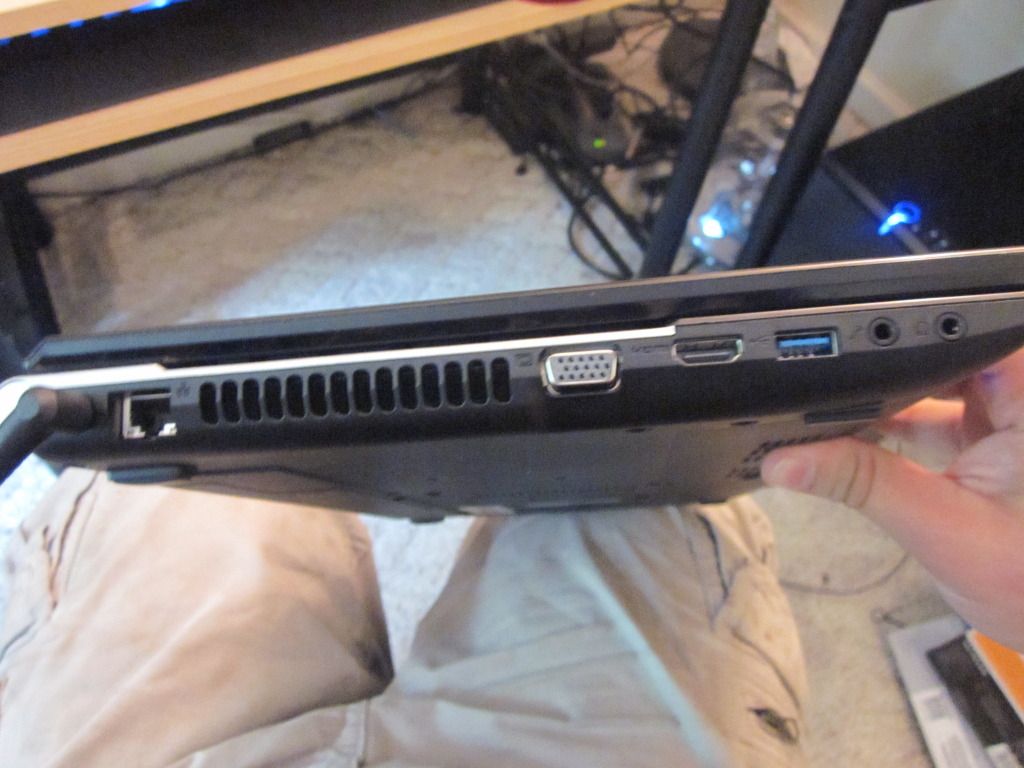 View of the right hand side, 2 USB 2.0 Ports, DVD-RW drive and Kensington lock slot.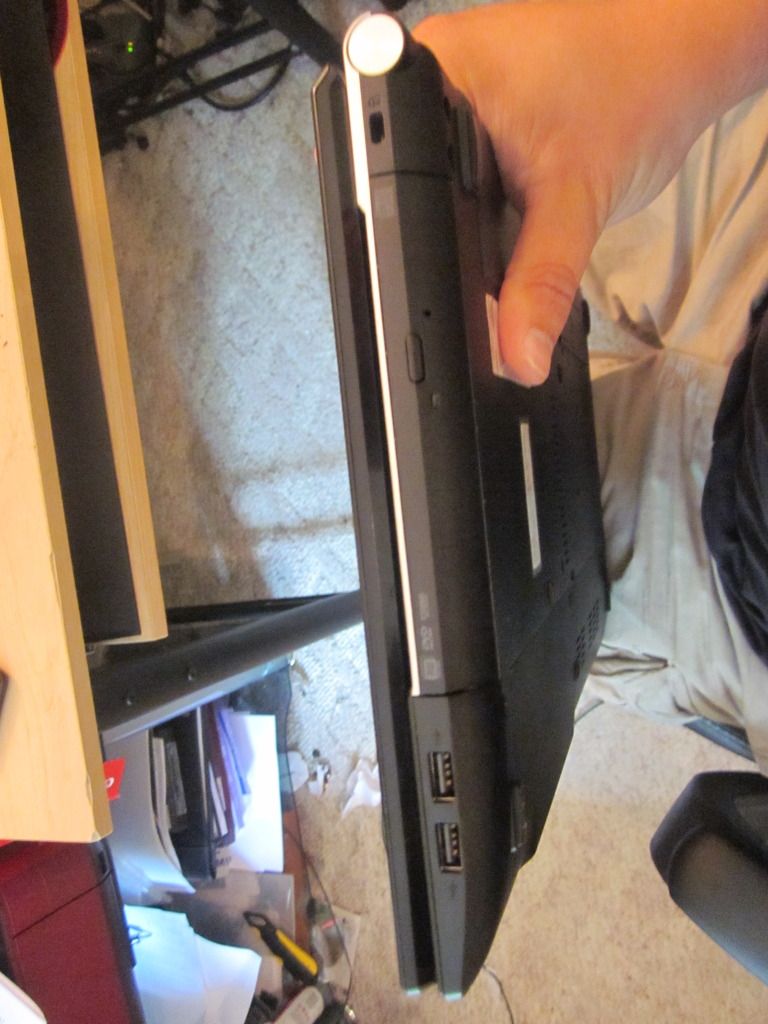 The casing itself is fairly attractive in most cases. Though the glossy black plastic does fairly reliably collect fingerprints and dust. TThe quality of the plastic though is appropriate, doesn't feel super cheap, and the overall build quality is quite solid, with little body flex and no creaking/squeaking. The keyboard is quite excellent for a laptop as well. Little flex, nice key travel and spacing. And acer I think is one of the only laptop makers who knows how to design the 10 key on a laptop. Overall it's attractive, and though it's not the lightest nor the thinnest, it's certainly quite portable. Now on to the specs as stock, and as configured. CPU: AMD A8-4500M Codename Trinity Process: 32nm Type: Quad Core (Two "Piledriver" Modules) with Integrated AMD Radeon Graphics Clock Speed: 1.9Ghz IMC: Yes Graphics Core: Radeon 7640G: 256 Unified Shader Cores, Nominal clock speed of 497Mhz, (Turbo up to 655Mhz depending on workload and TDP utilization) TDP: 35 Watts RAM: Stock: 6GB Hynix DDR3-1333 CL9 Configured: 8GB Corsair DDR3-1600 CL9 HDD: Stock: Hitachi 750GB 5400RPM Configured: Seagate Momentus XT 500GB (7200RPM, 4GB SLC NAND Flash Memory) Wireless: Stock: Atheros 2.4Ghz/5Ghz miniPCIe Configured: Intel Centrino Advanced-N 6230 Screen Size: 15.6" TN Panel w/LED backlight (Mfd by LG Electronics) Webcam: 1.3MP ODD: CD-DVW/RW Supermulti And now on to performance. General euse notes, is that it feels snappy. Programs open quick thanks to the Hybrid/7200RPM drive, and it works as you'd expect. In general everyday performance no noticeable difference between it and my 4.3Ghz 2500k main desktop. The Tests: SiSandra for synthetic performance PCMark7 3Dmark11 Cold boot time to fully usable desktop At some point in the next day or two I will run a few games on it and post the FPS. I'll probably use... -Tribes Ascend -Blacklight Retribution In the meantime PCmark7 Score: 2,535 PCmarks 3Dmark11 score: P967 3dmarks (875 Graphics, 2,344 Physics)