Joined

Dec 14, 2002
Messages

48,593
Location
I was having a discussion with a friend about auto lighting, including the Audi claims of 5500K being more like daylight and better to see. It turned out that he had bought some closeout VLED VX3 H11 bulbs for use in some fog lights on his car. I got them on loan to try out in my Accord as headlights. Specs:
http://www.vleds.com/shop-products/lmz/vx3/vx3-h11-h16-2800lm-led-headlight-fog-light-1-pair.html
Claims: - 2800LM total output (per bulb) 50% increase over halogen - 2X 15W Proprietary LED - NEW Silica glass tube gives a perfect 360 degree output for a focused beam pattern - No fan - Built in driver - OK for use in projectors
So it is claimed that these are 2800 lumens each (!), while an H11 halogen is 900 lumens. So I put them into the headlight assemblies.
First driver side only...
It sure looks like the halogen is brighter, or at least there is more of a hot spot than the LED. Then I installed the second one... parked in the same spot as where I took the second picture above: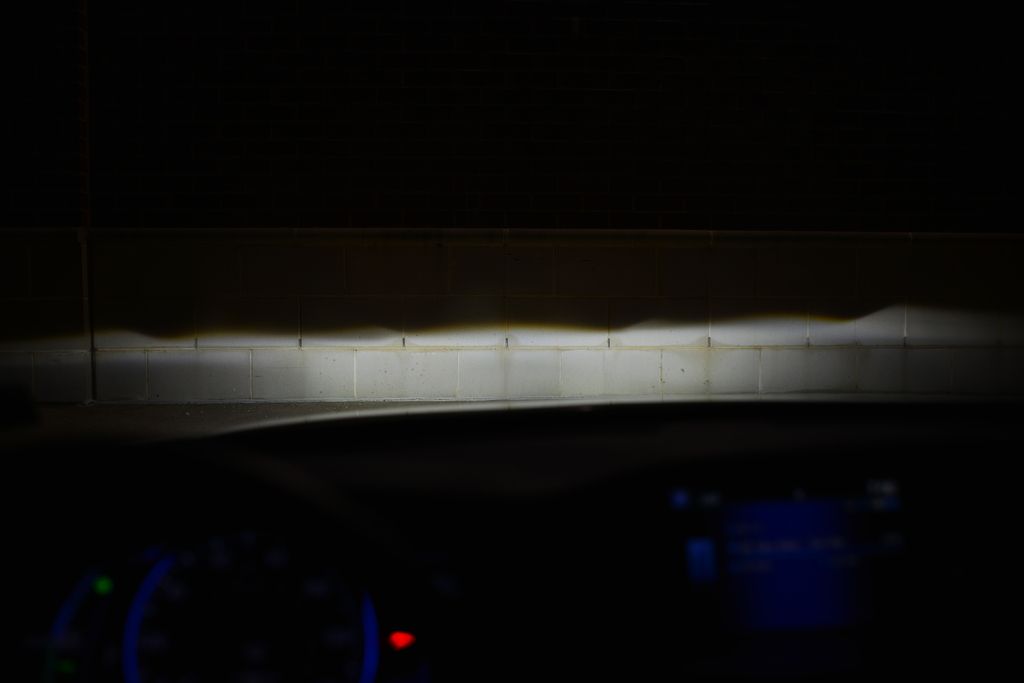 For the above two and the one above that with the same wall, I had the camera set at 1/60s and f/2.8. The LED shot took ISO down to 250 while the one half and half was 280, FWIW. Some installation pics: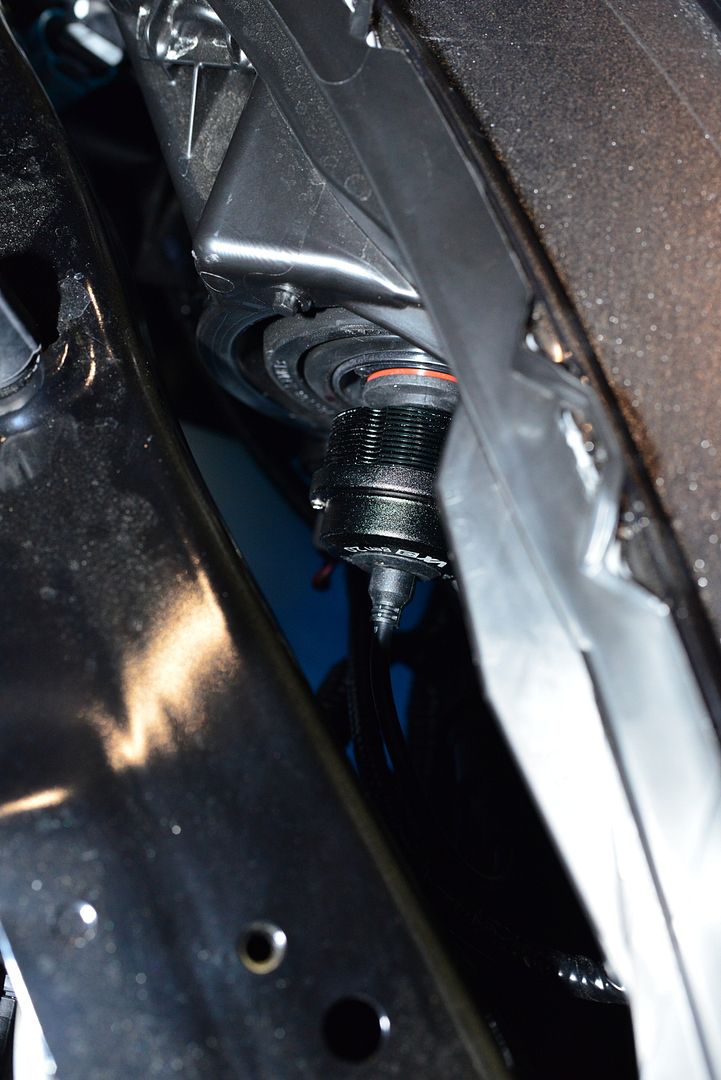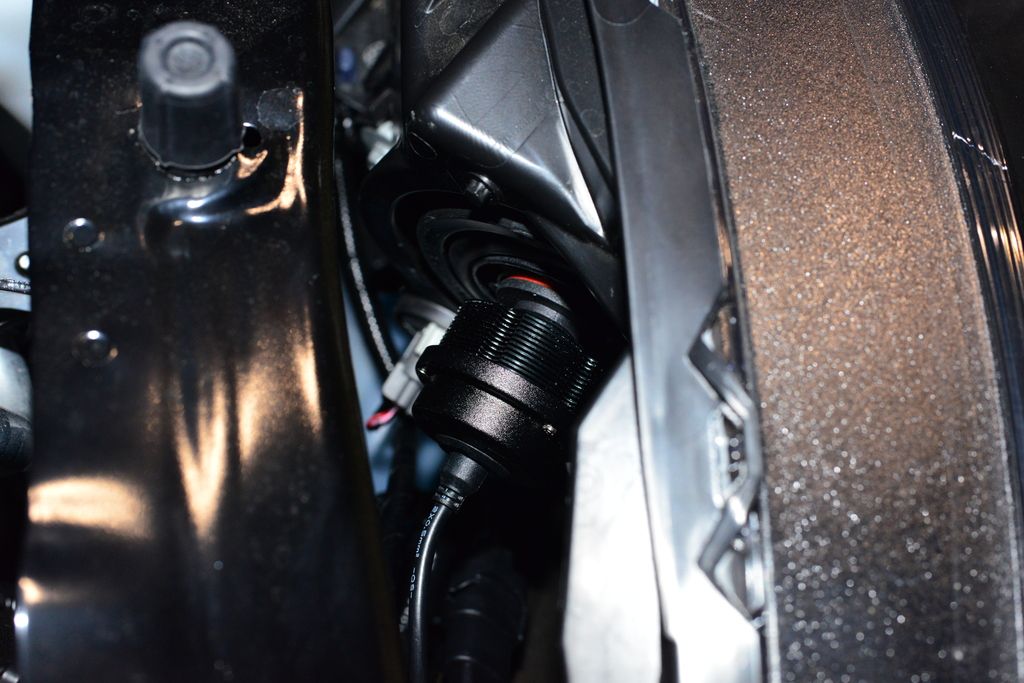 My complaint about the bulbs is that while it has a nice gasket and the three-tab interface to lock the bulb in, it is not firmly affixed to the bulb assembly... Because of the mass of the heatsink on the rear, the bulb can easily be wiggled and moved up and down when mounted. I would suspect that given road vibrations, the light will move a bit, FWIW. Are these brighter? Id have to say no. 2800 Lumens each is NOT what is coming forward from projectors of my accord... Could it be the fact that LEDs fire only out each side in two directions 180 degrees opposed? The reason I tried this is because the high-end Accord hybrids have LED headlights (not in the halogen projectors of course). That is why I figured Id try these. Ive been considering jumping in with Acura TL projectors retrofitted to my headlights, and fit with some HIDs. But that would take time and money, so Im not convinced. This was just a quick try to see what LEDs would be like, especially with a claimed 2800 lm output. Here are a few iPhone pictures too... The two sides compared in daylight:
Notice how you can see the two halves of the LED, but also a big black center spot on the Halogen... So not sure it makes a big difference. Out in the daylight:
Cropped to zoom:
And against the wall, with iPhone to help see some differences in the stray beam: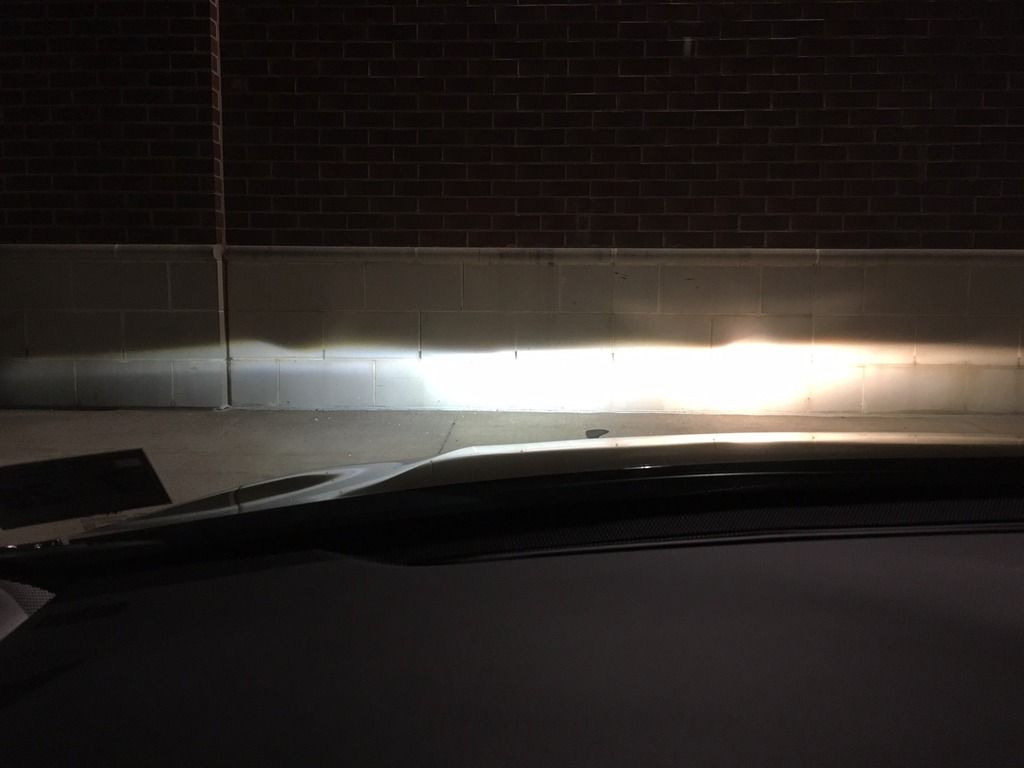 The LEDs have a squiggle on the cutoff. Interesting. They don't feel as bright. I don't think they illuminate the right side of the road, or the signs, as well as the halogen bulbs. But that would take a lot more testing and swapping. I still have the bulbs in, as Ive borrowed them for a few days, but Im not sure I really care to spend a lot of time doing much. We will see... Anyway, the OE bulbs are Phillips H11 made in Germany. They will go back in until I decide if I want to commit to Acura TL projectors (which fit) and some real HIDs. The thing that has been holding me back is that the ballast install locations on Accord vehicles are taken up by some of the hybrid kit and wiring, so not as easy as on a regular version... Have fun!