Joined

Dec 29, 2010
Messages

5,889
Location
Chevron Phillips explains the superiority of PAO in oxidation tests among its other desired properties in this FAQ.
https://www.cpchem.com/what-we-do/solutions/polyalphaolefins/faq
Here is an excerpt:
Has the quality of Group III base oils achieved equality with PAOs?
Group III mineral oils and Group IV PAOs are not of the same quality. Some properties such as Viscosity Index (VI) or °C viscosity can approach those of PAOs. However, Group III base stocks are derived from multiple feedstock choices and processing technologies, which create variability in the properties. PAOs on the other hand are derived from a clearly defined processing technology using petrochemically pure alpha olefins. So, whether used for gear or engine oils, PAOs provide more consistent properties and a level of purity not available from other base oil groups. The uniquely beneficial quality of PAOs has been demonstrated in a series of European engine tests. Three stringent test standards required by Volkswagen and Mercedes-Benz engines show the impact of the variability of Group III oils: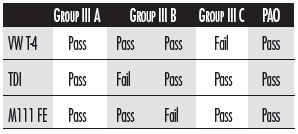 This data illustrates lot-to-lot variability, which has been recognized for the Group III oils. While one lot of Group IIIA mineral oil passed this battery of tests, it is quite different from the quality of the other Group III stocks. Group IIIB was unable to consistently pass the TDI or M111 tests. Furthermore, the arbitrary distinction of 120 VI between Group II and III oils makes the quality requirements even more confusing. For instance, many producers have tailored production to "Group II+" stocks at 118-119 VI, just below the ambiguous Group III limit of 120VI. The VI of PAOs typically only varies one to two points. This is one clear benefit of using a carefully designed base oil. With today's oils requiring a higher-quality lubricant base stock to meet more stringent tests, polyalphaolefins are perfectly tailored and consistently manufactured to meet the challenge.
Today's lubricants demand better oxidative stability. What advantages do Synfluid® PAOs have?
Oxidative stability is a critical property enabling oils to resist sludge formation and degradation while in service. PAO-based lubricants offer a significant advantage in oxidative stability. The rotary bomb bench test is a strong predictor of how base oils will perform in many automotive and industrial applications. The chart below shows rotary bomb (ASTM D2272) results between Synfluid® PAOs and some mineral oils.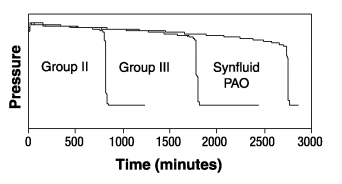 Synfluid® PAOs have been carefully designed to yield oxidative induction times greater than 2,500 minutes with 0.5 percent antioxidant. This is a far greater benefit than can be achieved from other base oils. PAOs also resist viscosity increases upon oxidation, which is important in sequence IIIE and VW T4 engine tests. These combined benefits provide the properties required for severe service applications and extended drain intervals. The advantages offered in oxidative stability, coupled with superior volatility and low-temperature viscometrics, clearly demonstrate that Synfluid® PAOs are the highest-quality base oils available in the industry.
Pressures in the lubricants industry demand higher oxidative stability. What is the key to optimizing fluid performance when using Synfluid® PAOs?
There are indeed pressures in the industry that require improved oxidative stability. Engine oil tests such as VW T-4 and Seq. III F challenge formulators, and their suppliers, to step up performance for the next generation of engine oils. The relationship between antioxidants (A.O.) and PAO plays an integral part of meeting the challenge for top-tier oils. Regarding the A.O. package, an optimal PAO formulation will be different than that of mineral oils. For instance, a 100 percent aminic antioxidant package will yield the best performance in the Rbot test for PAO. In contrast, a mineral oil will require various antioxidants depending upon the structural makeup.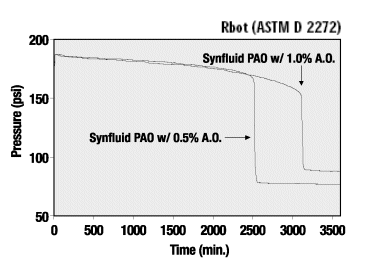 Pressures in the lubricants industry demand higher oxidative stability. This chart illustrates another benefit of using Synfluid® PAOs at increased antioxidant treat rates. Using the same PAO, we achieved 15 percent higher oxidative stability by increasing the A.O. concentration from 0.5 percent to 1 percent. The key to unlocking the full potential of your formulation requires using the right combination and concentration of antioxidant and Synfluid® PAO.
High-performance base oils are required to pass many European engine tests. I know PAOs will perform, but can they be economical?
In the past three years, European specifications for volatility and oxidative stability have become significantly more stringent. Specific tests such as the Volkswagen T-4, TDI and Peugeot TU-5 have increased the demand for higher-quality base oils. The superior benefits of PAOs enable formulators to meet these challenges. The chart below illustrates how Chevron Phillips Chemical has come up with an economical solution to a VW T-4 engine test.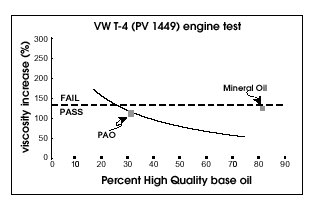 The chart compares two different formulations, one with PAO and another with Group III mineral oils The End of Test viscosity increase left very little room for error in the Group III formulation. Blending lower-quality base oils into this formulation would compromise the passing mark. In contrast, the Synfluid® PAO formulation achieves a pass with as little as 30 percent PAO, the balance being Group I mineral oil. We believe that it is possible to achieve a passing mark with even lower amounts of PAO, further reducing costs. European specifications, as well as those in other regions, are expected to tighten. This will increase the dependence on high-quality base oils such as PAOs. Challenges like these truly reveal the performance advantages of Synfluid® PAOs.
I have read about higher oxidative stability in Synfluid® PAOs. Can this benefit improve a finished formulation?
The benefit of a lubricant to the end user is an important question, and the behavior of a base oil is only one of many variables affecting the performance of a finished formulation. A process enhancement at Chevron Phillips Chemical's manufacturing facility has resulted in up to a 30 percent improvement in oxidative stability when used with aminic antioxidants in Rotary Bomb Oxidation Tests (RBOT). Focusing on the components of the additive package can further influence the performance of the formulation. No matter what the combination of additive or base oil, one thing is certain: When you begin with a higher-quality base oil, you will achieve a better formulation in the end. The chart below shows an example of an engine oil formulation with two different quality PAOs.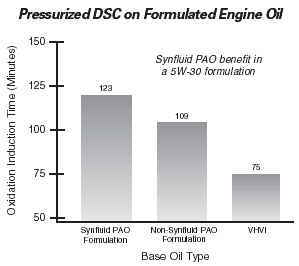 This formulation achieved a 13% benefit when the PAO was directly substituted with Synfluid® PAO. In our experience, some commercially available additive packages are designed to take better advantage of a specific base stock. For instance, boosting the additive package with an additional 0.4% aminic antioxidant, in combination with the Synfluid® PAO base oil, achieved a 35 percent improvement in HPDSC results. A similar approach can be applied to your formulations or applications. If you would like us to test your formulation or have questions about our formulating experience, give us a call. We'll be happy to help you solve your lubricant concerns.