Joined

Apr 3, 2011
Messages

1,271
Location
Originally Posted By: mongo161
Hey 45acp, How could you tell which oil is bottled by EOM and which is bottled by WPP? All I've ever seen is the bottles and Jugs with WPP or WNE on the bottom of the container. So how do you know for sure? "I think XOM ST is better than WPP ST but i have no real proof of this. Also i know from personal experience that XOM tends to be on the thin side of oils. This is usually a good thing (thin for its grade.)"[/i]
Packaging. XOM has the angular, Star Wars looking containers. WPP is curved. This is because other EXOM products *the M1 0W-40 jugs as a prime example) tend to resemble the XOM ST jugs. WPP has curvature and its quart bottles have the cap in the center, whereas XOM quarts are still the widemouth angular. I could verify through the markings but i know how the packaging looks so i dont.
Also, XOM infers "Mobil" whereas WPP infers "dated packaging" o i dont see how a lesser producer, though good, could perhaps be "better" than XOM. XOM seems to be in more stores too. EDIT: See the difference XOM
Notice the bottles and tiny caps for quarts, shape for jugs. WPP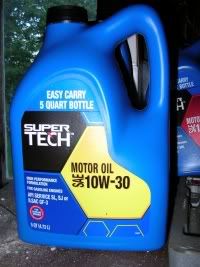 WPP ST is good i simply think XOM is better and i would seek it out over WPP, the prime reason being manufacture of 5W-20 grade. XOM makes 5W-20 i have NEVER seen 5W-20 WPP/WNE jug, that makes me seek XOM ST. It is a good oil and i would run it in a car.
HTH