I just changed out the timing belt on my '04 srt-4. When I started it up it sounded like the timing belt was rubbing, I removed the accessory belts and a plastic shield to rule those parts out, still rubbing. Sounded like this
Then I pushed the crank sprocket in another milimeter or two and the sound was greatly reduced but still there. From the looks of it though, I can not see anyplace where it is rubbing. Is it possible that it is making this whirring noise because the belt is new and it just needs to be run in a bit? Here it is after pushing in the sprocket slightly further. I can't go much further than that before the belt starts rubbing on the oil pump housing.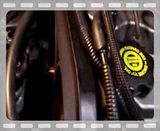 The ticking sound I believe is normal on SRT-4s but it does have me a little shocked that it's louder than normal. Maybe because the engine is still cold.