QS UD 10w30, 2992 Miles, 95 Jeep So recently had to put a "new" motor in my 95 Wrangler, 4.0. I went the first 500 miles on conventional Mobil Clean 5000,
Rislone Oil Supplement, with Zinc
, WIX filter. The next ~3000 miles were on Quaker State Synthetic, UD 10w30, Rislone Zinc treatment again, and WIX filter. (So 3492 miles total on this engine) I used the $14 Napa kit for the oil analysis. The mileage is wrong on this report:
Full PDF of the results here.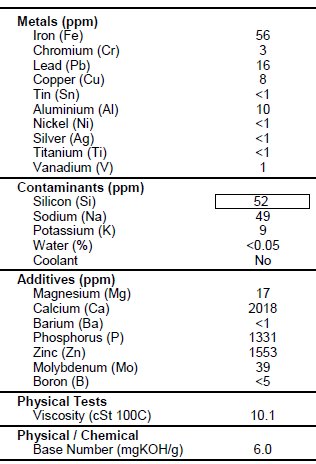 I'm very new to this, but I believe using silicone gasket maker in several spots on the motor during assembly could be the cause of the high silicone content? I will be changing the air filter though to be safe. Is that iron number high or typical on new motors? I'm now on Mobil 1 10w30, still using the Rislone treatment for the zinc, which is what I plan on staying with. I planned on riding this one out for 5000 miles if you all think that would be ok?` Anyone else see anything I should be concerned with? (Yes I know use of images is discouraged, I'll work on a code block and update the post)
Last edited: