Joined

Dec 14, 2002
Messages

50,297
Location
Ive been running Zaino on my 2004 Saab 9-3 for a number of years now. No complaints, but I also havent put anything by ZCS on it for about 6 months. The Critic sent me some samples, so I gave them a try... I washed the car with Zaino car wash soap, then sprayed down Iron X. Afterwards, I applied Menzerna Power Lock to the passenger half, and HD Poxy to the driver's half. When doing the wheels, I first brush them with just some remaining car wash soap, and usually they look pretty good. But per my older thread about the embedded remains on my BMW wheels, I wanted to try something else. So on the saab (which also gets really dirty very fast), I first used the color changing Sonax spray. They looked bright but still had a few specs on them. I then applied Iron-X. I got this:
I applied Iron-x to the car too. Sprayed it on, then after about five minutes, misted a tiny bit of water and then spread it around a bit. I didnt get a pic, but I do think it ate away the outer coating of a piece of rubber trim on the car, so be careful. This is what I got:
After the car was washed and dried, I applied the HD Poxy and Menzerna to the car as I mentioned above. I didnt get home until it was pretty late/dark, because we had a dinner event, so I took the car to the boat launch at the end of our street to get some reflection. Here is how it turned out: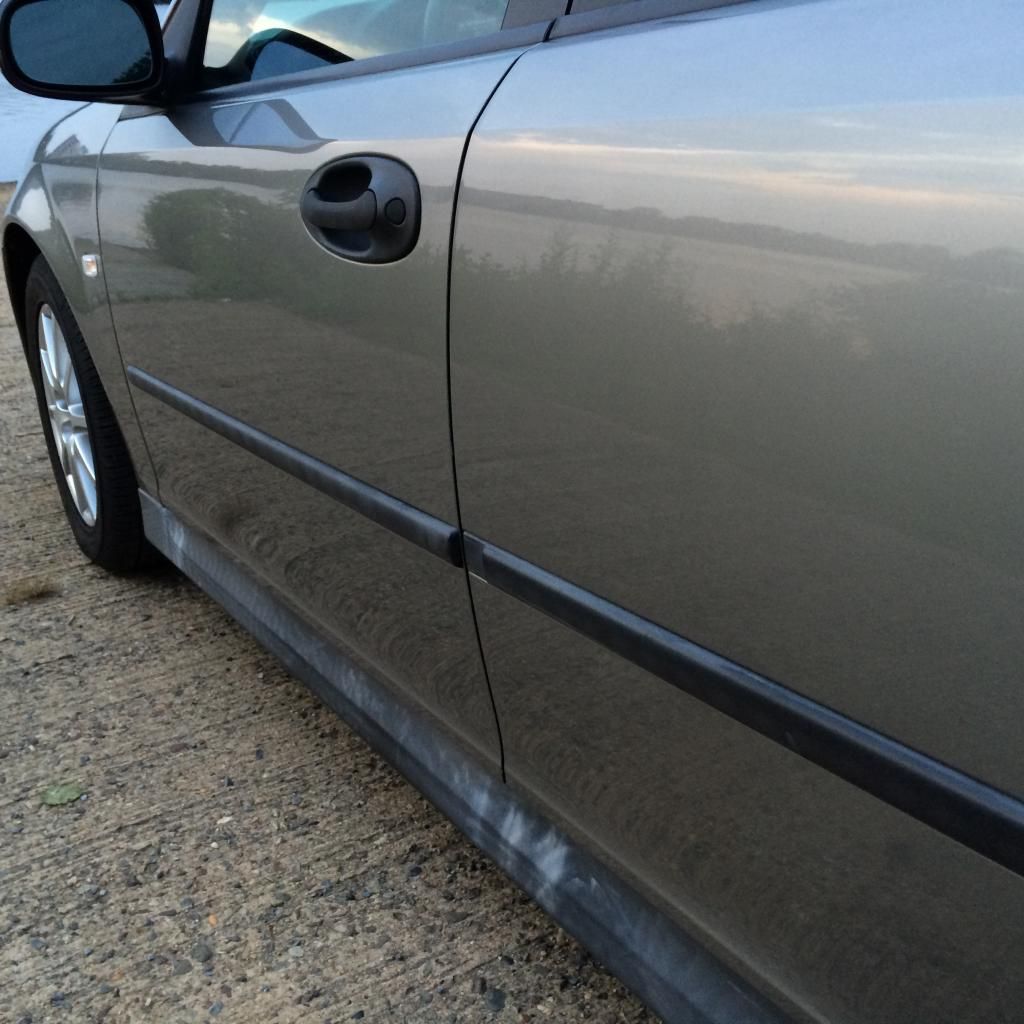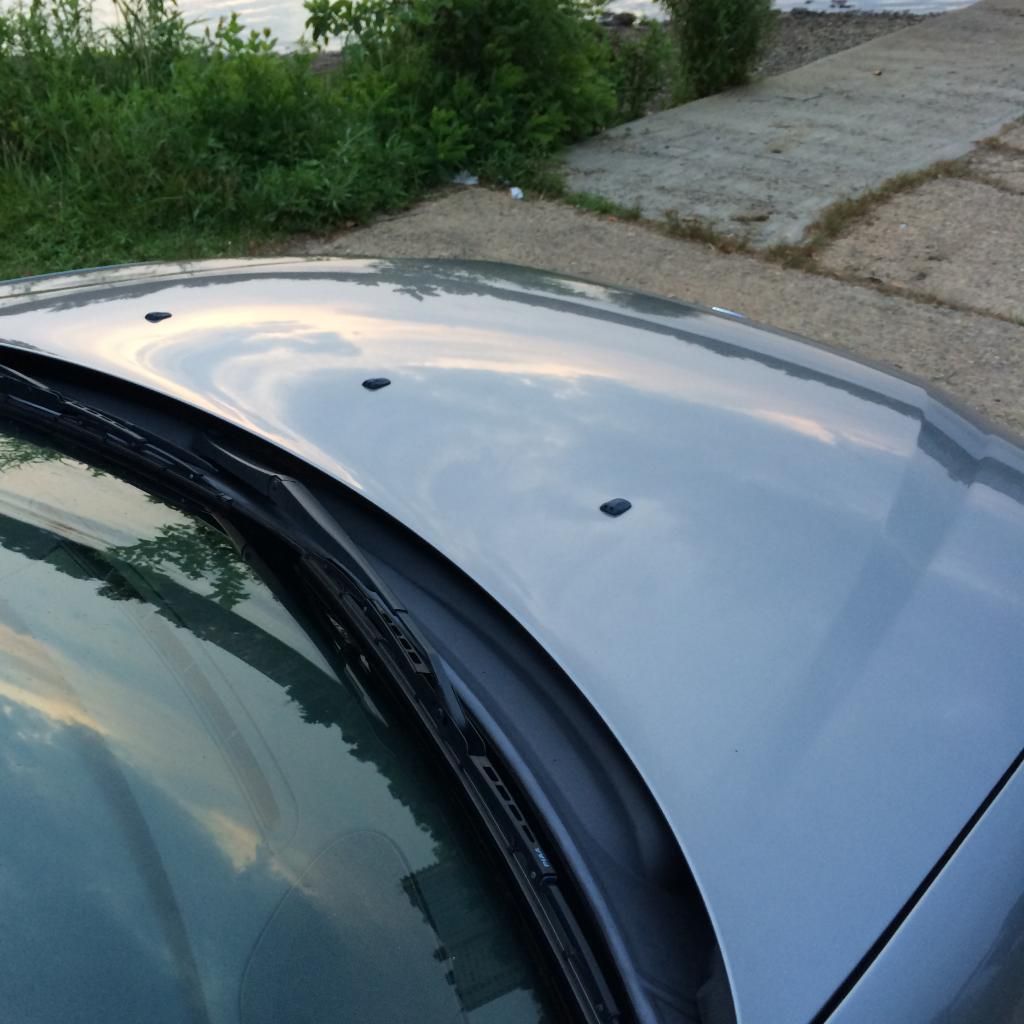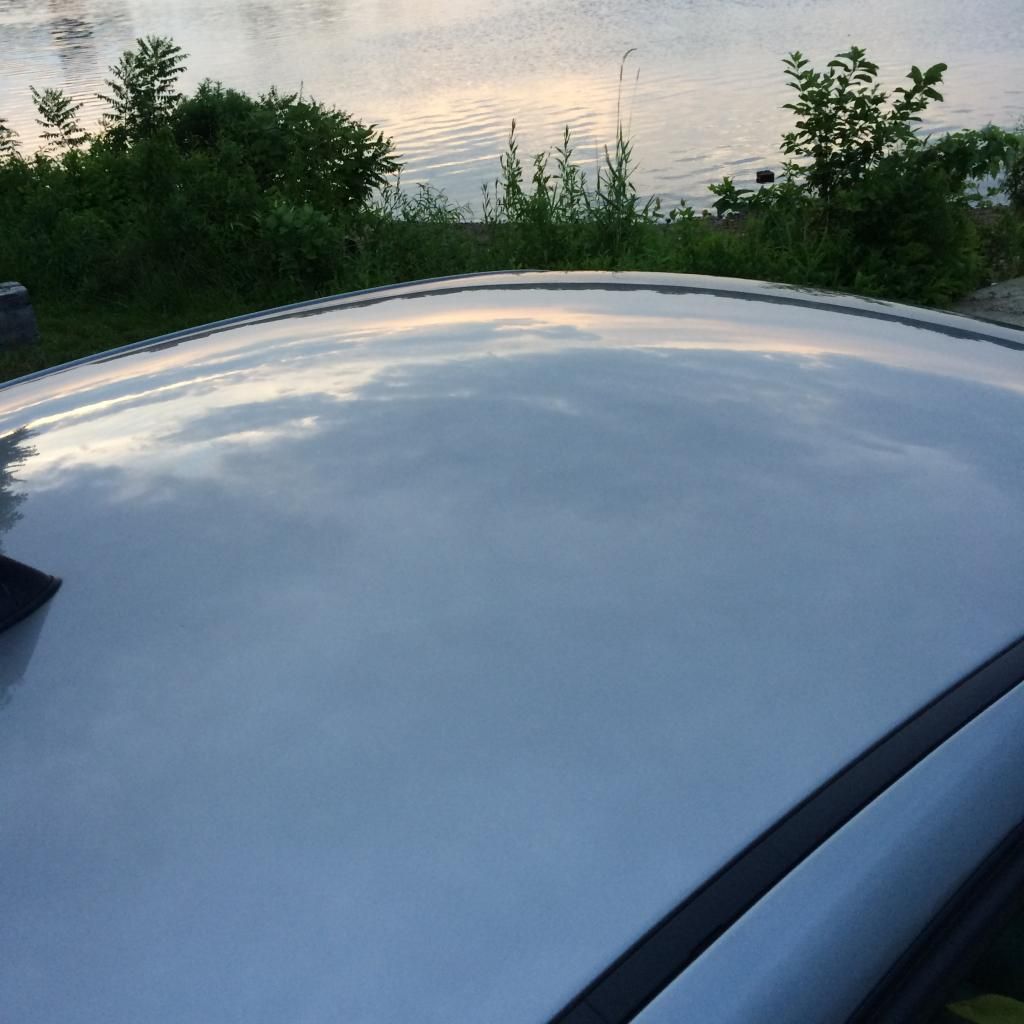 I felt like the two products both removed very easily, after being allowed to set for roughly 30 minutes. The main difference I noted between the two was that the Menzerna Power Lock pumped easily out of the small pumper that it was provided in (not the original packaging), while the HD Poxy would not pump, but that the HD poxy spread easily and spread further with less product on the applicator (applied both with brand new soft cloth sponge applicators). Because its the height of summer and where I usually park this car gets strong PM sun, Im planning to put a car cover on it. I anticipate that it may be covered for a few months given other things going on, so that may be an interesting test when I pull it back off. My detailing time was dictated by naptimes, so I spent a bit over three hours on the job. I left a lot of things off, like glass, vacuum, doing all the nooks and crannies, treating the plastic which is faded, etc. But there are only so many hours in a day and my 20 month old comes first. But it was good to get the car washed and treated. I need to do the 135i next, hopefully this week...