Last year I'd bought a new large rider for our farm property, but for small areas and under tree limbs the foreman had been using an ancient (late 80s) large-wheel Southland push mower with a 3.5-horse Pulsa-Jet B&S that had belonged to my Dad. That was bout the low point of Briggs engines in many ways, although the fact that it still ran... sorta... after a shot of starting fluid and with the governor wired open is a testament to the basic mechanical structure I suppose. But the fuel system was a crime against nature, and it never really ran *well* and never really had the power to swing a 22" blade in tall grass. I got to thinking about a replacement, but that old Southland deck has always been very light and easy to use with those big rear wheels. So I decided a re-engine would make a fun project. And while we're at it (cue Tim Allen...) MORE POWER! A few minutes on Equipatron.com and a couple of days shipping produced this at my doorstep:
Bolted on, waiting for new front wheels and a blade: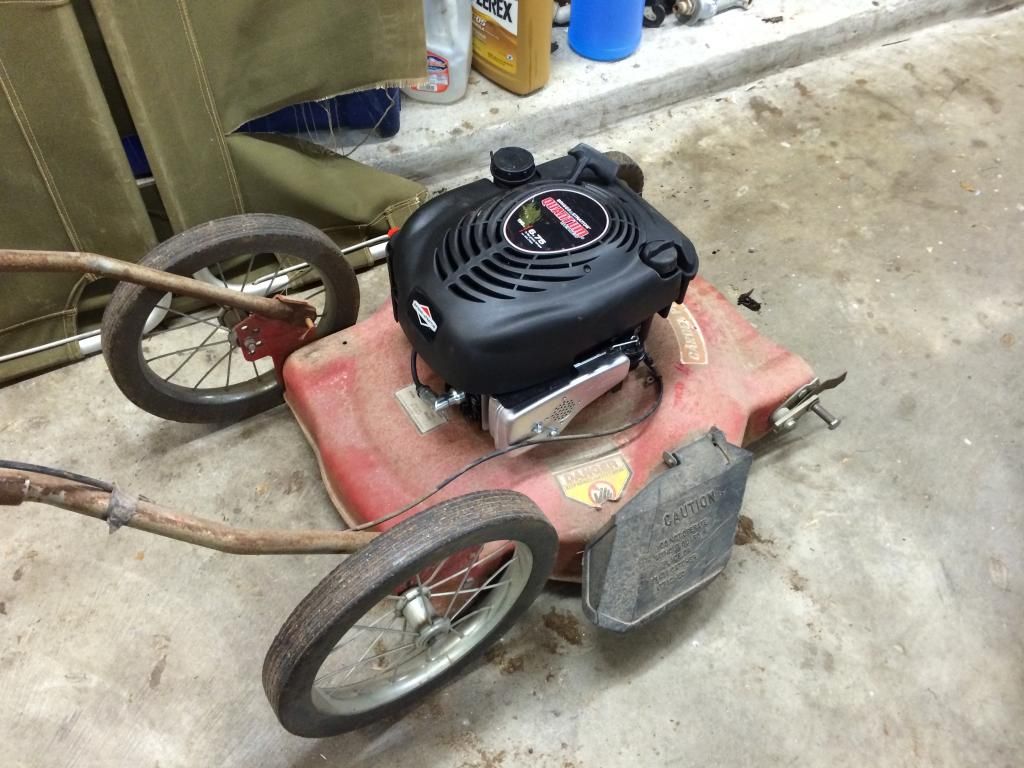 New steel front wheels with ball-bearings, new Arnold Xtreme blade, and we have
IGNITION!
Yeah, in the end it cost about 75% of what a whole new mower would, and I still need to scare up a replacement handle that will fit. But there's something extra-satisfying about getting some extra life out of a machine that's a little unusual by modern standards. Still debating whether or not to install handle controls or just leave the engine fully self-contained.