Joined

Oct 30, 2013
Messages

1,742
Location
OK, so last spring I was out shopping for a new "family car" to replace a 1999 Subaru Legacy Outback with 218K+ on the clock. In case you are curious, she is still running and is over 240K now - (sold to an acquaintance). I landed on the Hyundai Genesis Coupe. Here is that thread:
https://bobistheoilguy.com/forums/ubbthreads.php/topics/4086338/1
So, am I still happy with my pick? Yes, yes I am. Here is a picture (when we had some major wildfires in the area).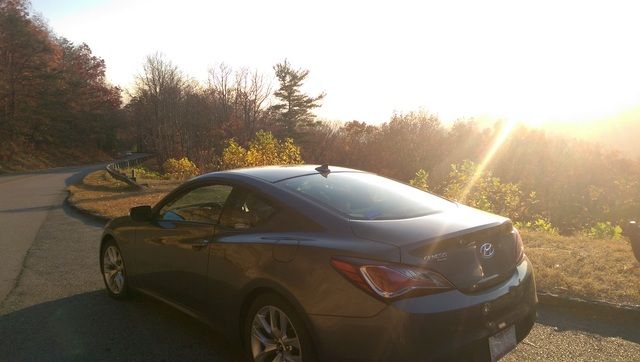 Ok, this is going to sound odd, but bear with me: The Genesis Coupe is/was a 90s-era Japanese GT/Luxury sportscar but made with bluetooth connectivity and side airbags. A buddy with 6 Nissan Z31/Z32s in their owner history coined that idea after a drive so I am not stealing it whole-hog. So, that is the the best way I can explain it and I agree. I think that is why I kinda liked it from the beginning. I have driven
stock
Z32 300ZX TT (former 280Z owner), FD RX7, SVX and in particular the Mitsu 3000GT and it feels like Hyundai made that type of car 15-20 years afterward. So, it gets the great traits from that world but also some of its disadvantages... ie, it is not a rock-hard 700bhp track-beast. Is it a bit of a knock-off? Maybe, I don't know. It might just be a US perspective thing and maybe that is unkind to the Korean make that has often be considered to be a "knock-off" of something else. It does have its own, hoot-and-have-fun personality that isn't 90s but it feels a bit retro as if it was 90s. It isn't like all of those makes have kept the same broodline going or stayed true to the 90s GT car. Even those that did revive the Japanese sportscar (RX8, 350Z) did not feel like the previous generation. But, making that type of car is not a bad thing. Those were good cars. But it is a a larger, heavier sportscar or non-luxury branded GT car. So it is a sportscar/GT hybrid. It is very good but not "great" as you feel some of those compromises between vehicle classes. You can tell it is a larger and heavier car... but I am coming from a 2195lbs comparison. Sure, there are a few better cars from a handling/balance perspective but not many. 370, 86/BRZ, Miata, but none with a usable back seat. Otherwise, BMW etc make better sporty-GT coupes but for nearly twice the cost. So a compromise is not a bad thing since I still have the MR2 for the hardcore mountain carving. And that is the trick to this car. Other cars are better in the various metrics (handling, power, comfort, fun, personality, usability, amenities, luxury, etc) but this car does all of those items very well without a major flaw (gearbox excluded, get to that in a moment)... other than it is the "best" in one group. It is a jack-of-trades car. Part of the reason why this car won-out over the other major two of MY competitors (WRX and Fiesta ST) was the long-distance ride comfort. Aging parents living elsewhere and other needs made sure than I needed to travel on long trips without any discomfort. In August, I did a 17 hour drive from NC to Connecticut along the 95 corridor. I was completely comfortable. Although tire noise is a bit more than I like (maybe more of an issue with the Bridgestones), it is still a great cruiser. MPG was a bit over 30 for most of the trip, a 5 hour complete traffic jam when a truck turned over on the GW bridge dropped it to 27.5. Still, I drove from Western NC to Conn and back in a weekend and could not complain. Around town it is good I was still able to make the pilgrimage (Genesis hiding in the background)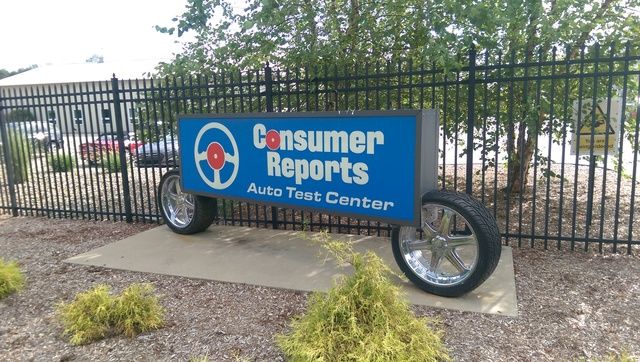 Now, the important part: Does it work as a family hauler?
Yes, yes it does.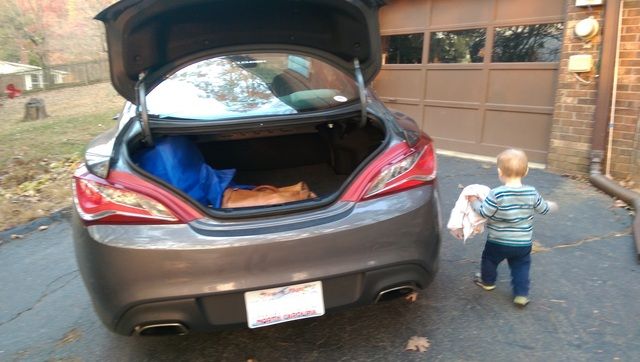 It is the easiest thing? Nope. However, if you are trading in your WRX, GTI, or Fiesta because you have a kid coming, then well... there is no hope for you
As long as you do not opt for the mega-lazyboy-baby car seat with the 40 cupholders and nuclear assault console, you are fine. I am about 1 position away from sitting in the driver seat and having the child seat behind me. Oh, I am 6'3". So it is behind "Mom's seat" which she still has plenty of room. Here - this is my normal driving position: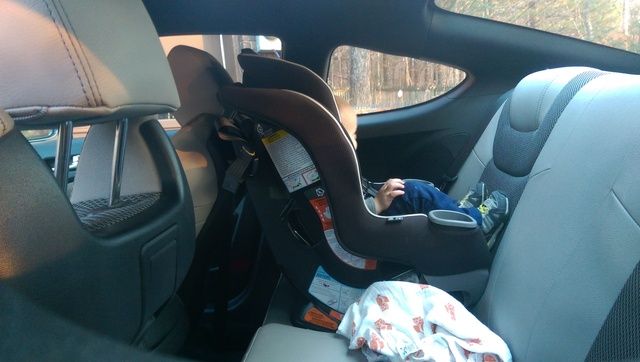 Now, I am still in rear-facing mode for a few months and this is the most challenging phase. When in a infant carrier, it was a lot easier. Rear-facing is a problem when I am loading him up because I have to get into the back-seat and hope he is not resisting (resists about 10% time). I did injure my back last fall and that made it less comfortable but not impossible. It is getting a lot easier since he is now starting to help load himself into the car. In about a coupe of months (at 2 years), I can have him forward facing and then loading will be a breeze.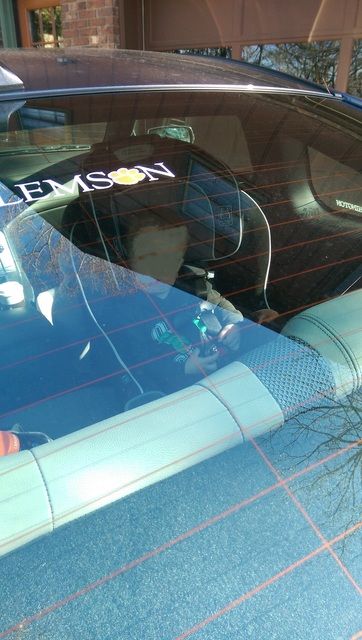 How about winter weather? This is my winter family car too. Well, it is not a 4WD vehicle... and I was fine. I still made it to work (I don't get snow-days) even with a decent snow/icing of 6in and a road that drops 200ft in 200 yards. Still, I need to get snow-tires. The all-seasons make it possible but I need some Blizzaks by next season. If we get something that is 10+ inches, I always have the Subaru with good winter tires. Here is just a light snow/icing event. Nothing major, just enough to make it a bit more fun...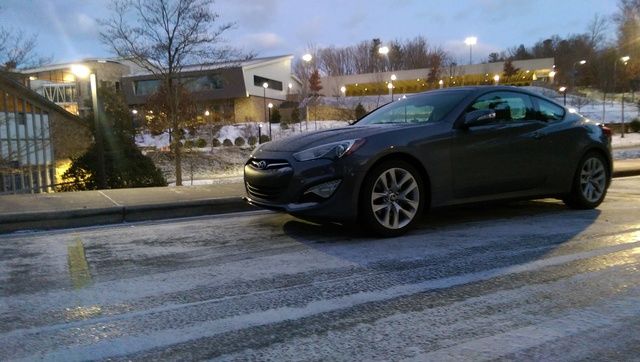 Flaws? Well, I don't like the OEM tires. Those will be changed. Understeer is expected with the dynamics but controllable. I think the base-brakes could be better. It is a heavy car and although the brakes are not "bad" they could be better as a performance car. They made a stock Brembo option but those reviews were "meh" so I am going to do a big brake kit in the future (1-2 years from now). And besides that, it will be stock. Finally, that gear-box/shifter/clutch. It is unforgiving and downright unpleasant with stability control "on". I have to drive on hill with leaves on them. In first, if you have wheel spin on a wet-leaf road, the car stalls because you are releasing the clutch and the CPU decides to kill the throttle. The clutch has a high and sudden grab-point and the shift is not smooth. Not a Honda stick, more feedback than the Toyota I drive, and it is idiot punishing. Not paying attention to your gear-change, you will look like an idiot with a learners permit. If you have only driven VW manuals, you will not be able to drive this car. It took me about a good 3 months to start "getting it" and I am now just starting to get some sense of fluidity... and I have been driving manuals as DD for 18 years. It is a clunky gearbox/shifter with a unforgiving clutch. If you want a challenging to drive quickly/smoothly gearbox, this it it. You can do it, but it requires a full 3/4 more of you brain to do it. Would a better gearbox be worth it. Maybe. Finally, the important question: does my boy like it. Although, be careful with the little ones and push-button start ignition.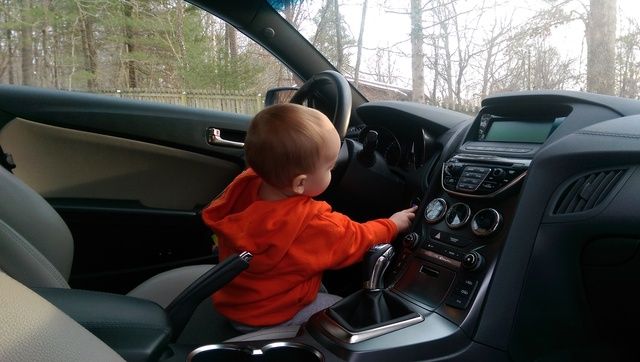 He also like the MR2... but daycare still freaks out (for the love of all that is beautiful in this world, the airbags are turned OFF!!!!)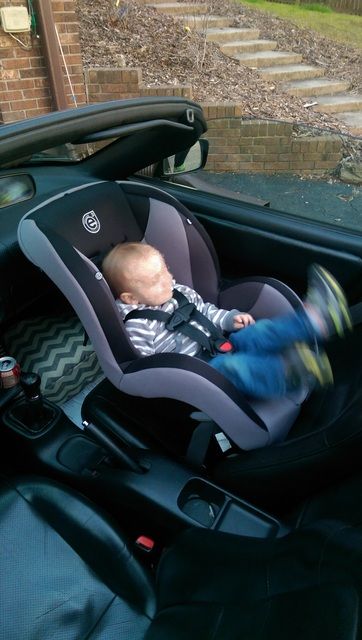 In conclusion, it is my perfect family car. I don't need two crossovers. One wagon, one roadster, and one GT coupe are fine for the family. Sure, the days of my brother and me in buckled in together in the passenger seat of a 240Z is over. However, 2-door coupes are fine for the little ones if they give you a usable backseat. When picking a family car: pick the family car you like to drive. After 7K miles of driving the care, I don't see me selling/trading it any time soon. I still look back walking away, pause before exiting the car, and get giddy when traffic clears and there is a twisty road ahead.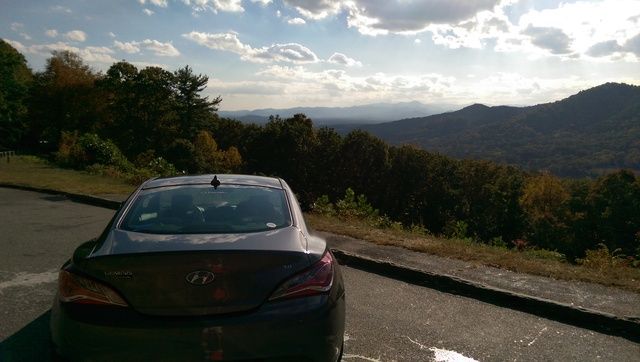 Actually, maybe it will be the little one's first car... only after I wire it so he can not turn the traction control off.