It was about a year ago that I posted about "restoring" the severely hazed headlights in my Olds mini-van. Here is an "after" pic of the restored lights: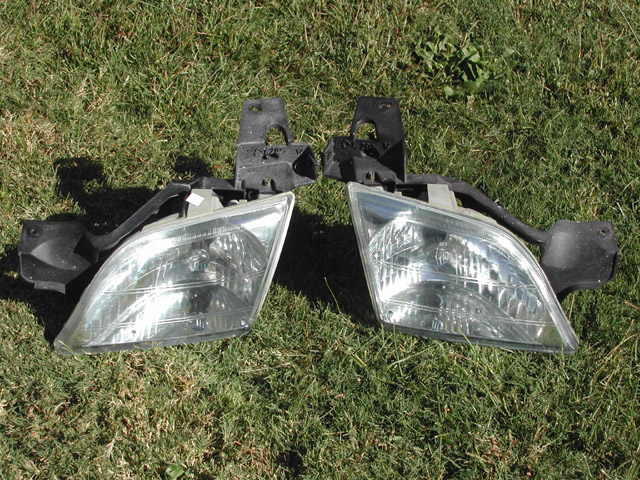 Well, they needed "restoring" again this year, but I was just sick of the poor output and beam pattern of the lights. So I got to thinking... The Silhouette/Venture/Montana was sold in Europe as the Opel Sintra. I did some Google searches and started looking at photos. Here's one: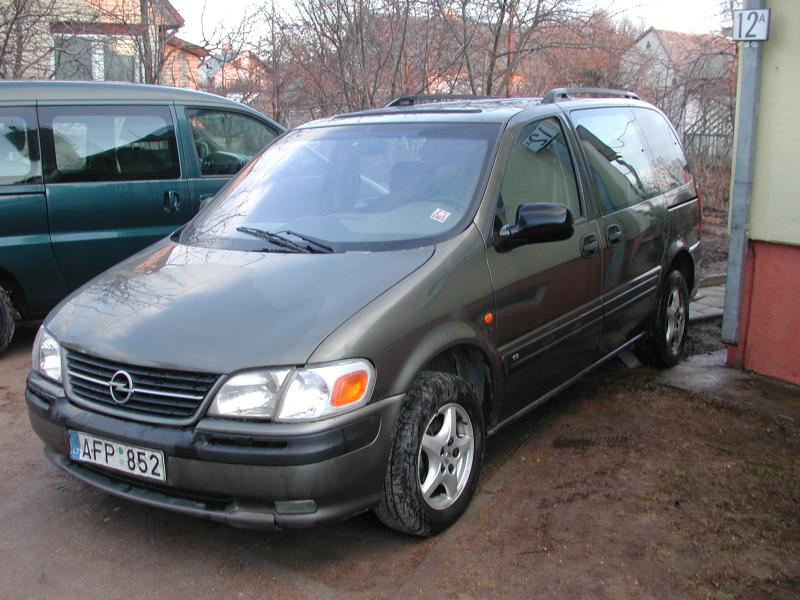 Hmmm... Those have to be E-Code H4 lamps, but they look dimensionally identical to the crapola DOT lamps that came in my Silhouette. I found another pic of a Sintra with the hood up that clearly showed the mounting brackets for the headlights were the same as on mine. So... I fired off an e-mail to Daniel Stern (who can almost always find anything related to automotive lighting) and asked him if he could get a set of OEM E-Code headlights for an Opel Sintra. It took him a few days to get back with me, but he said he could get them and they were $410 per light.
I thanked him for taking the time to locate them for me but that was way more than I was looking to pay. So... I got to thinking again. Surely the same companies that make aftermarket replacement lamps (at a fraction of the cost of OEM replacements) for the US market also make them for Europe and the ROTW. I did a search on E-Bay for Sintra headlights. Nothing. So I did a general Google search and located several online parts dealers in Germany that sold aftermarket replacements. So then I went to the E-Bay Germany site and did a search. Bingo. I found a seller in Germany who had TYC E-Code replacements for the Sintra. (TYC is the company that makes the vast majority of aftermarket replacement lights sold in the US.) The price was 65.00 Euro each. I contacted the seller and asked if he would ship to the US. He said he would, so I pulled the trigger. So even with shipping, I got a set of E-Code lamps for less than what one OEM lamp would have cost through Daniel Stern. The lights arrived from Germany yesterday via DHL. I unpacked them to discover that the Sintra comes with electric headlight levelers. These replacements just have a hole where you're supposed to take the electric leveler off your old lights and mount it on the new ones. (This is why the OEM replacements are so expensive. They come with new electric levelers.) The first thing I tried was to mount my manual leveling mechanism on the E-Code lights. Won't work. So what I wound up having to do was remove the lens/reflector unit from the mounting frame on both the old and new lights and mount the E-Code lens/reflector units to my existing mounting frames. The E-Code lens/reflector units are just a few milimeters smaller than the DOT units, but the mounting points are in the same place. It did max out the up/down adjustment screw, however. Installation in the van itself went without a hitch this afternoon. I'll have to see tonight if I've got enough left in the up/down adjustment to get them set correctly. I may have to pull them off and make some kind of modification to the adjustment mechanism if I can't get them adjusted. It's sure going to be nice have some decent headlights on this van after all these years. And the only reason this was possible is because GM decided to sell this van in Europe, too.