Joined

May 28, 2002
Messages

2,163
Location
Auto-Rx reaches the Persian Gulf Here's a post from my message board. This is one satisfied customer from Kuwait. I have hopes that this will lead to expanded international exposure for the product.
From Falcon LS I own a 00 Mitsubishi Pajero (AKA Montero or Shogun, depending on market), with a Mitsubishi 6G72 3.0L V6 (12-valve) engine. Presently I've got almost 225,000 km (140,625 miles) on the odometer, and this vehicle's been in the family since it was bought new in October 1999. Id like to share my experiences with Auto-Rx, which I have been using in this vehicle. I initially purchased 4 bottles in the UK (2 for my engine application, 1 for my automatic transmission and power steering application and 1 to use for the maintenance dose) in June. At that time, my vehicle had 210,000 km (131,250 miles). When it comes to motor oil, people here have extremely little knowledge about specifications and what oil is right for their vehicle. Even if the oil cap specifies 5W-30 or 10W-30 (as it does on almost every American car including Japanese vehicles produced and imported from the US, such as the Mitsubishi Galant and Nissan Altima), people still use a 20W-50 grade oil. This is what makes up the majority, but one does not have to look hard to find a lower viscosity. Although a 5W-20 oil is definitely not available. Having educated myself about motor oil, after months of reading on the Internet, I have stopped using thick oil in my engine. Before I took over this trucks maintenance, it was maintained by the Mitsubishi dealer, where they exclusively use Gulf Max 20W-50 as their choice of motor oil. This oil's produced in the United Arab Emirates, and looks rather impressive on paper with the specifications it meets. But I'm not too fond of this oil at all. Not only does it smell wrong, but it also turns black within the first 1,600 km (1,000 miles). There are no facilities around to obtain a UOA, but after much research, I decided to use Motorcraft Synthetic Blend 10W-30 as my choice of motor oil, along with an ACDelco PF1127 oil filter. This viscosity also turns out to be what Mitsubishi Motors North America recommends for my truck, as I have come to find out. 5W-30 grade oils are also available, but after reading about how impressive Motorcraft has proven to be in UOA's, I decided to stick with it. Unfortunately, Motorcraft is only available as a 10W-30 viscosity, which is why I am not using another brands 5W-30 offering. Local weather conditions also do not make a 5W oil an absolute must. Initially, I had people laugh when I first used Auto-Rx...mainly because I brought it in all the way from the UK, and they think 'similar' products are available locally. I'm the first person to use Auto-Rx in Kuwait, and when I had my regular oil change, I was told it wouldn't make a difference and cause more 'harm' than good. It was obviously being judged based on peoples experiences with oil additives. I pointed out the bit on the bottle, where it says the ingredients are all natural and mentioned this wasn't a commercial product like an oil flush, with harsh chemicals. Still, talk is cheap and people were not convinced. My transmission treatment finished first, and the service centre's manager couldn't believe how clean my transmission components actually were. Prior to treatment, my shifts were pretty harsh (especially at WOT), and it would take a wee while to shift. As a result, the truck performed rather poorly. I believe the main reason for this was the quality of the Dexron III ATF used by the dealer at the time, which was also a Gulf Oil product. Now, Mitsubishi's own ATF is commercially available, but I've switched to Motorcraft Mercon V, which also meets the Dexron III specification. A T-Tech facility isnt available (at least I couldn't find one), and few know what exactly it is. So a traditional ATF change was performed, disconnecting the cooler lines after filling up to drain the torque converter. Following treatment, you could barely feel the transmission shift and it is now as smooth as pushing a knife through butter - just like it was when this truck was drive off the showroom floor. To say the manager was surprised at the results would be an understatement. The old ATF was also pretty dark red in colour, almost black in fact, and looking into the pan afterwards, I noticed black particles floating in the fluid. The technician washed the pan before I could photograph it, but I was even surprised when I noticed my pan was now more of a lighter gray as opposed to the dark shade of gray it used to be: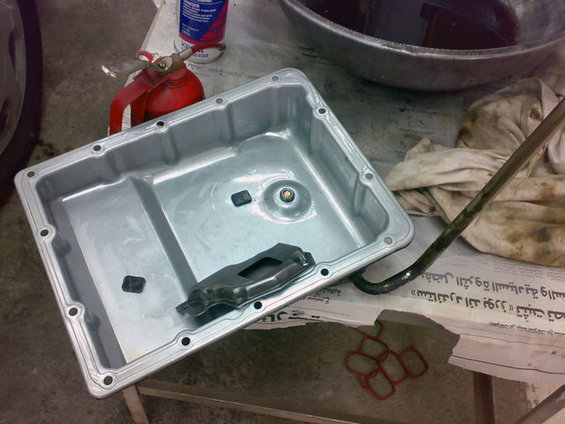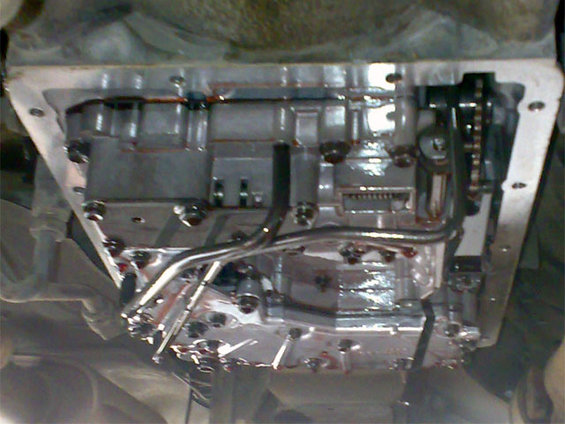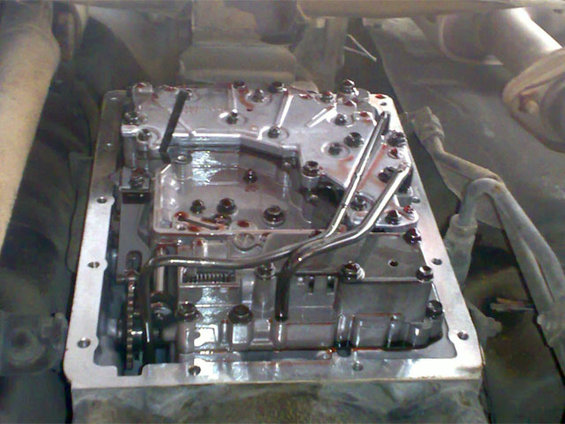 To add to that, the 12-valve version of the Mitsubishi 6G72 in my truck is prone to burning oil at later stages of its life, due to bad valve stem seals. The labour alone for this costs 70 Kuwaiti Dinars (approximately US$260.00). Now I'm 15,000 km (9,375 miles) into treatment, and no longer does my engine puff out blue smoke. Roughly 500 miles from now, I will be going into the rinse stage of my second ARX application. My engine now feels that much smoother at higher rpms, and the hesitation that used to be there has now disappeared. Now, I can just put my foot down and the response would be immediate. Worthy of note - prior to treatment, I used to average 5 kilometres per litre (12 US MPG) and during the second clean cycle, it has jumped to 7.3 kilometres per litre (17 US MPG). My OCI is 5,000 km (3,000 miles) and I am going to stick with Motorcraft SB 10W-30 from this point on, along with a maintenance dose of ARX. I like how this oil retains its golden colour, and after what Ive read, I know it is a quality motor oil. Its a Group III, and I believe it is manufactured by ConocoPhillips. Thank you for reading.