Joined

Jun 18, 2008
Messages

423
Location
I've been chasing the cause of high aluminum readings in my Civic since new. After finding the OEM air filter lacking, I installed a Napa Select filter and that brought the silicon under control, but the aluminum remains high. Having seen MikeySoft and Nyati's experiences with lab variation in aluminum readings (
Link 1
,
Link 2
) I decided to send this sample to both Blackstone and OAI to see what variation there might be. Turns out the results are identical within the limits of normal lab variation, both show high aluminum. I also chose to send the sample in just as the OLM hit 10%, but not change the oil so I could make this oil selection based on the lab results. I'm going to try Mobil 1 AFE
0w30
this time to see if a slightly thicker oil (with the same additive package) improves the aluminum numbers. I also paid to have both TBN and KV40 measured by both labs. The TBN came out pretty close between OAI and Blackstone, which is a slight surprise given their differing methods and change recommendations. Viscosity index is particularly sensitive to lab variation. The Blackstone viscosities calculate to a VI of 160, the OAI numbers calculate to 177. Combine one viscosity from each lab and you get 174 or 165. Between the two reports is the entire UOA history of the car, but I didn't start using OAI until 26,000 mi, and stopped using Blackstone between 22k and 45k, so be careful trending with either report alone.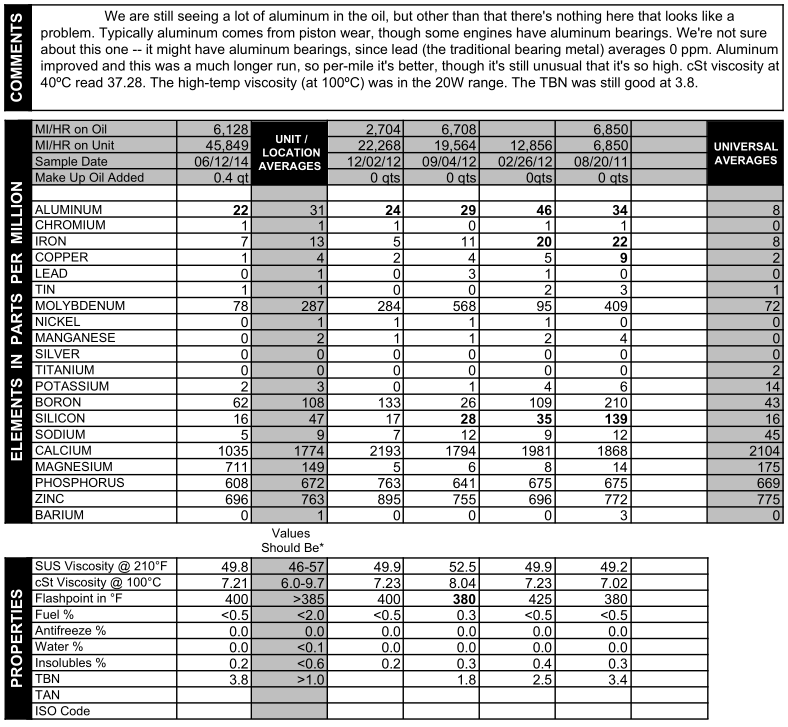 I'm not interested in any cost discussion here, so don't bother telling me to run the oil longer or to just run conventional oil. I use 0w20 because it gets cold around here, I run it for the OCI recommended by the OLM to preserve my warranty.