Joined

Jul 4, 2016
Messages

2,008
Location
Hey fellow BITOG'ers I recently joined the site but have visited on and off for years. I decided to share my longest running history of UOA's on my 1987 Toyota 4Runner. Many different grades and viscosity listed here as a result of an oil clearance that I took advantage of at a Military base gas station I purchased about 22 gallons of oil in one shot and later purchased another 10-12 gallons all at under 27 cents per quart. Background on the 4Runner, I purchased it from the original owners with 255,120 miles on the clock, all the service records since new were provided with it, every single tune up, oil change, inspection, brakes, tires, windshield wipers, everything performed at the dealership. Truck had seen 3,000 mi OCI since new with whatever oil the dealership used. Engine has never been rebuilt, dealership replaced head gasket and timing set at 157,000 miles, about 100,000 miles prior to purchasing the truck. Without further delay here are the UOA's I've performed.
Unknown oil, windshield sticker from the dealer said 5w30, oil filter was a genuine Toyota filter. Iron was high in this sample, possibly due to the fuel in the oil.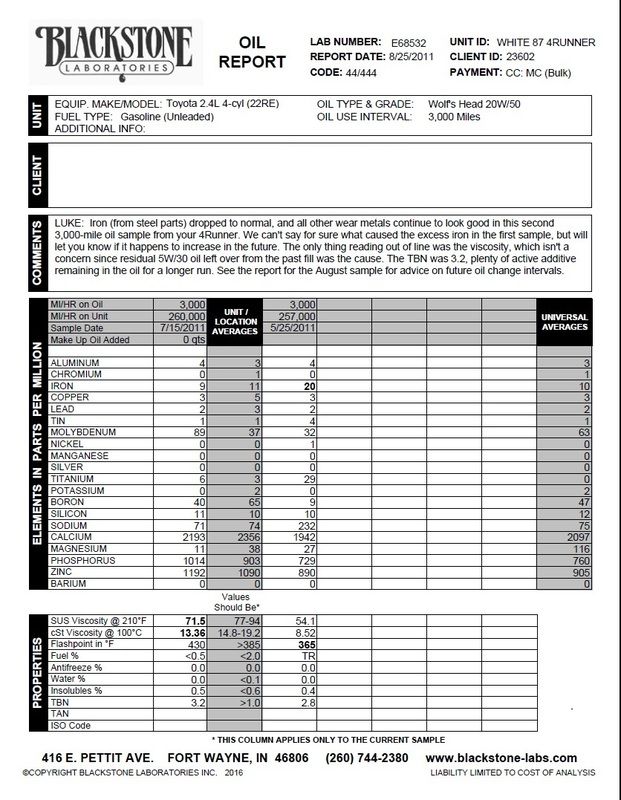 First OCI I performed on the truck, used Wolf's Head 20w50 from the above mentioned stash, oil filter was a Motocraft FL-1A, viscosity was low, as seems to be a trend for this WH oil. Insolubles are a bit high in this sample, wear metals are greatly improved and the fuel dilution is better. No changes to the truck other than the oil change were performed.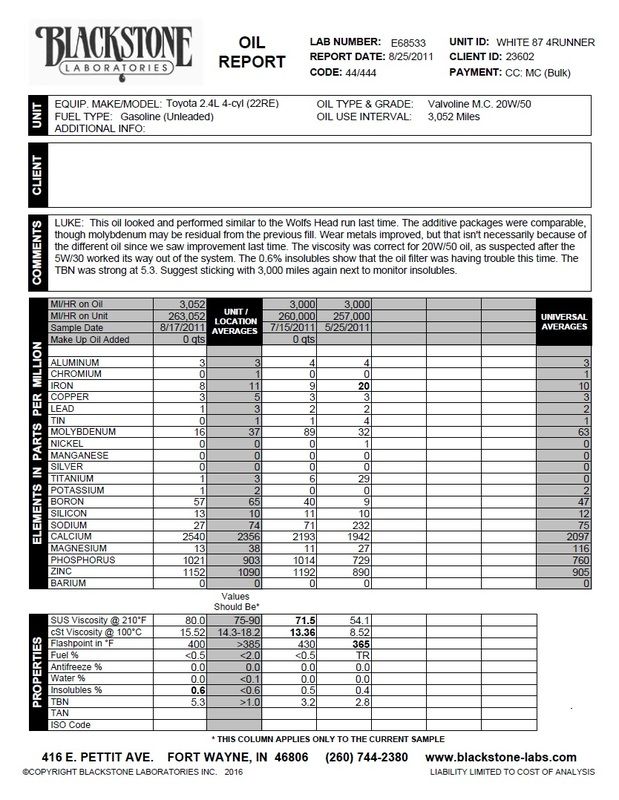 Second OCI using Valvoline Motorcycle 20w50, oil filter was a Motocraft FL-1A, insoluables are high again, not sure if due to some cleaning action of these oils or something else going on. Viscocity is in grade for a 20w50 this time but just barely. Wear metals continue to trend down, TBN is still solid, no surprise for a short run.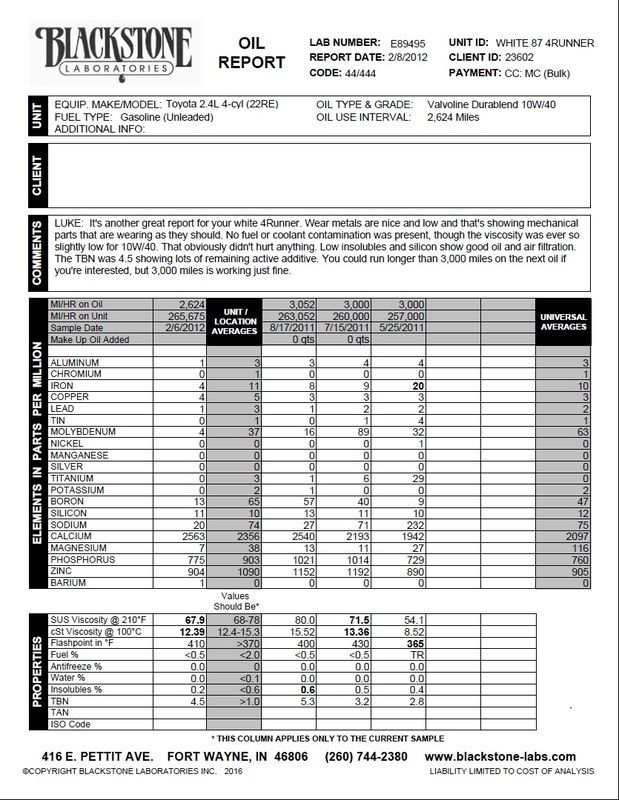 Third OCI for this truck. This time with Valvoline Durablend 10w40, oil filter was a Motocraft FL-1A. Wear metals continue to improve, viscosity slightly low out of grade. Insoluables are greatly improved this time so I'm not sure what changed. TBN here was good and strong. Short run this time to monitor based on the previous OCI's.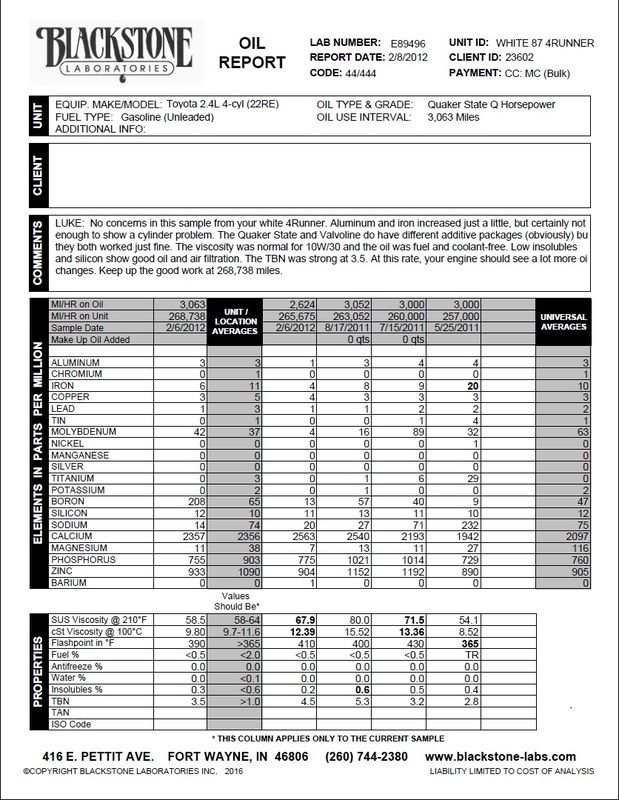 This OCI was a blend of 3 quarts Quaker State Q Horsepower in the clear bottles and 2 quarts QS SUV 10w30, oil filter this time was a Napa Gold 1515. This OCI included a 1500 mile road trip to Texas and back from Florida, had a pretty harsh head wind for a portion of the trip and the truck spent about 400 miles of that on the floor just to keep up with traffic on the highway, that could be the cause of the slight increase in aluminum and iron, but the increase is pretty minor and the run was longer so I'm not sure. Oil is just barely in grade again, perhaps a touch of fuel from the truck being run at WOT for a great deal of time. Nice load of Boron in this batch of oil. After this OCI I skipped sampling a few times as the results were looking good. Next OCI not shown here was 3 quarts John Deere 5w30 (in paper and tin cans) and 2 quarts Valvoline SynPower 5w30. The next two OCI after that were Wolfs Head 20w50 with AC Delco PF-2 filters.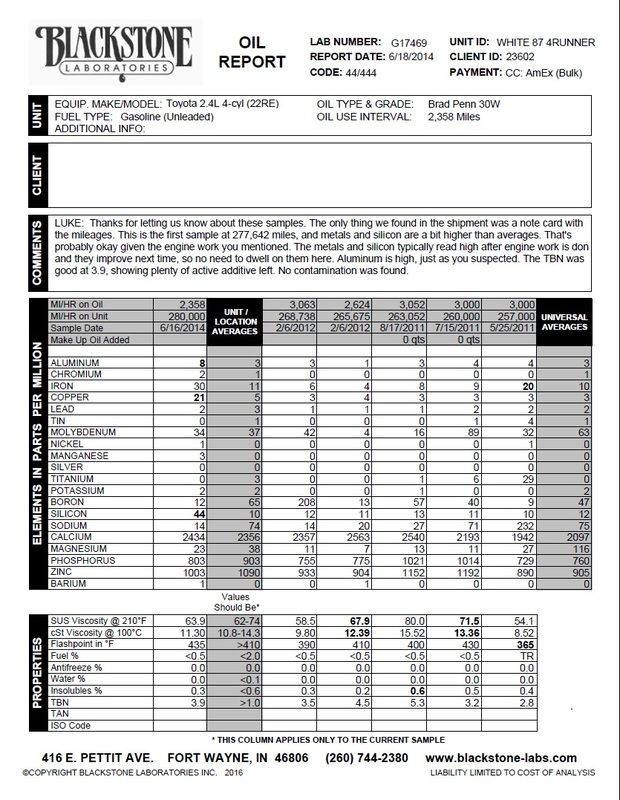 This is a sample taken after some engine work on the 22RE at 277,577 miles, the head gasket was starting to show signs of an external weeping and the cylinder head had some stripped exhaust studs. I elected to pull the engine and perform a valve job (seats ground, original valve guides, all new valves, springs, retainers, locks), I also added an aftermarket RV type torquer camshaft and replaced the timing set (chain, hydraulic tensioner, guides, sprockets) and reassembled it with new gaskets. Unrelated to engine oil I also replaced the clutch and flywheel at the same time while it was out, the clutch I removed was an original Toyota clutch at 277,577 and no record of it having ever been replaced in my documentation from the dealer and owner. Oil used for this OCI was Brad Penn 30wt Break In Oil, I must admit I'm not impressed with the add pack in this oil, the HDEO that I've used in the past and the other oils I've used in this engine prior. The iron in this sample was higher as expected due to the camshaft break in ans well as the new timing set. Silicon is high due to sealant used during the reassembly process. Oil filter was a STP filter with an E-Core in PH-8A size, it was also the first filter from this engine that I cut. Upon inspection it had a media tear about 1/2" long by 3/8" hard to say if the media tear resulted in a higher wear rate or not since it was during the break in run on the new engine work. Aluminum mentioned in the post was because the machine shop sprayed the cylinder head with "Alumiblast" spray paint inside and out, the paint from the inside surfaced of the head apparently wasn't adhered very well to the head as I found multiple 1/8"x 1/8" flakes of it all throughout the oil filter media probably over 100 of them. I'm thinking this resulted in the elevated aluminum reading considering no aluminum on aluminum wearing parts were changed.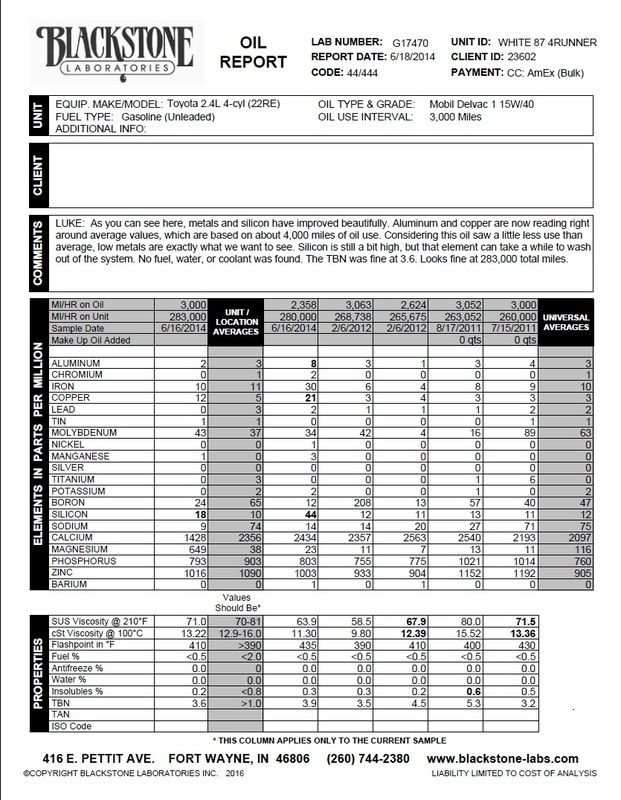 First OCI post camshaft break in, still lots of paint in the filter, Mobil Delvac 15w40 with a K&N PH-8A size filter. Wear metals and silicon trending down nicely.
Second OCI post camshaft change and engine work, paint flakes remain in the filter but are deminishing. Mobil Delvac 15w40 with Motorcraft FL-1A filter. Wear metals and silicon continue to trend nicely despite the slightly longer run.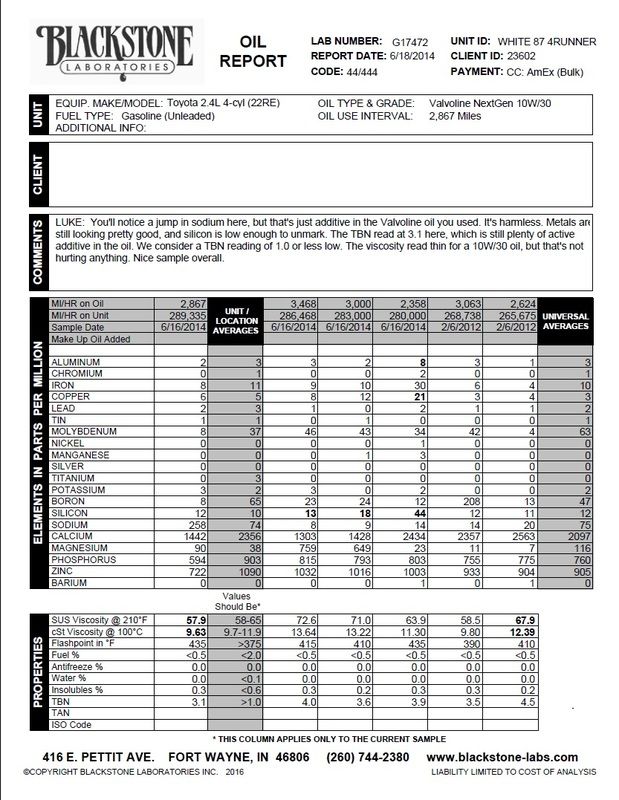 Third OCI post engine work, still seeing paint flakes in the filter but it's down to a few dozen specs now. This time with some clearance Valvoline NextGEN 10w30 Napa Gold 1515 filter. Metals are looking great, viscosity is a little low, perhaps due to the oil being recycled as it doesn't look to be fuel this time.
This OCI was using Valvoline Max Life 10w40, still paint flakes in the filter but down to 10 or so. Silicon is back below universal averages, copper, and iron are down and aluminum is holding steady. Based on all the metals seeming steady after the engine work I decided to try a full synthetic on the next OCI for a longer run as all evidence suggests that the engine would support it. Other factors rendered that ineffective as you'll see below.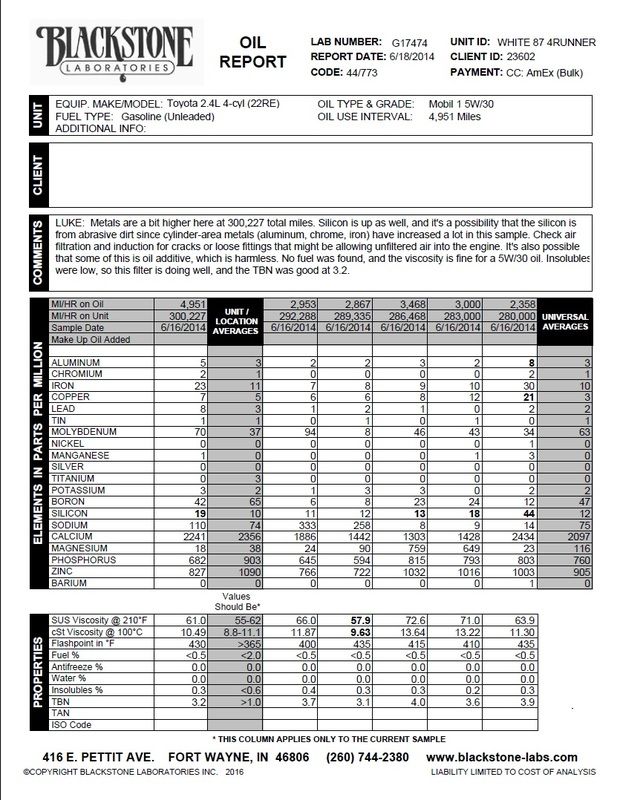 Tried a blend this time with some partial quarts I had laying around 3.5 M1 5w30, 1 CarQuest 10w30, .5 quart Valvoline 10w40 Motorcycle this run for just under 5,000 miles. Oil filter was a Pure1. Only 5-6 paint flakes this time. Unfortunately about 4,000 miles into this OCI the diaphragm in the power brake booster filed and allowed the engine to ingest unfiltered air and dust through the booster.
Short run of 20w50 Wolfs Head this time to try and flush out any remaining contaminants ingested with the bad brake booster. Filter used this time was a Hastings, still about 5-6 paint flakes in the filter. The trend of low viscosity in the WH 20w50 remains.
Longer run on the Wolfs Head 20w50 this time with a Motorcraft FL-1A filter that still showed 5-6 paint flakes from the engine work. Iron is higher than I'd like given the short run of 3,000 miles but silicon remains low. Viscosity remains low for a 20w50 as is the trend for this oil.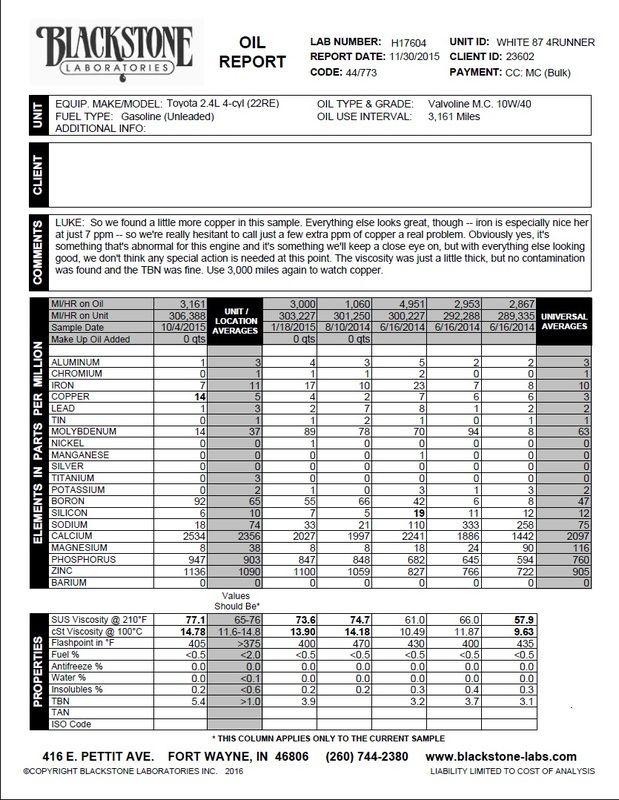 This UOA w/10w40 Valvolone Motorcycle oil, this oil sat for 8 months while I was deployed, it had about 400 miles prior to me leaving on deployment, then got the remainder of the OCI after I returned, filter was a CarQuest Blue 85515 (Ph-8A size), 3-4 paint flakes in the filter. Perhaps the high copper is due to corrosion of brass parts while I was deployed.
Another 3,000 mile OCI with Valvoline Motorcycle 10w40 to monitor the high copper from the previous OCI. Filter used was a CarQuest 85515 Blue, 3-4 paint flakes in the filter still.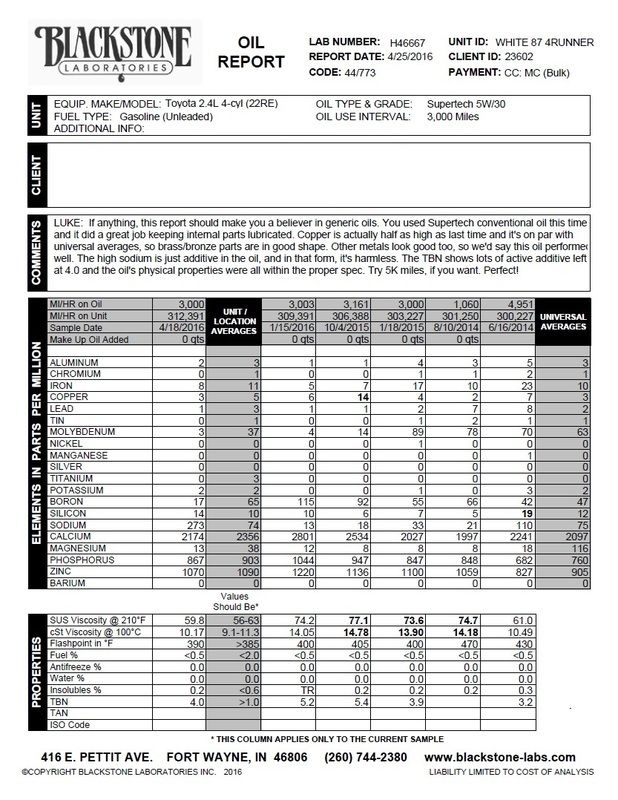 My most recent OCI, I wanted to try another 30wt oil to test my theory of fuel economy trends with 30/40/50wt oils in use. I kept the run short to verify the copper trend had resolved itself. Wear metals look good overall, slight increase in iron over the previous fill but hardly anything to worry about in an engine with 312,000 miles on it that's never been rebuilt. Filter this time was another CarQuest Blue 85515 which still shows 4-5 flakes of paint from the engine work over 30,000 miles ago. Current fill is Lubro Moly (Liqui Moly) 10w40 MOS2 with a Purolator Boss 10241 filter (to evaluate the efficiency and construction of the filter). I stopped using the larger PH-8A sized Ford filter and returned to the Toyota size filter to cure the startup rattle associated with the larger filters siphoning out to the oil galleys and causing a dry start. ADBV works in the larger filters but they drain out from the clean side into the engine on shut down, the dirty side remains mostly full. The filter is mounted horizontal on the engine, perhaps if it was vertical it wouldn't happen. The smaller filter doesn't exhibit the same issue with startup timing chain noise. I plan to draw a sample at 5,000 miles, I'll of course post the results here. Hopefully you guys enjoy this history and UOA analysis in my 4Runner that I can report is still running well at 315,400 miles as of today.